Heron Herald Term 1 Week 10
Matua School is proudly supported by…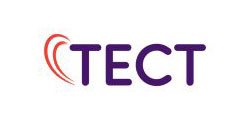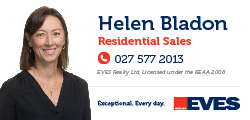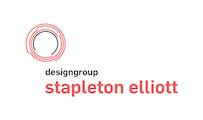 FROM THE PRINCIPAL'S LAPTOP
Tēnā koutou katoa
Firstly a huge thank you to our fantastic community for your support of our school gala. It was a great day (despite the early weather). There is an extraordinary amount of effort and organisation that goes into these events, and I'd like to acknowledge our ever-energetic PTA and staff for making this all happen so successfully. In total, we raised $13,500 for the playground upgrades.
Next term, our school will be looking a little different with the new senior playground and completion of the two new classrooms (and junior playground). We are all looking forward to getting these projects completed so that our students can use them.
Next term we will have a visit from the Education Review Office. This is an excellent opportunity for us to complete a self-review, celebrating what we are doing well and setting new targets and next steps.
With the removal of National Standards, our mid-year reports will be updated. We have incorporated feedback from our community survey to create a format that is clear, concise and easy to understand. Matua School has used a set of standards based on the NZ Curriculum for many years. We will continue to use these standards to report achievement and progress to parents.
Lastly, this is the final newsletter for the Term. I wish you all a happy and safe school break, and I look forward to seeing everyone in the new term.

PICK UP AND DROP OFF
Keeping our kids safe is a role we all take seriously and we need your help to prevent accidents during daily drop offs and pick ups.
We have had ongoing complaints from neighbours in Strathmore Street, Clivedene, Audrey Place and Levers Road, about parents parking on yellow lines, in the disabled bays and across neighbours diveways. This is causing concern and is dangerous.
We know it can be difficult on rainy days or if you are running late, but please obey the road rules. There have been a few near misses recently and we need to make sure our children are safe at all times.
Maybe leave a little earlier in the morning to allow time to park further away from school and walk in with your child. A great time to get some fresh air and catch up about their day. The gate on the staff car park will be closed as this isn't a pick up and drop off point. It is for staff use.
Please do not obstuct neighbours driveways, park on yellow lines or use the disabled parks. It is dangerous.
The traffic police will be coming in on a regular basis to make sure that cars are parking correctly and our children are safe.
Many thanks for your cooperation.
Our School App
We have a new school app to keep you up to date with events and notifications. Click on the button below to check it out.
LIBRARY
                             
ORAL LANGUAGE IN OUR COMMUNITY
Tips from the Otumoetai Community of Learning to foster Oral Language

Developing Oral Language in the Early Years

 Extending Vocabulary – What can you do at home?

Vocabulary helps develop understanding, communication and reading ability. That's why parents should do what they can to help their child learn new words.

What can you do?

Talk regularly and avoid baby talk with infants,

Read aloud from books, stopping at interesting vocabulary to discuss,

Encourage storytelling allowing your child to expand their vocabulary,

Play with words through games, songs and humour,

Encourage your child to read their own writing aloud to you.
There have been a few cases of Whooping Cough in the area. Please take some time to read the attached information. If you are concerned that your child has been unwell for some time or has a persistant cough, please seek medical advice. You can also find more information on this link   www.ttophs.govt.nz/pertussis and also https://www.ttophs.govt.nz/kidshealthpanui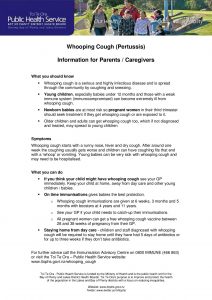 Setting up with Kindo
Kindo is our new prefered payment and permission system. To help you learn how it works, we've added their new help sheet and video. We hope it helps.
PTA

Get your Entertainment Membership NOW to help Matua School PTA raise much needed funds!

Help us raise funds by buying an Entertainment Membership from us. You'll receive hundreds of valuable offers for everything you love to do and help our fundraising at the same time. Hurry, Entertainment Memberships sell out quickly.

I've been buying the Book for over 15 years. We love that we get to try restaurants, attractions, etc. that we may not have without the Book. I've definitely found some new favourites. – Kerry D

Use just a few of these offers and you'll more than cover the cost of your Membership!


Matua School PTA
Brenda Downey
matuapta@gmail.com
0212649873

THANK YOU FOR YOUR SUPPORT!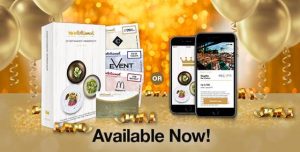 SPORT
Wow, what a fantastic first term of sport at Matua! We have had several teams taking out podium spots in their competitions and a couple even getting the top spot! Congratulations to all teams and players who participated in the wide range of sports we had on offer for term 1. Special mentions to our place getters are – Sharks Flippaball team taking out the top spot and winning their competition. Our Blues Rippa Rugby team also won their competition which is the first time a Matua team has won the year 5 & 6 Rippa Rugby competition! Way to go. In the year 3 & 4 competition our Hurricanes team placed 3rd and our mighty Little Sox T-Ball team also placed 3rd in their competition. Congratulations again.
Registrations for the winter term sports have now closed and teams are being finalised so we can register them with the local sporting associations. If parents could please wait until after teams have been selected/chosen/sorted to then organise transport with friends that would be greatly appreciated. It does put a lot of pressure on me when I'm asked if children can be in the same team due to carpooling and while I appreciate that its difficult trying to manage family members who all want to play a different sport in a different part of town, its also difficult placing players who are at a different ability level to their peers.
We have had some amazing success at the recent East Cluster Swimming event with 8 of our swimmers making it through to the Western Bay of Plenty Swimming Champs which will be held 
next Wednesday
 at Greerton Pools. Congratulations to Emily, Finn, Matt, Angelo, Olivia, Hayley, Mia and George. We wish you all the best of luck next week.
This years WBEET Aspiring Future Athletes (formally Future Champs) Programme was held this week. Matua had 11 players selected to take part for their chosen sport. This event is highly sought after, so the selectors have a tough job of deciding who will attend. Congratulations to the following, who were selected and the sport they applied for:
Cricket – Angelo, Harrison
Football – Hunter, George, Lydia
Hockey – Emily
Water Polo – Hayley
Athletics – Finn, Mia
Squash – Genevieve, Erin
Next term is another busy one. We are kicking off with another popular event – The Amazing Race. I now have to hold a trial as I have only 12 people to choose from a whopping 47 students who stated their interest. We will also be looking at entering the Rippa Rugby World Cup so kids will need to keep their eyes on the student notices early next term.
What a fantastic term of celebrations. Congratulations to everyone involved in sport at Matua and thank you to all our parents who volunteer to coach, manage, score, umpire, sideline supporter. We appreciate you all and thank you for your time.
Stacey Sutherland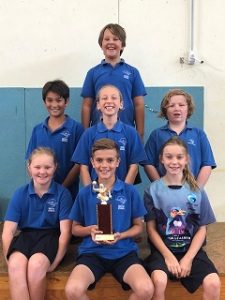 FAIR PLAY EXPECTATIONS – Code of Conduct
Sporting Players
Good sport is about having a positive attitude. Play your part – play fair. To the best of your ability:
Play by the rules.
Never argue with an official.
Work hard to do your best at all times.
Turn up to practice.
Be a good sport and recognize good players and good plays by all involved.
Remember to thank your coach, the officials, the opposition and supporters.
Help others in your team when you can.
Avoid putting people down or bullying them.
Give it heaps and not get ugly.
Sporting Coaches
Good sport is about displaying a positive attitude. As a coach you set the standards. Play your part to help make each game a success – play fair. To the best of your ability:
Set personal behavior standards for yourself and those you coach to follow.
Give each player the same amount of your attention and time.
Provide every player with the same opportunities to play the game.
Never argue with the referee, encourage cheating or make excuses for losing.
Always be positive. Never shout at or ridicule players.
Respect players' efforts regardless of whether we have won or lost.
Encourage respect for the opposition and officials.
Keep winning and losing in perspective with personal challenge and enjoyment.
Sporting Spectators, Parents and Supporters
Good sport is about having a positive attitude. You can set the right tone and help make the game a success. Play your part – play fair. To the best of your ability:
Respect that people are involved in sport for fun and enjoyment.
Support good play and applaud good performance from all competitors.
Attempt to understand the rules of the game.
Learn the difference between supportive and abusive comments and rule out the latter.
Accept the decisions of officials and coaches.
Stay off the field. Do not interfere. Let the officials deal with situations on the field of play.
Display self-control on the sideline. Always be positive. Never shout at or ridicule players.
Show your appreciation to people who volunteer their time to make sport happen.
Remember that we are all capable of making mistakes.
Give it heaps and not get ugly.

LIFE EDUCATION
Life Education Visit
We are fortunate to have the Life Education mobile classroom visiting our school from Thursday 3rd May to Monday 14th of May, (Term 2, Weeks 1 and 2).  We feel this is a valuable part of our Health curriculum, reinforcing 'best practices' in healthy choices.
Each Team (Minis, Explorers, Investigators and Discoverers) have identified 2-3 areas for the Life Education Educator to focus on. These vary from how to be a good friend, keeping ourselves safe with choices made, nutrition and how the body works etc.
Feedback from past parent / caregiver information sessions has been very positive and we encourage you to attend this year's session which will be held inside the mobile classroom on: Thursday 3rd May 2.30pm – 3pm
In order to sustain the quality of their programme the Life Education Trust charges our School for each mobile classroom visit.  To help offset these additional costs we ask for your contribution of $7.00 per student towards this valuable learning opportunity.
Preferably, this can be paid through our school online payment facility   www.kindo.co.nz or by Eftpos at the school office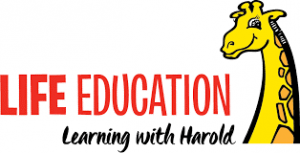 SCHOOL SORES
We have had quite a few cases of school sores recently. Information has been emailed home to everyone but just incase you missed it. Here is is again.
If your child develops school sores, they are incredibly infectious and need to be treated immediately. Please go to your doctor and get some antibiotics. The children can come back to school after being on antibiotics for 24 hours. All sores then need to be covered and your child/children cannot swim until they have healed.
Many thanks for your cooperation.
POOL KEYS
We hope you have enjoyed using the school pool over the summer months. It seems to have been a big success and we have had lots of great feedback. The pool is now closing for the next two terms.
Please can you return your pool keys to the school office by the end of this term. You will be able to collect your $25 key bond on return of your key. The locks do get changed each year so the keys will not work again next summer.
Many thanks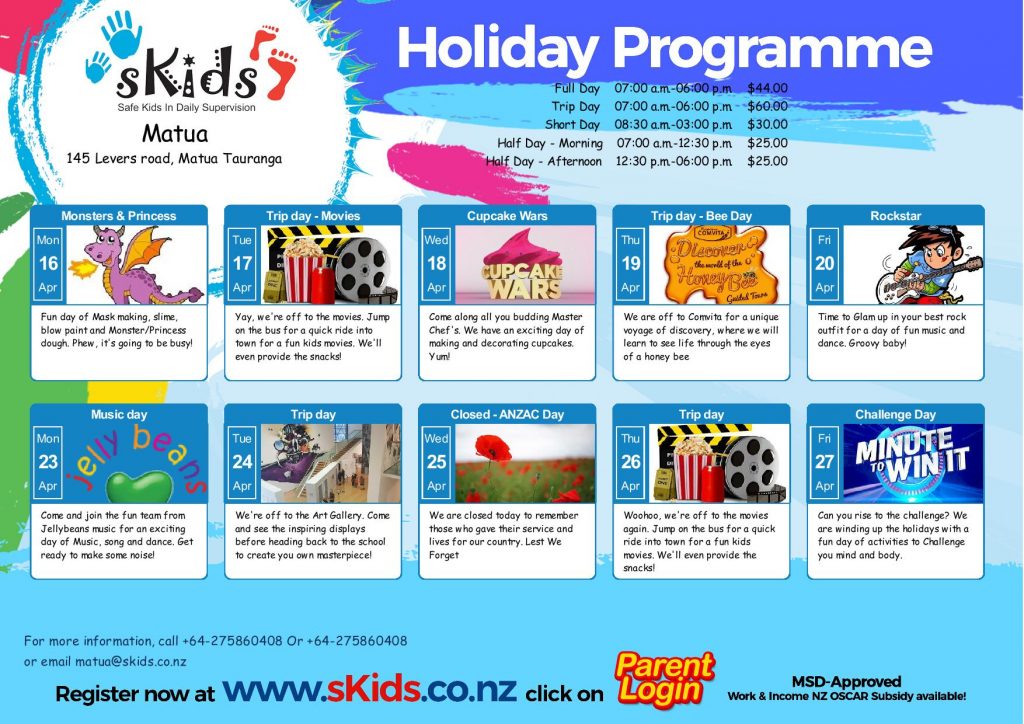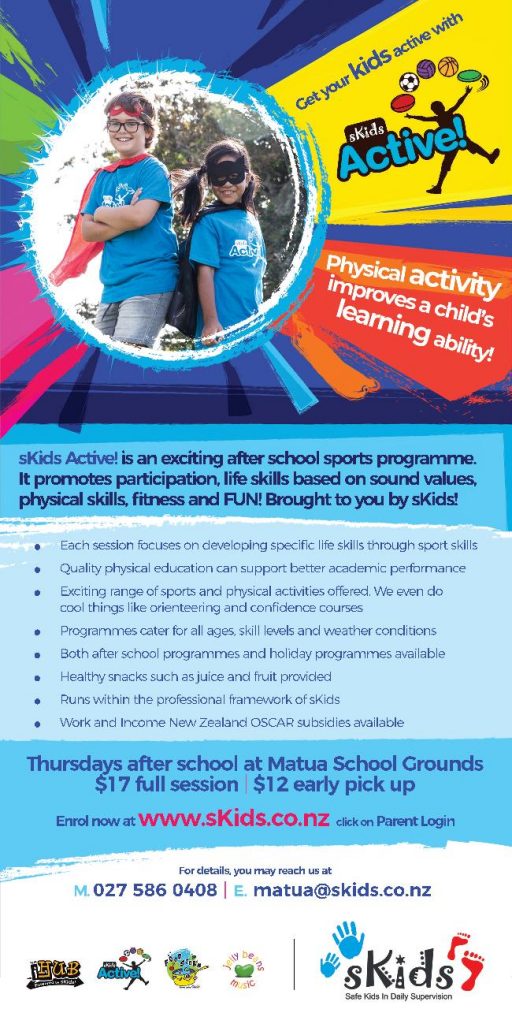 TERM DATES 2018
Term 1 2018 – Thursday 1st Feb – Friday 13th April 2018
Waitangi Day – 6th Feb – School Closed
Good Friday – 30th March – School Closed
Easter Monday – 2nd April – School Closed
Easter Tuesday – 3rd April – School Closed
Term 2 – Monday 30th April – Friday 6th July
Queen's Birthday – 4th June – School Closed
Term 3 – Monday 23rd July – Friday 28th September
Term 4 – Monday 15th October – Tuesday 18th December
ICAS DATES FOR 2018
Parents of children in Year 3, 4, 5 or 6 (2018) please mark in your diary the following dates for the ICAS competitions:
Digital Technologies Tuesday 8 May 2018
Science Tuesday 29 May 2018
Spelling Wednesday 13 June 2018
English Tuesday 31 July 2018
Mathematics Tuesday 14 August 2018
We will provide an information pack next year, and opportunities to ask questions. Enrolment for these competitions will take place in February.
Congratulations to all the children who participated in the competitions this year.
Bruce Reid
Matua School ICAS co-ordinator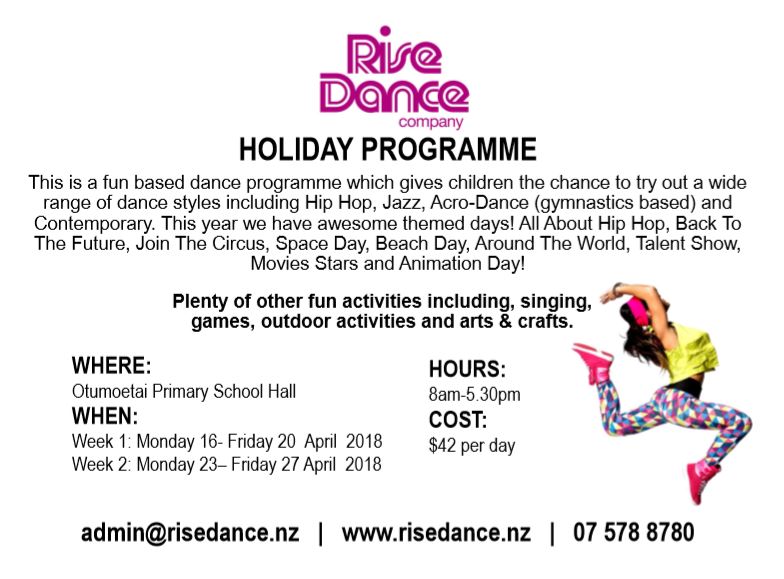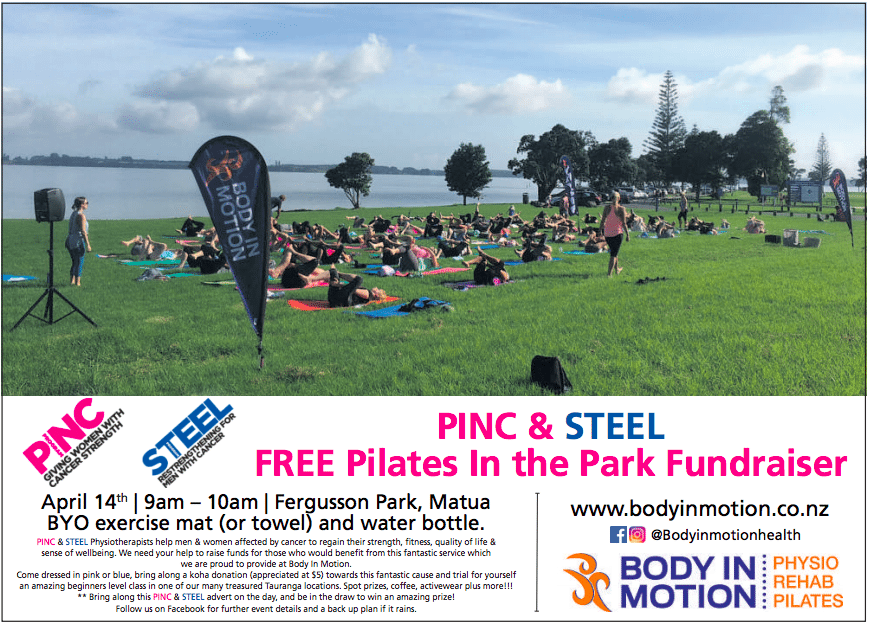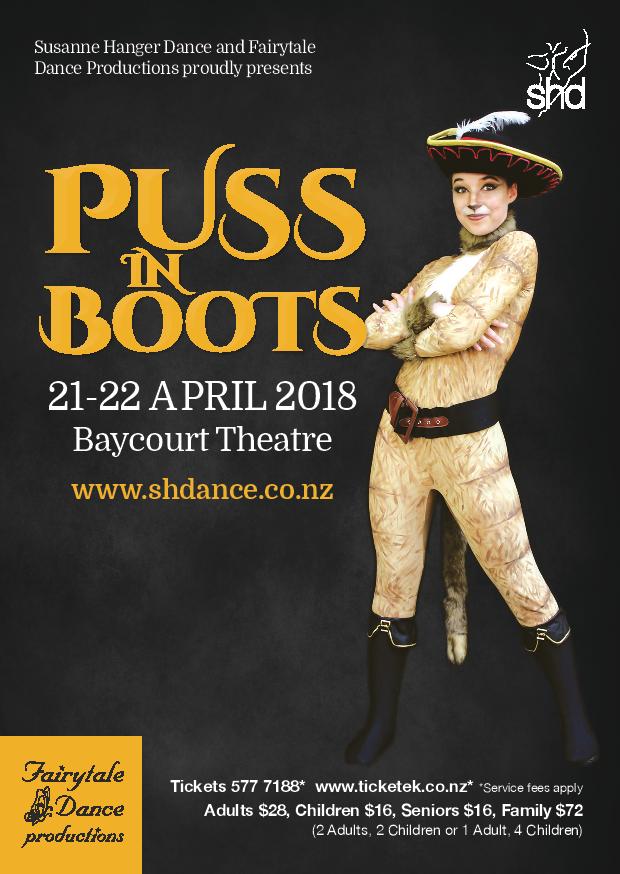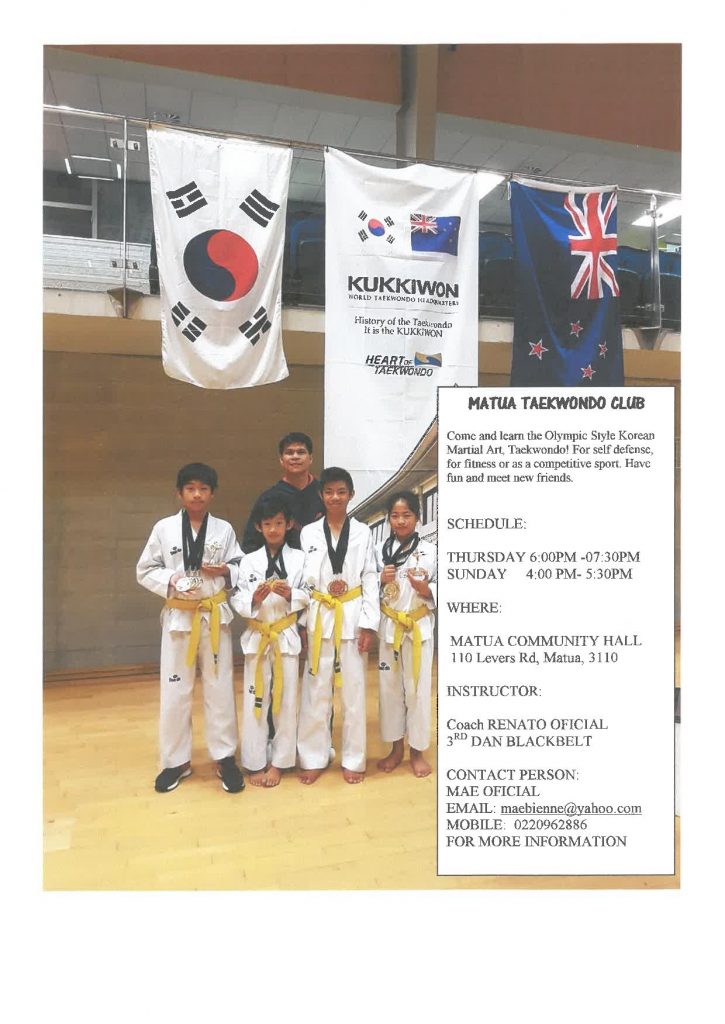 OTUMOETAI Tennis Club
Paul Bell Tennis.
Holiday program tennis coaching.
Running in both weeks from 
Monday
 to 
Wednesday
8.30am to 12.30pm.
HOLIDAY PROGRAM OPTIONS:
1.  3 mornings.  $85.00
2.  2 mornings.  $70.00
3.  1 morning.     $40.00
To Book your child in contact Paul Bell.
Text or call: 021934347
JUNIOR MEMBERSHIP:
To find out more about becoming a member of Otumoetai Tennis club and what's on offer in all terms including our 
Friday
 coaching Pizza night! contact Paul Bell.
         

  APRIL HOLIDAY PROGRAM
Tauranga Boys' College 1st XI
2018 Football Holiday Program
Monday 16th April –
Thursday 19th April
(1st week of School Holidays)
Awesome value!
Prizes and competitions.
Ages 6 – 13. 9am – 3pm.
Southey Field, Devonport Road
(Gym available if wet)
$20 per day or $60 for four days
($60 price applies to pre-registered players only, paid in full by Thursday 12th April)
Contact: Scott Furness
Teacher in Charge of Football
Tauranga Boys' College
Ph: 578 4029, ext 226
Registration Form
Parent's Name: . . . . . . . . . . . . . . . . . . . . . . . . . . . . . . . . . . . . . . . . . . . . . . . . . .
Contact Phone. . . . . . . . . . . . . . . . . . . . . . . . . . . . . . . . . . . . . . . . . . . . . . . . . . .
Child's Name . . . . . . . . . . . . . . . . . . . . . . . . . . . . . . . . . . . . . . . . . . . . . . . . . . . .
Child's Age . . . . . . . . . . . . . . . . . . . . . . . . . . . .
Medical Info . . . . . . . . . . . . . . . . . . . . . . . . . . . . . . . . . . . . . . . . . . . . . . . . . . . . .
Signed . . . . . . . . . . . . . . . . . . . . . . . . . . . . . . . .
Internet Payment
Account Number: 03-0445-0296510-00
Reference: Football Clinic – Surname [IMPORTANT]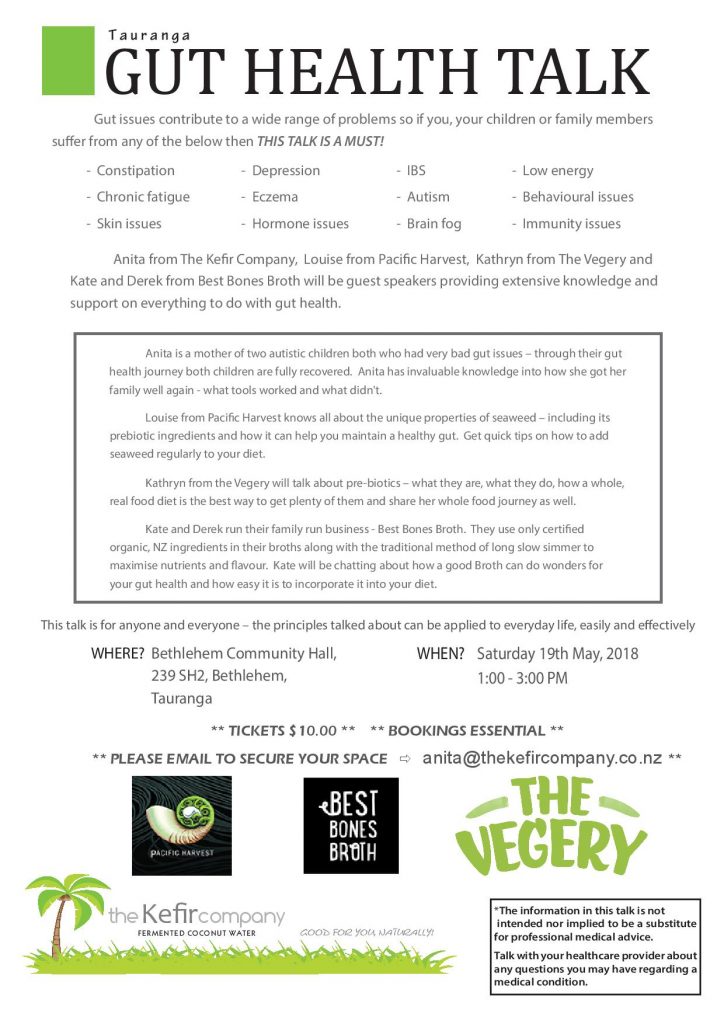 Are you interested in joining Brownies?

Girls aged 7 – 9 ½ years old who are encouraged to become more aware and independent and have a say in what activities they do.  Working both individually and in teams, girls learn both indoors and out.

We meet at the May Street Hall, Mount Maunganui each Wednesday from 

4.15pm to 6pm

 during the school term.

  
Please contact Sallee Roberts on 027 320 2245 (by text any time, by phone after 

4.30pm

)

         

  SPEECH AND DRAMA LESSONS
If you are thinking of your child attending 'Speech and Drama' lessons, Lee has space for year 2 – 4 children on Friday mornings in Term 2. If you would like some more information contact Lee Watkins at lee.nev.watkins@gmail.com