Access The Matua School Pool Over Summer?
Since Nov 2016 the Board of Trustees have let Matua School families have access to the school pool over summer. Yay!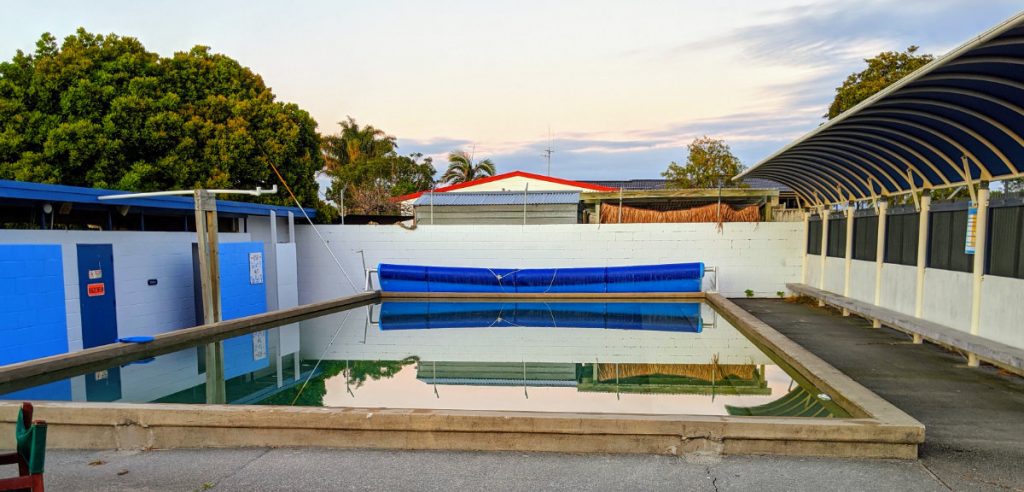 This is a privilege that we need to be grateful for.  We all need to stick together as a Matua family and take care of each other, take care of the facility, take pride in it's appearance, ensure appropriate behaviour, and above all, keep our children safe. By doing so, we can all enjoy this facility for years to come.
On This Page
Would you like a pool key?
There are 4 steps in this process:
Read through the pool rules, key holder responsibilities, FAQ's and Disclaimer provided below
Fill in the form provided and indicate your acceptance of the pool rules and your responsibilities
Payment details will be emailed to you automatically. Make your payment via Kindo.
Your key is ready to pick up from the school office. Record your key number and sign the form. Enjoy the pool!
Pool keys are available for $75 for the season + $25 bond for the key.
7 Matua School Pool Rules
All swimmers must be actively supervised by adults at all times
No running, jumping or diving into the pool
Check the depth of water before entering the pool
Check for hazards in the pool
Boogie boards, surf boards, kayaks are not to be used in the pool
No glass. No smoking. No alcohol. No dogs
Please use the toilet before entering the water
15 Matua School Pool Key Holder Responsibilities
Key holders are responsible for the behaviour of anyone they bring with them to the pool and must ensure that the pool rules are observed.
This pool is intended for our primary aged children and their older or younger siblings. Not for groups of young adults. Families are asked not to allow groups of teens or young adults to use the pool as it is not fair on our primary aged children
All swimmers must be supervised by adults at all times. Key holder to be present at all times
Ensure you lock the gate on entering and leaving the pool, and don't admit anyone who doesn't have their own key
Register your visit on the whiteboard
There is no lifeguard on duty. You are responsible for your own safety and the safety of those you bring with you
Be considerate of other users at the pool. Unruly behaviour will not be tolerated.
As a key holder you have the right to ask other users to leave the pool area for inappropriate behaviour
Produce your key and identify yourself upon request from a Board of Trustee member, a school staff member, the caretaker, a pool committee member or fellow key holder
Ensure appropriate swimming attire. Ensure babies/toddlers wear swim nappies
Help us keep the area clean and tidy. Dispose of rubbish you find in bins, or take it home.
In the event of contamination of the pool, the pool must be immediately evacuated, and reported to the school using the contact numbers provided
Don't lend your key to friends or extended family. Only you have read the rules and responsibilities so only you can be in possession of your key. Any keys lent will be confiscated and no bond will be repayable.
If you are the last family at closing time (7.30pm) please pull the pool cover over to keep the leaves out
Something broken, damaged, or not working? Please report these problems to the school
Access privileges will be revoked for inappropriate behaviour or breaking the rules
Open Hours
The school pool is available for use by the community during the following hours:
School Days: 3.00pm until 7.30pm
Holidays & Weekends: 9am until 7.30pm
Key holder access begins November each year
Key holder access ends when daylight savings ends (first Sunday of April)
Frequently Asked Questions
"May I have a key?"

Yes, if you have young children/grand-children who currently attend Matua Primary School or will in the future

"The cost/key deposit is a bit expensive for me, do you have a cheaper option?"

The Swimming Pool Committee will consider providing a financial hardship subsidy on a case-by-case basis. Apply, and we'll let you know if we can provide you with a discount.

"What happens if there are issues/behaviour that need attention?"

A phone number is provided on the whiteboard, or call the school and leave a message

"How do I sign-in my visit to the pool?"

Register your visit on the whiteboard provided

"Is it true that organised groups / swim schools take preference over our access?"

Yes. From time-to-time we schedule in groups / swim schools / sporting groups to use the pool
We ask that you return at another time and we apologise for the inconvenience
Check the calendar on the pool webpage to check these bookings

"Where do I go to pick-up my key?"

Keys can only be picked up during the school term from the school office

"When/how do I get my key-bond back?"

Key holder access to the pool ends when daylight savings ends (first Sunday in April)
Bring in your key to the school office by the end of the following week (or earlier) to claim your key bond back
Any later and your bond will be forfeit but please do still return the key

"Is there a lifeguard on duty?"

No. As a keyholder, you are responsible for the lives of those you bring with you.
Ensure there is an adult present at all times.

"Can I let a friend borrow my key?"

No. Keys are not transferable
Only you have read the rules and responsibilities so only you can be in possession of your key
Any keys lent will be confiscated and no bond will be repayable

"Can I invite friends with their kids? Can I invite relations too?"

Yes. Bring them with you. Just don't give them your key to use in your absence

"How is the pool heated?"

There is a mesh of thin rubber tubes on top of one of the classrooms. Cold water is pumped onto the roof and pumped back into the pool when the sun has heated it

"Why do my child's toes bleed sometimes?"

It is a friction graze most commonly seen in children called "pool toe"
It is caused by running on the abrasive floors of concrete swimming pools during long sessions when their feet have softened
It is mostly painless but can be a bit alarming to see it for the first time because it looks so raw
Remind your kids to take it easy in their activity and perhaps shorten their swim a little

"What are the pool dimensions?"

15m long x 9m wide (including 1m steps) x 0.9m deep

"How is the pool chlorinated?"

We now have a salt chlorinator which is much milder on our kids eyes and skin
Disclaimer
The school board of trustees shall not be liable or responsible for loss or damage to any property, or for any death, accident, loss or injury arising out of the use of the pool. Any person using the pool shall indemnify the school board of trustees from all actions, claims, suits, demands, costs and proceedings that may be made against them, or any of them, arising out of or in connection with the use of the pool. The school board of trustees and the pool committee reserve the right to evict any person(s) from the pool for not conforming to these conditions. They also reserve the right to alter the above conditions without notice. Infringements will result in confiscation of the key. Trespassers will be prosecuted.
Apply For a Pool Key
Fill in this form first, and then you'll get instructions for making your payment via Kindo.