Heron Herald Term 1, Week 3, 2020
Matua School is proudly supported by…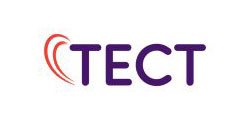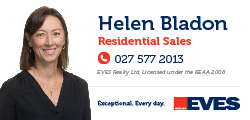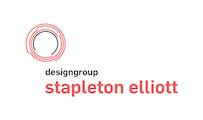 FROM THE PRINCIPAL'S LAPTOP
Kia ora koutou,
One of the keys to effective teaching and learning is having strong relationships.  As teachers we know that understanding our students and having meaningful connections is vital to supporting an effective learning environment.  In the busyness of life, we can often miss opportunities to stop, reflect, listen and learn.  This week we have taken the time to pause and connect through our Learner Conferences.  They are a fantastic opportunity at the start of a year for teachers, children and whanau to connect and build a partnership.  We appreciate that the day was an interruption to the week, but trust that the time you took to meet with teachers and share some of your child's story was valuable.
As the new principal, one of my goals is to spend time learning about Matua School and what makes it a successful learning community.  As part of this inquiry, I am creating a series of Parent Forums where we can meet in small groups and 'talk school'.  The agenda will be quite relaxed and provide a chance for you to share with me what you love about the school and anything you think we could improve on.  The meeting sizes are deliberately limited to 12 people so that we can have a genuine conversation.  To book in for one of the meetings, please click on the link below.
Parent Forum #1
Monday 2nd March, 2:00pm – 3:00pm
nhttps://www.eventbrite.com.au/e/95489257941
Parent Forum #2
Wednesday 4th March, 11:30am – 12:30pm
https://www.eventbrite.com.au/e/95491129539
Parent Forum #3
Wednesday 11th March, 9:00am – 10:00am
https://www.eventbrite.com.au/e/95492944969
Nga mihi,
Marcus Norrish
Principal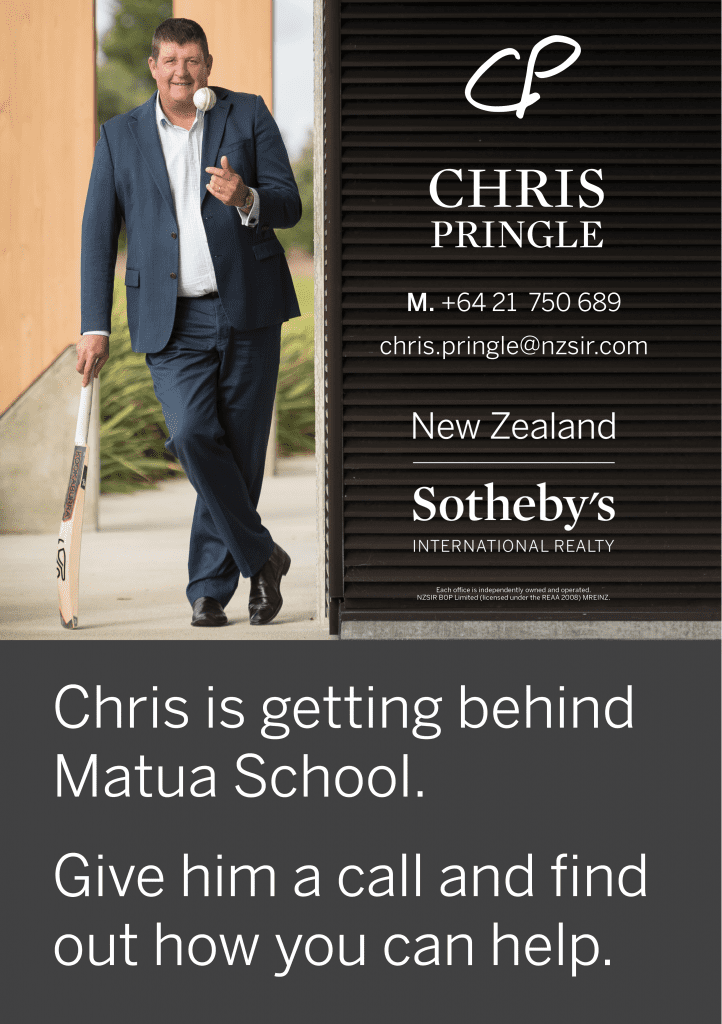 STUDENT COUNCIL ELECTIONS
What an amazing bunch of confident students who put themselves forward to School Council for the first two terms. Electioneering has seen a flurry of election posters, election promises, and "vote for…" badges around the school. Middle and Senior students also filled the hall to listen to quick election speeches from all our hopeful candidates. 
We are pleased to announce Eva G, Rome M and Ashley as our new School Council reps for terms 1 and 2.
Huge congratulations to everyone who stepped out of their comfort zone and gave it a go. You all did a great job.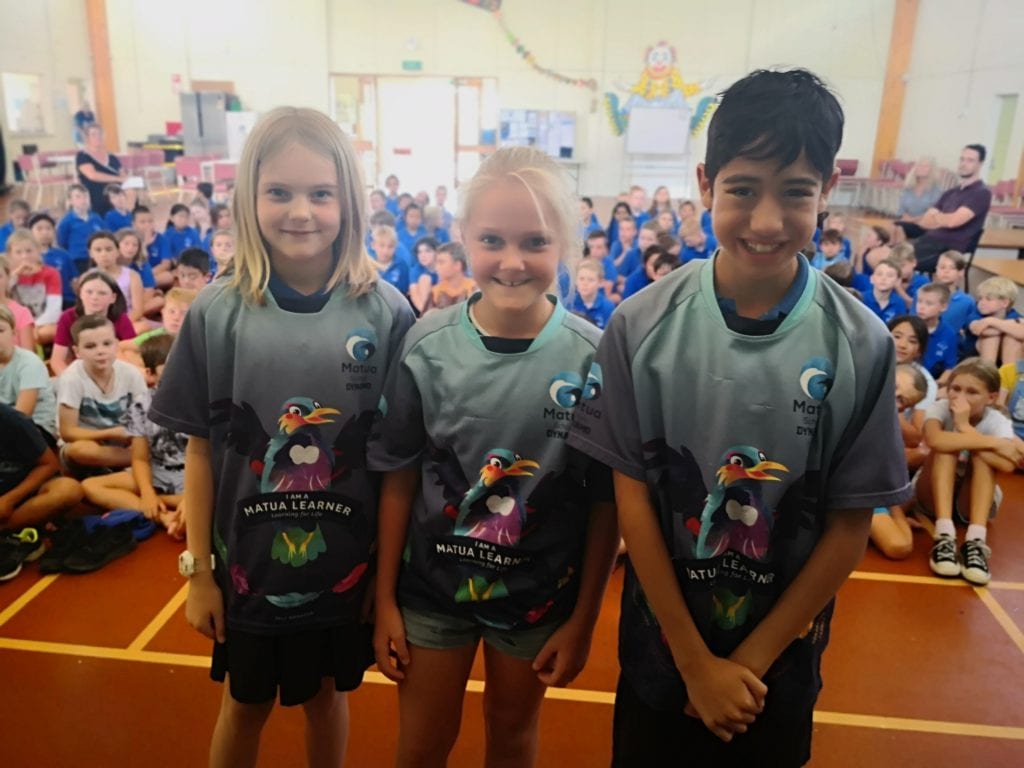 SCHOOL INFORMATION
Staff Car Park – The staff car park is for staff use only and not to be used as a drop off point for your child. We like to keep our children safe in an around our community. Please encourage your children to walk, ride or scooter to school. Allow more time in the morning to drop your children off if you need to drive. Park safely in the designated areas and please do not park on yellow lines or in front of neighbors drive ways.
Thank you for your cooperation and understanding.
Signing children in and out of school – If you collect your child/children early or drop them off late, please remember to sign your child in and out of school at the office. We do always need to know where our students are, in case of an emergency. This is for the safety and well being of our students.
Change of address/phone number – If you have recently moved house, changed home, work or mobile phone numbers, please could you contact the office and let us know. We can then update your students details. We need to be able to contact you in case of an emergency . Either email the office on office@matua.school.nz or phone us on 07 576 9027.
Absent Pupils – If your child is going to be absent from school for any reason, please notify the office (even if you have already let your child's teacher know). Your child's teacher might also be away sick and the office will not know. You can either send an email to office@matua.school.nz or you can phone 07 5769027 and leave a message on the absentee line. Please leave your child's name and room number, your name and the reason for their absence. If we do not hear from you, we do need to call and find out where they are. This is for the safety and well being of your child. If we are unable to make contact and do not know where your child is, they do get marked as truant.
School Hours – We ask that children do not arrive at school before 8.15am each day. Supervision of children is provided from 8.30am each morning. The school takes no responsibility for the supervision of children in the school grounds, earlier than this.
School does begin at 9am and we ask for all children to be in their classroom by this time. It can be incredibly disruptive for the teachers and students if children are late on a regular basis.
Sun Hats – Children must wear a sun hat during term 4 & 1. If they do not have a hat, they will be asked to stay in the shade. Please also sunblock your children before they come to school each morning.
Thank you for your co operation
WETLANDS DISCOVERY FIELD TRIP
Our senior students had an awesome day with Van from the Tauranga Council at the Gordon Carmichael Wetlands in Bethlehem.
Our students identified plants and animals that thrive in this special environment. They also conducted water clarity tests, temperature recording and animal identification to identify if this was a healthy environment or not.
It was a day with lots of scientific thinking, group work, collaboration and learning. (And no one fell in!)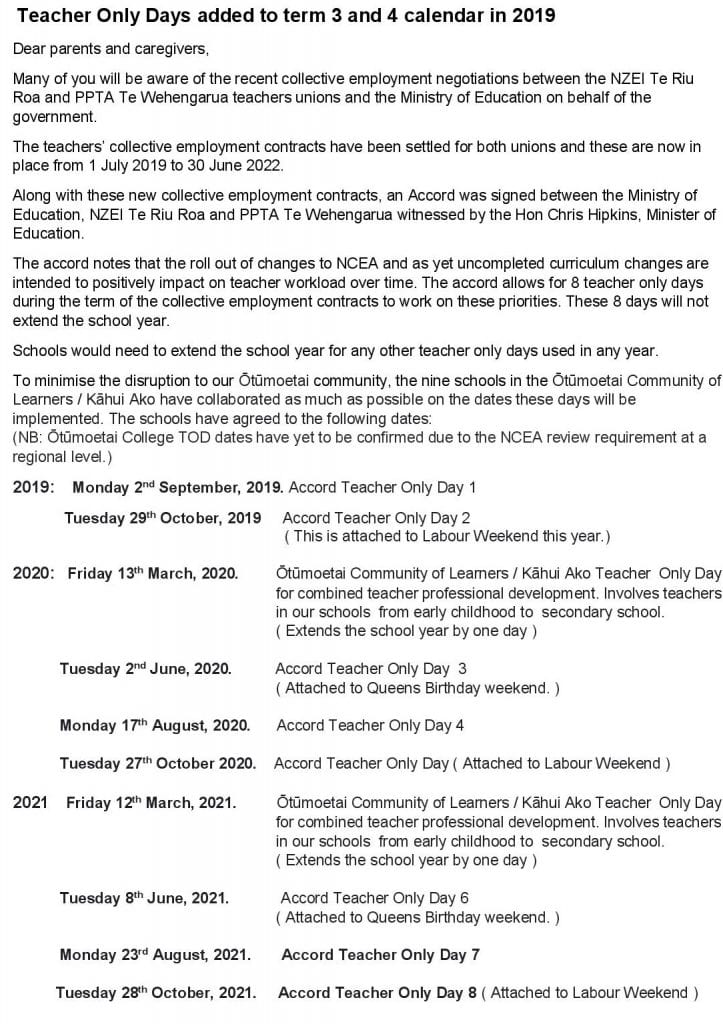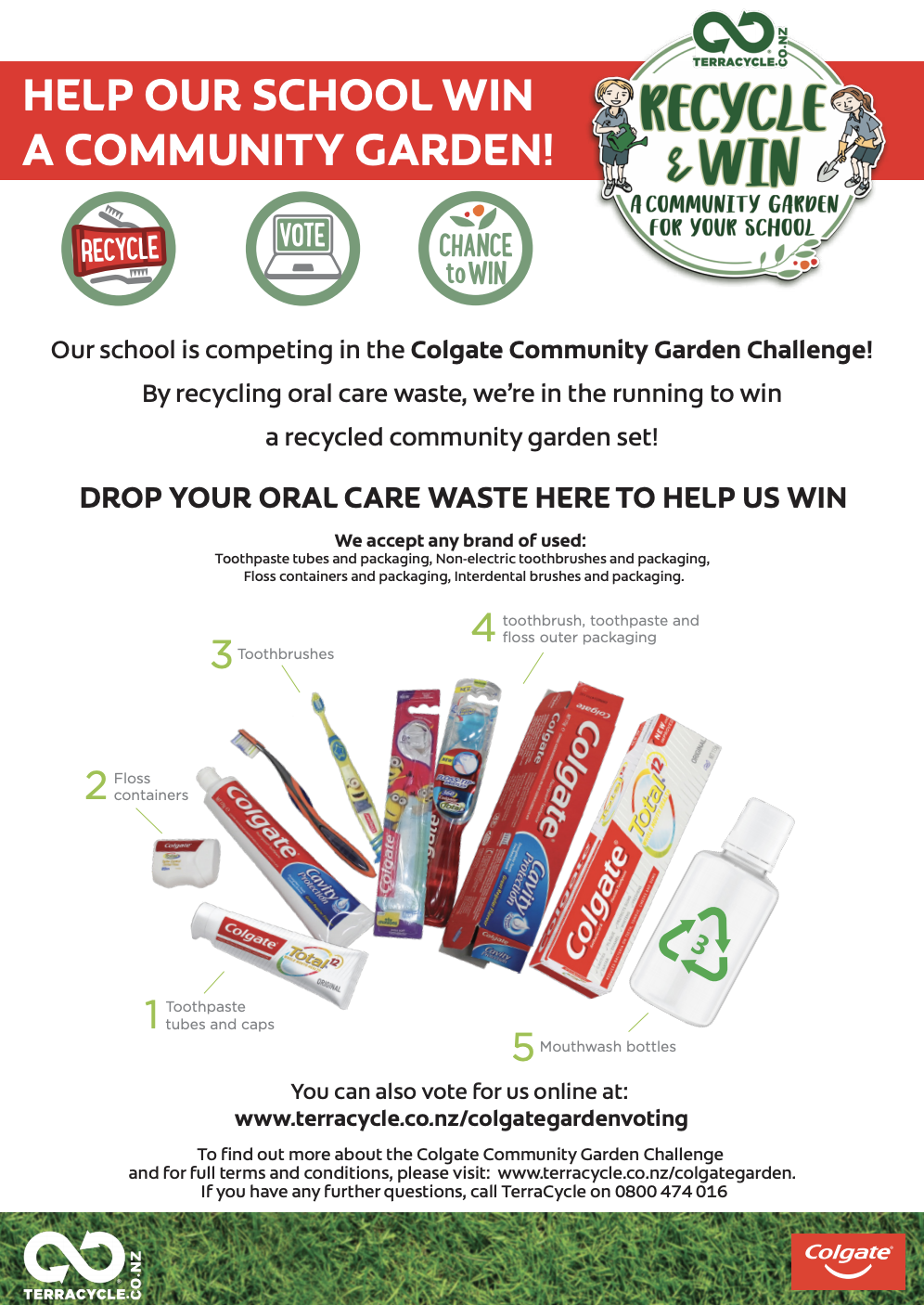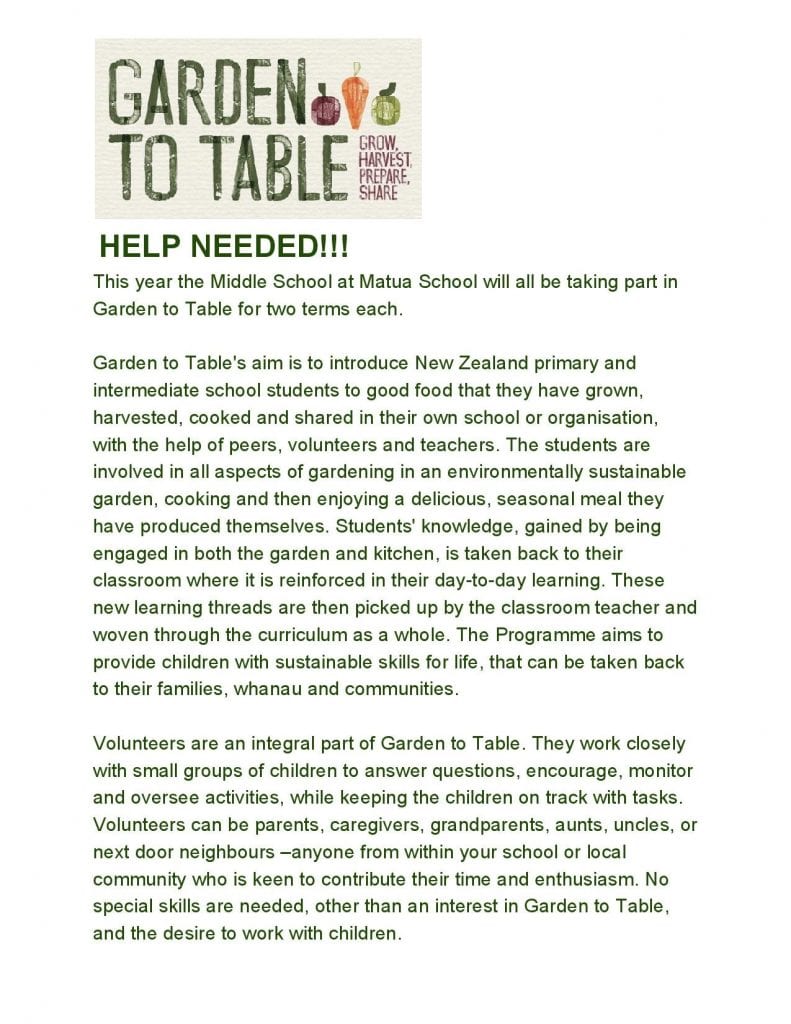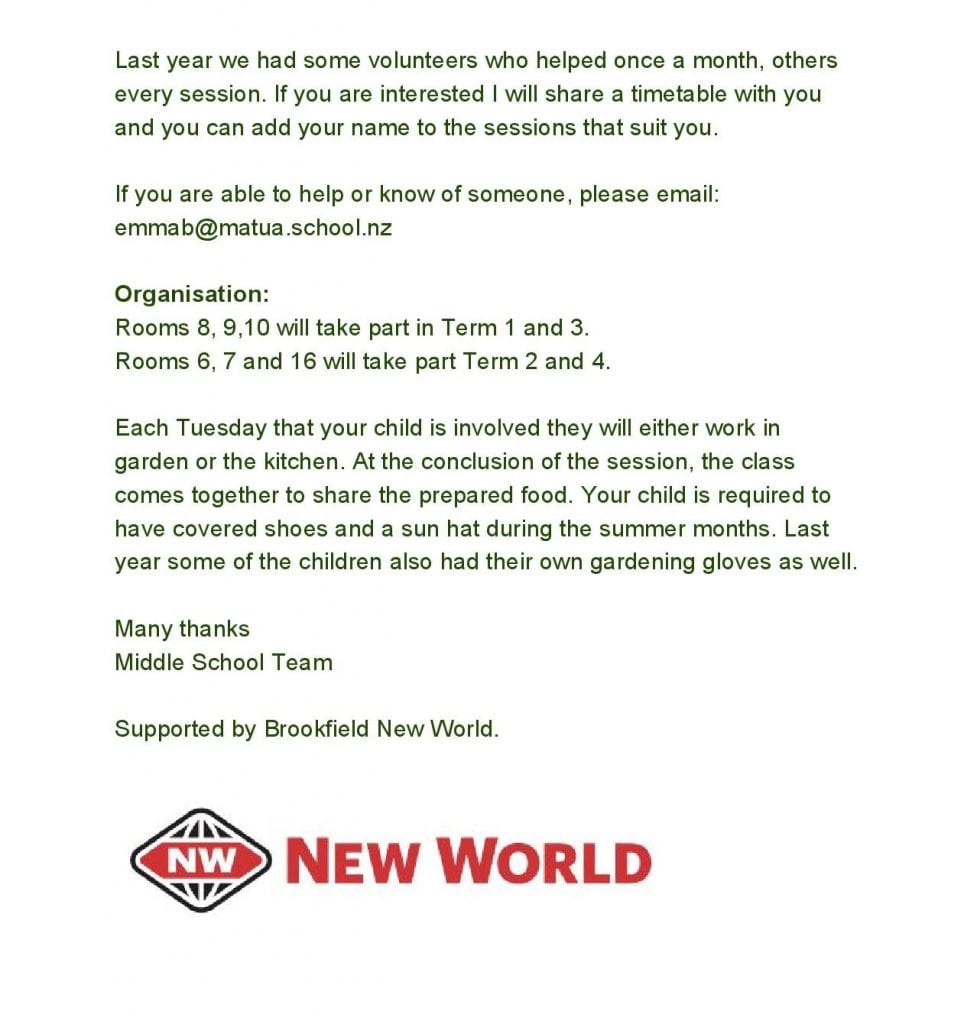 PTA NEWS
Matua School Gala 4th April
The PTA have started organizing the school gala for 2020.
We are now collecting any good quality donations for our White Elephant Stall. These can be dropped off to room 17 during school hours. Books, Clothes and Household items are very welcome.
The PTA are looking for a truck that opens up on the side of the trailer, where we can hold the entertainment for the day, eg singers and dancers. They could then preform come rain or shine. If you know of one please email matupta@gmail.com
Follow our Facebook event page to keep up to date with all things gala
https://www.facebook.com/MatuaSchoolPTA/photos/gm.535946220381632/3186305048066175/?type=3
The PTA look forward to another successful year of fundraising. Thank you to all the new people who joined us at our last meeting. If you would like to come along to a meeting they are at 7pm every first Tuesday of the month in the school staffroom.
We would love to see you there.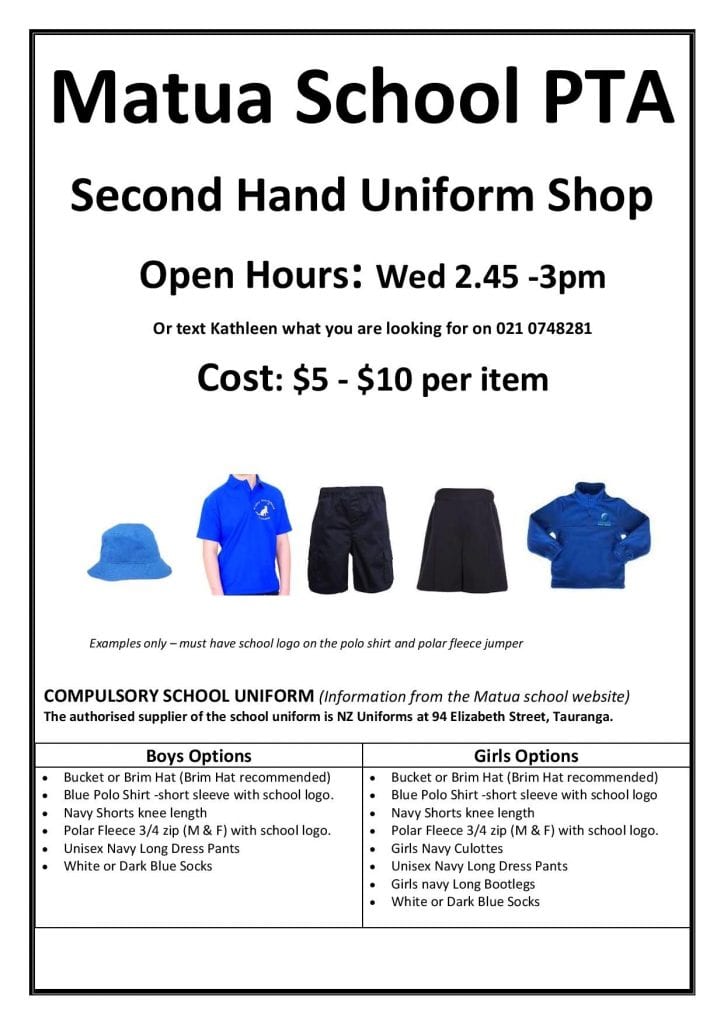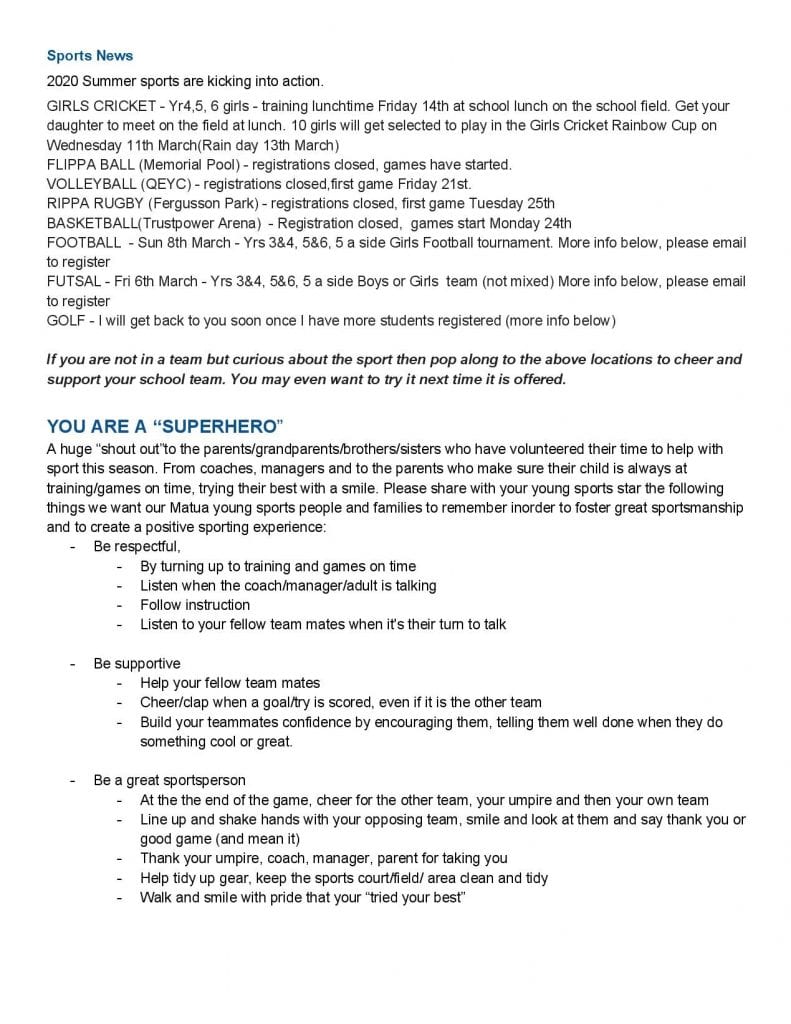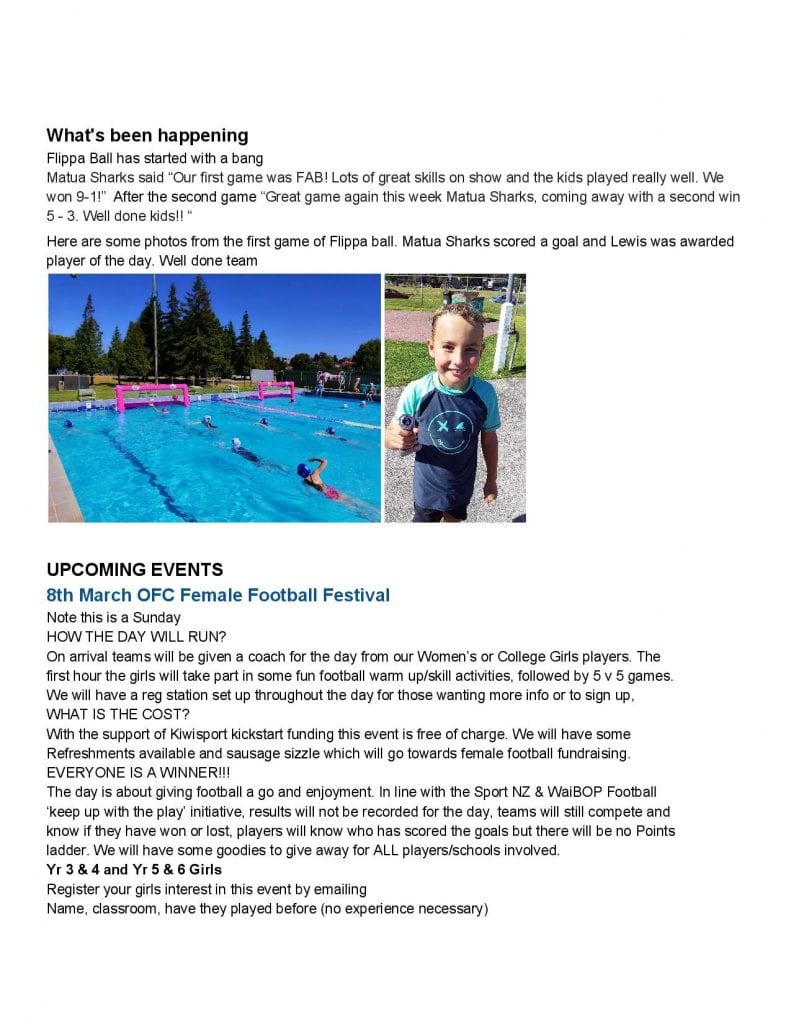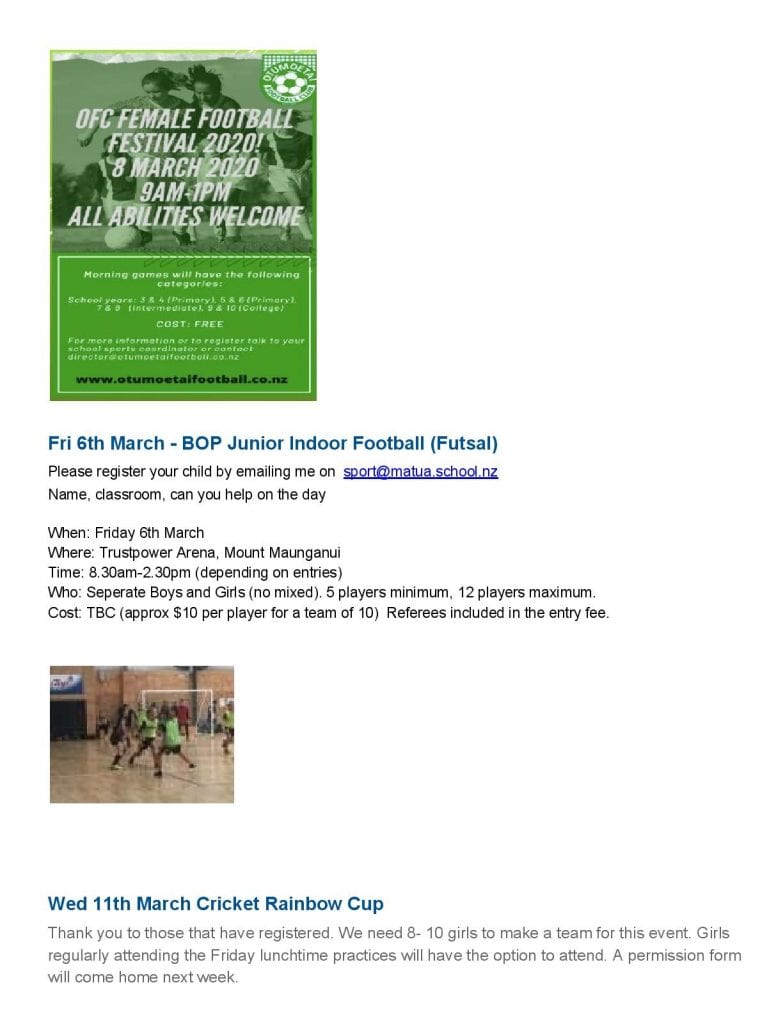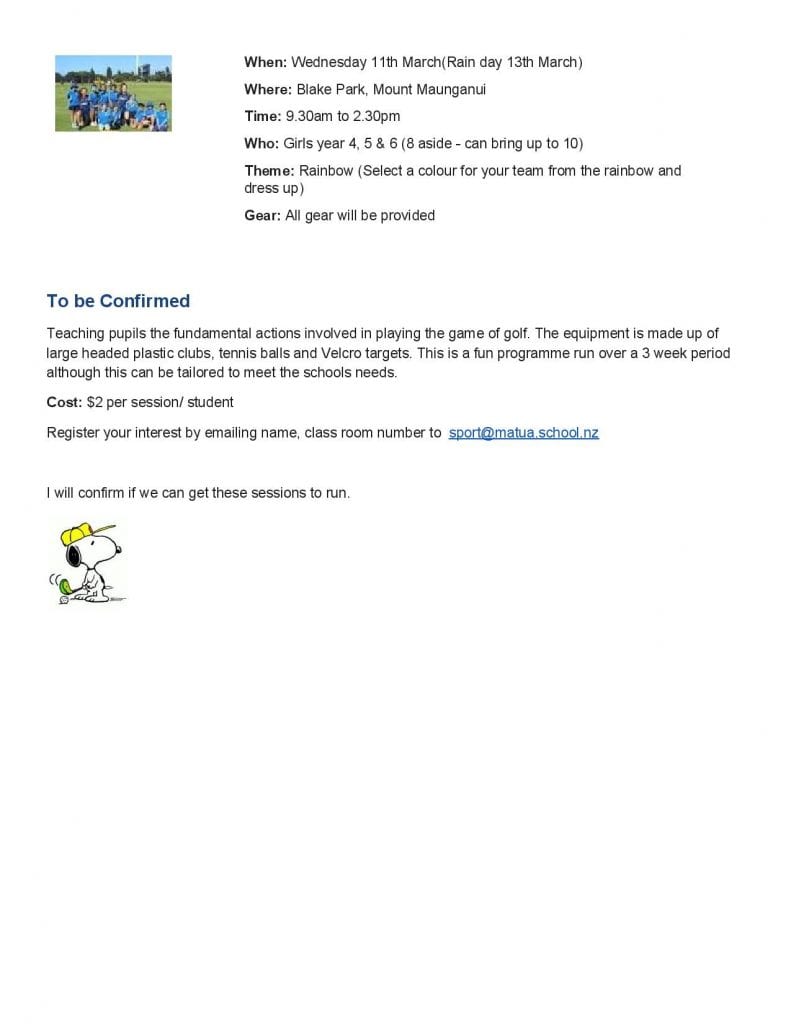 BIKING TO SCHOOL
We are noticing that children are biking to school by themselves at a very young age.
The local police suggest that children are safe and aware enough of what is going on around them, to be able to bike to school by themselves at the age of 10.
By this age their peripheral vision is developed enough for them to be aware of what is going on around them, cars coming out of driveways etc.
Our recommendation at school is that children are able to bike to school by themselves after they have completed our 'Kids Can Ride' program in year 5 and 6.
This program is run by the local council. It teaches our students about road and cycle safety and things to be aware of around them when they are out and about on their bikes.
PARKING AROUND SCHOOL – DROP OFF & PICK UP
One of the best ways to ease traffic congestion is to reduce vehicular traffic.
Encourage students, caregivers and staff to come to school by active travel:
walking
cycling
Scooting
walking school bus
car pooling
 Active travel also contributes overall to better health outcomes and increased road safety awareness skills
Ministry of Education
https://www.education.govt.nz/school/property/state-schools/day-to-day-management/traffic-management/
CHOOSE SAFETY OVER CONVENIENCE. PROTECT ALL OUR CHILDREN
 Parking
If you have senior or middle students, please consider Park & Stride (parking away and walking) so the limited parking around our school is more available for specific families. i.e. junior school, expectant and newborn parent's, families with disabilities.
If you need to drive your child to school, for the safety of your child and the local community, ensure that you drive and park safely, legally and considerately.
No parking or picking up and dropping off students on broken yellow lines
No parking on footpaths
No double parking
No parking that obstructs entry or exit to any driveway
CHOOSE SAFETY OVER CONVENIENCE. PROTECT ALL OUR CHILDREN
One of the best ways to ease traffic congestion is to reduce vehicular traffic.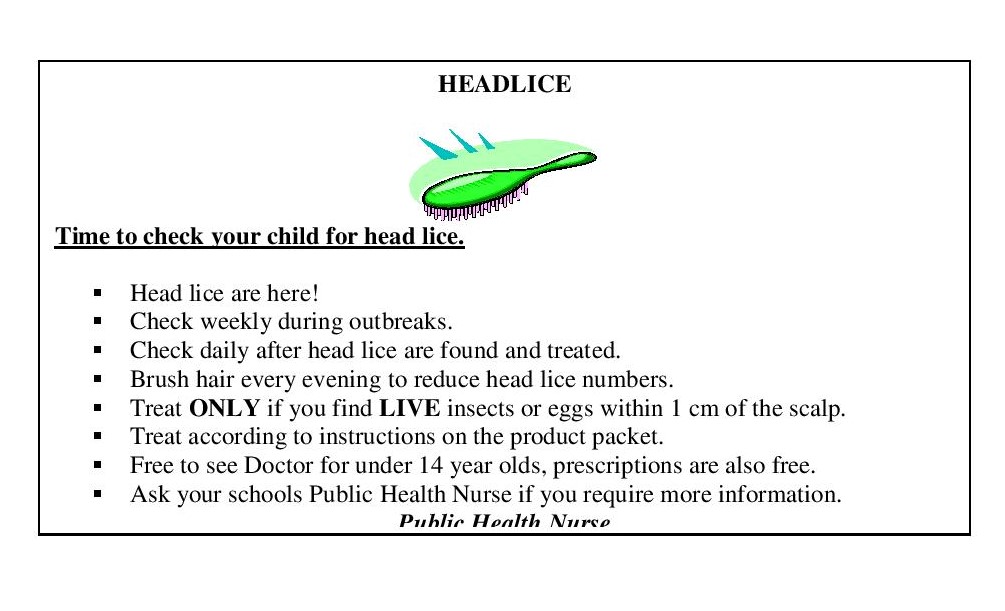 CHESS TOURNAMENT
My name is Richard Totton from Chesspower.co.nz, and I will be running a monthly chess tournament in Tauranga, starting on Sunday 8th March.
The Sarapu Cup is an excellent opportunity for students to practice their chess skills against students from other schools, especially in the lead up to the first Bay of Plenty Regional Tournament scheduled for Friday 5th June.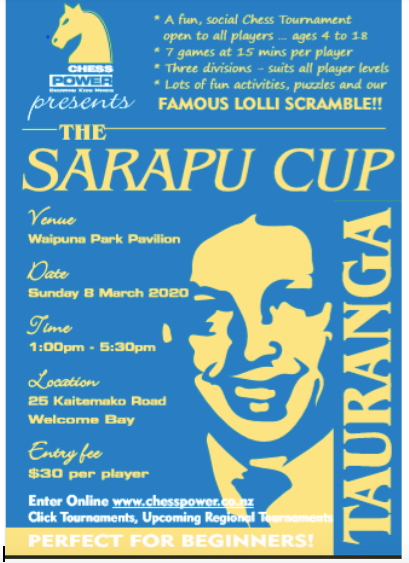 TERM DATES 2020
Term 1, 2020 – Monday 3rd February – Thursday 9th April 
Thursday 6th February – Waitangi Day. School will be closed.
Term 2 – Tuesday 28th April – Friday 3rd July (Mon 27th is Anzac Day Observed)
Term 3 – Monday 20th July – Friday 25th September
Term 4 – Monday 12th October – Friday 18th December
Our School App
We have a new school app to keep you up to date with events and notifications. Click on the button below to check it out.
Setting up with Kindo
Kindo is our new prefered payment and permission system. To help you learn how it works, we've added their new help sheet and video. We hope it helps.
 

PITA PIT LUNCH
Every Friday your child is able to order a Pita Pit lunch, which is then delivered to school just in time for lunch. You need to place an order via 'Kindo' , by 9am on Friday morning. Please see the menu below. It does say 'every day' but we do only offer this option on a Friday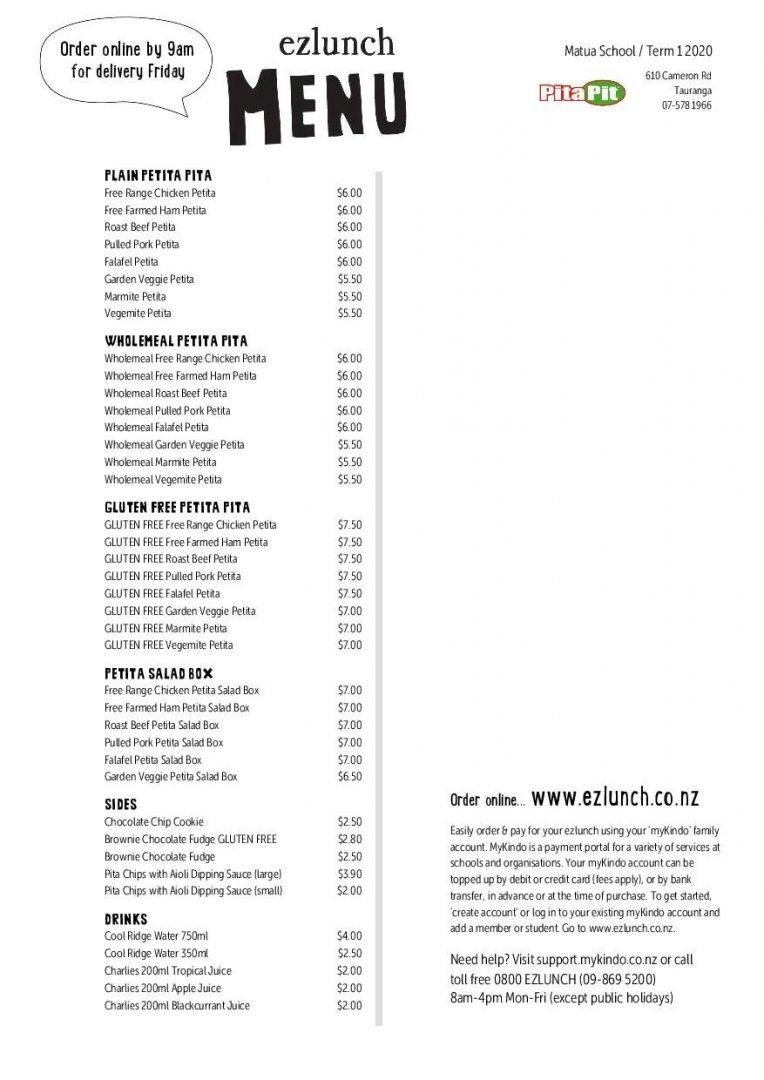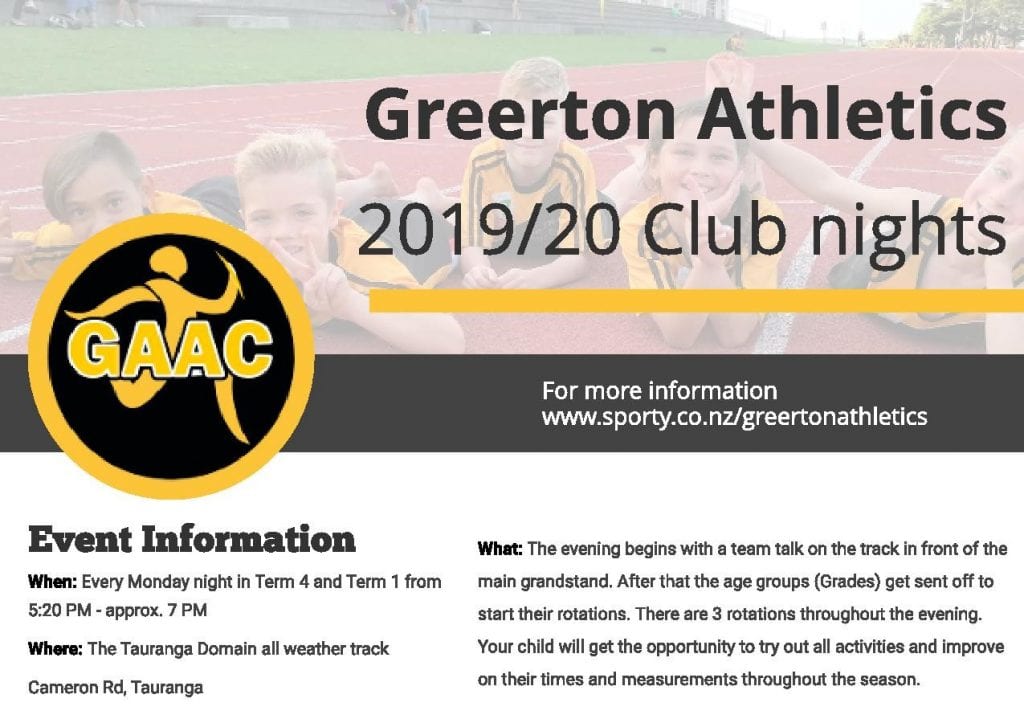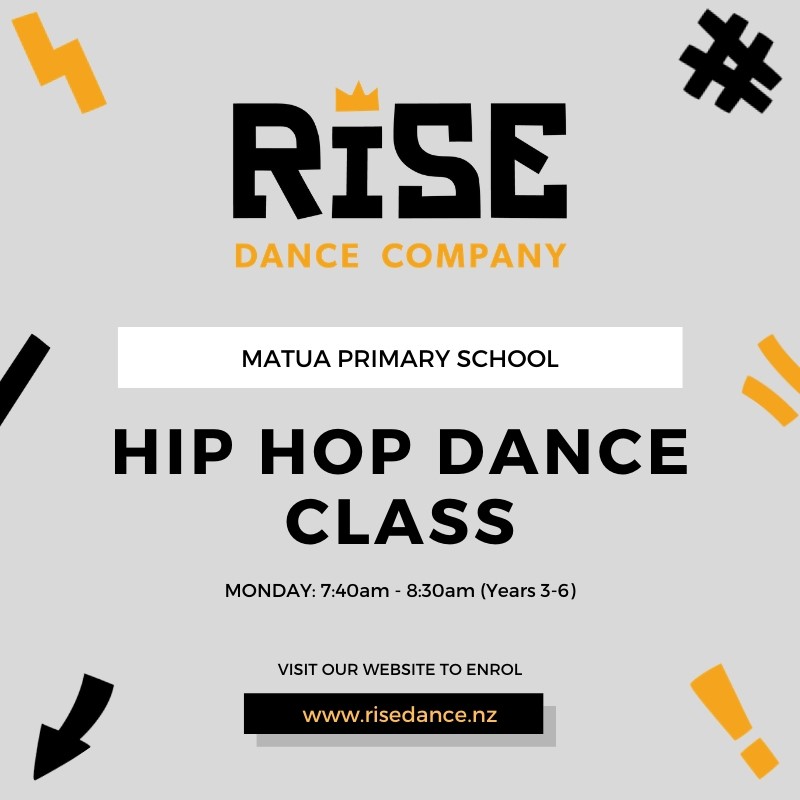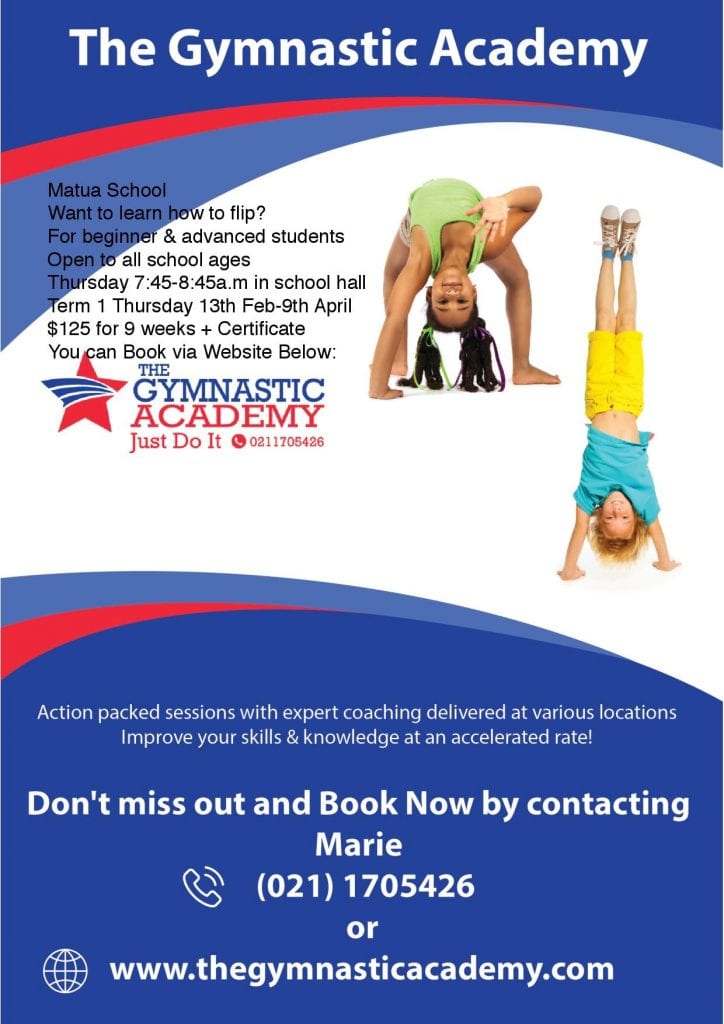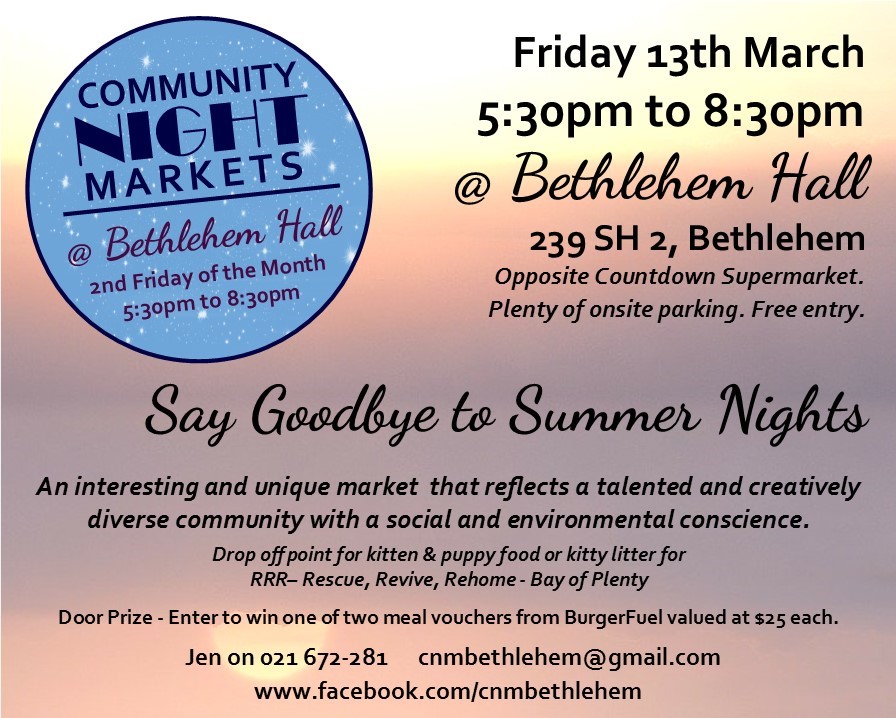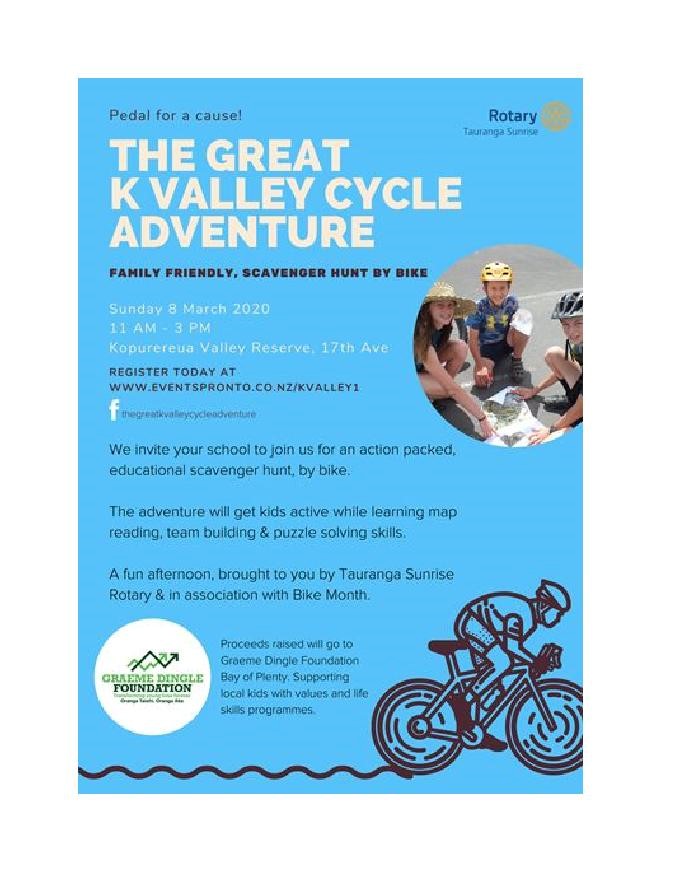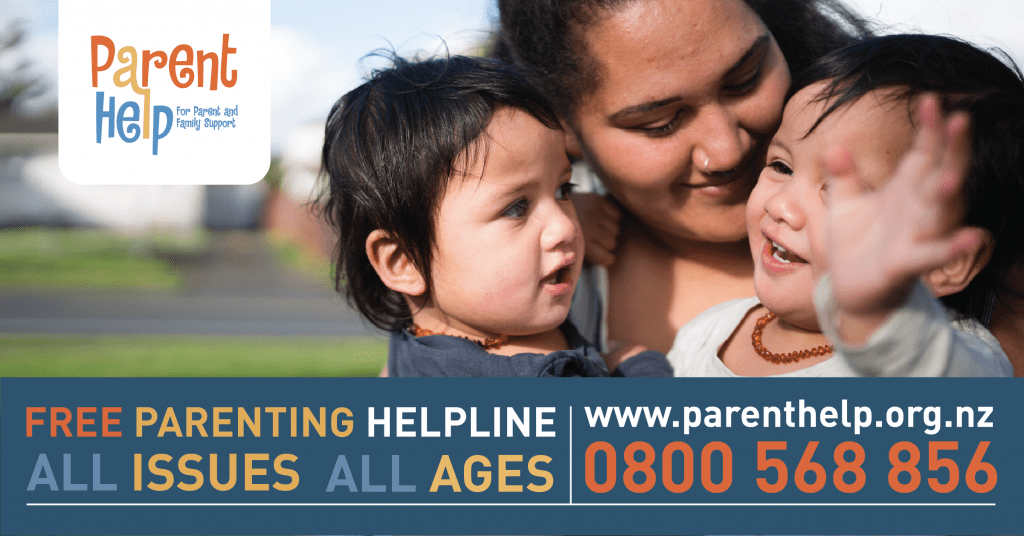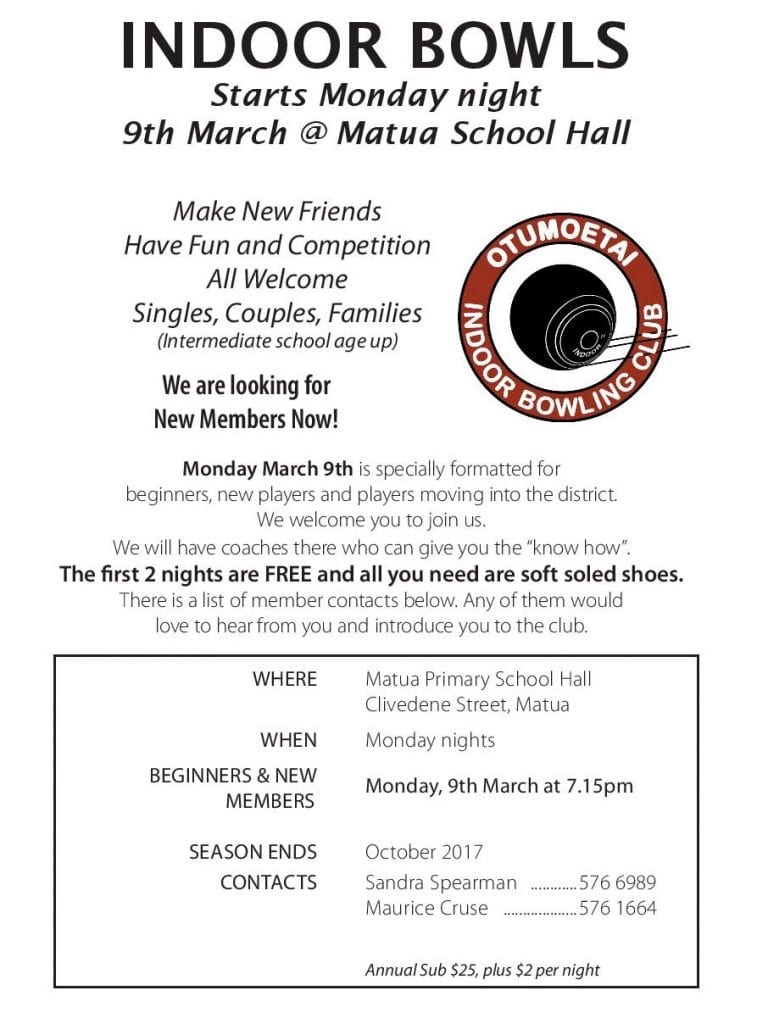 Lost Cat
This cat has been in our garden in Levers Road for the last week, it was in a bad way and we have  been taking care of it.  It is very friendly and quite vocal.  Do you recognise this lovely feline or know of anyone who may be missing their furry family member.
Please contact Kathie on 0220894699 for details.