Heron Herald Term 1, Week 5, 2019
Matua School is proudly supported by…
FROM THE PRINCIPAL'S LAPTOP
Kia ora and welcome to our latest Heron Herald. It has been an exciting few weeks with a wide range of learning opportunities taking place including a wonderful junior splash and dash.
The excitement is building for our school gala day. The PTA has been in full swing and classes are planning their stalls. Our highly organised PTA have everything extremely organised (including the weather). We have received a huge number of generous donations already, so a big thank you from all of us at Matua School for your generosity.
Both groups of eager campers went camping this week and have arrived safely back to school (somewhat less energetically than when they left). Camp is a great opportunity for our tamariki to build their self-management skills and build strong relationships for the year ahead and beyond. A huge thank you to our wonder senior team teachers and our committed parents who helped make this happen.
It was great to see many parents and caregivers at our first conferences. These are invaluable for us to build learning-focused relationships for the year ahead.
There is a paid union meeting coming up on the 20 March, our staff have opted to send representatives to the meeting. This will ensure school stays open for instruction. We recognise these additional days can be difficult for parents to make alternative arrangements.
There is a significant review of education occurring at present. This is being completed by the Tomorrow's Schools Independent Taskforce. Public consultation meetings are open to all members of the public, including Principals, other school staff, boards of trustees, parents, students and the wider community. The full schedule of public meetings is available here: https://conversation.education.govt.nz/conversations/tomorrows-schools-review/have-your-say-today/.
Lastly, we have received feedback about our stationery prices increasing. This is because we had issues with the quality of the covers (they kept falling off) of our previous books. The added advantage is students don't have to spend time trimming A4 worksheets as they fit in the new books so more time spent on learning. Thank you for your understanding with this.
CRAIG WALLIS
Principal

Our School App
We have a new school app to keep you up to date with events and notifications. Click on the button below to check it out.
STAFF CAR PARK
Just a reminder that the staff car park is not a "drop off and pick up zone", it is for staff use only.
This is also due to the safe keeping of our students when they arrive and leave school. The gate will now be closed both morning and afternoon.
Please use the surrounding streets when dropping your children off at school, remembering to park in the designated areas.
Thank you for your co- operation.
SENIOR SCHOOL CAMP
Our senior school have been having a wonderful time at camp in Rotorua. Have a look at what they have been up to.
TERM DATES 2019
Term 1 – Mon 4th February – Friday 12th April
School holidays – 13th – 28th April
Waitangi Day – Wednesday 6th Feb, school closed
Term 2 – Mon 29th April – Friday 5th July
Queen's Birthday – Monday 3rd June, school closed
School holidays – 6th – 21st July
Term 3 – Mon 22nd July – Fri 27th September
School holidays – 1st – 13th October
Term 4 – Mon 14th October – Thurs 19th December
Labour Day – Mon 28th October, school closed
ENROLMENT 2019
If you have a child due to start with us this year, please pop into the school office and pick up an enrolment pack asap. We are receiving lots of new entrant enrolments and are putting things in place for 2019.
MUSIC WITH MR HANTLER
Music Corner
ORDER!
The music room shows that, hopefully, a well organised space is a well organised session. Mr Hantler is thrilled to be in a few days a week this year and had time in the holidays for projects like the picture below. Thanks to Jay the caretaker, and the students in Room 6 for helping with labels this afternoon. Room 2, 6, 10, and 12 are coming to music this term and we're having a blast.
Year 4-6 choir has begun and we are in for a treat at the festival this year with 'Songs from the Movies' as the theme. A Million Dreams sounded just dreamy today with only year 4's in attendance (year 5-6 at camp).
Also, the Marimba Group (year 5-6) has begun rehearsing with our material preparing us for the Festival Songs from Ranginui.
Information about itinerant music lessons can be found at the school office.
Keep singing, Matua.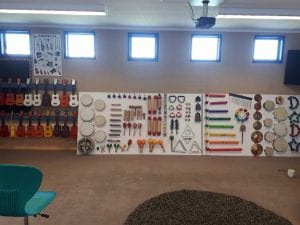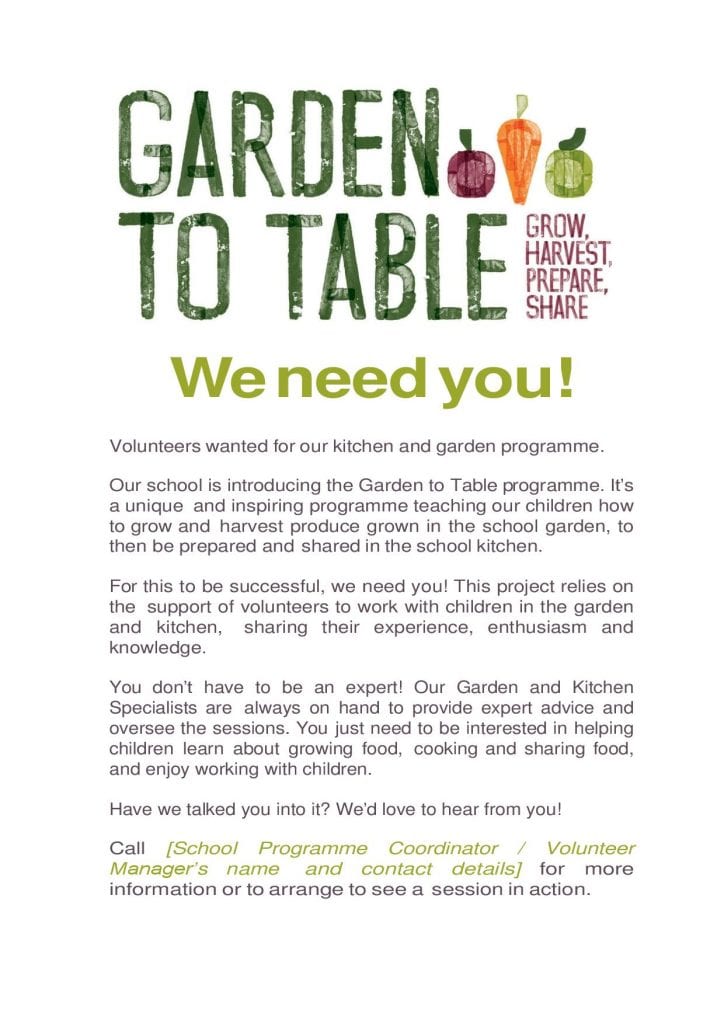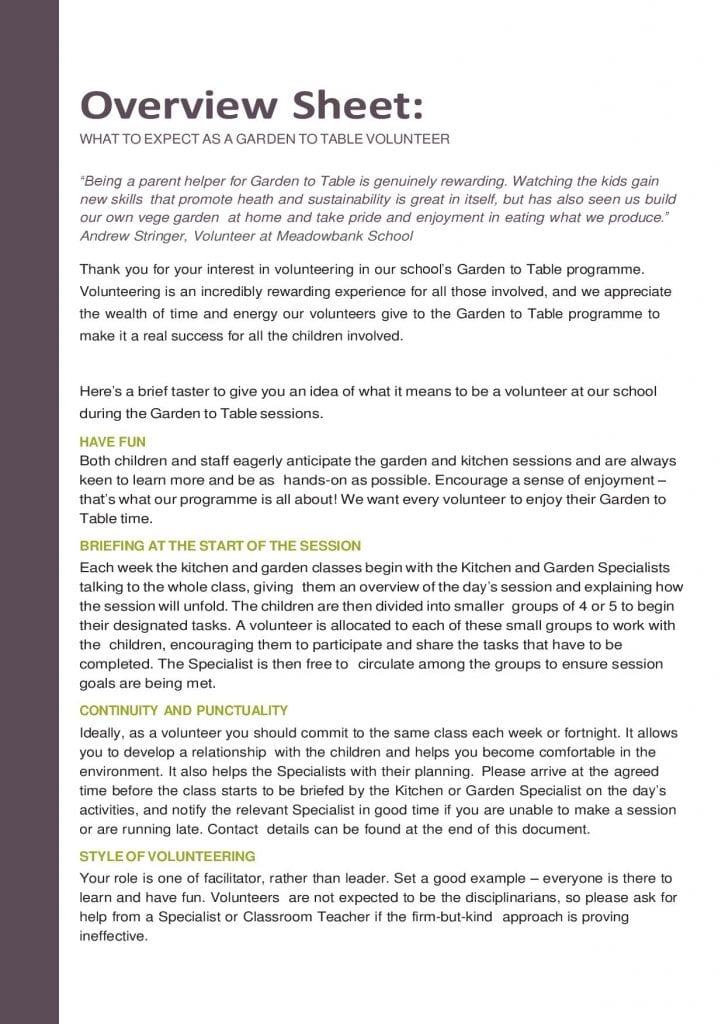 GARDEN TO TABLE
Garden To Table is coming along incredibly well. The children (and staff) are having a wonderful time. Huge thanks to everyone that has made it possible. Here are some pictures of the children getting involved in the various activities.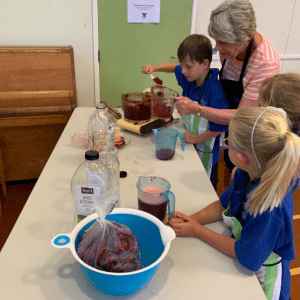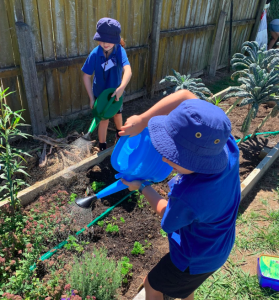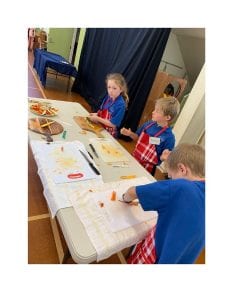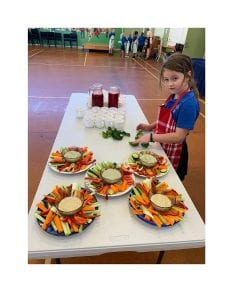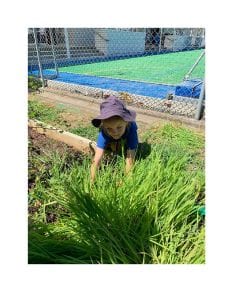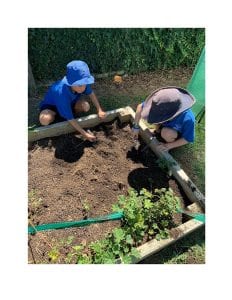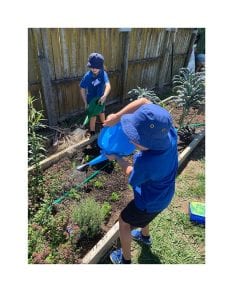 Setting up with Kindo
Kindo is our new prefered payment and permission system. To help you learn how it works, we've added their new help sheet and video. We hope it helps.
ART ROOM
Thank you so very much to all the parents who helped me keep the art and technology room running with your generous donations last year. The cardboard in particular was just awesome.  I have some unusual requests to add to the list this year, and if you could ask amongst friends and family that would be great.
Always needed
Icecream containers and lids
Wool
Iceblock sticks
Skewers
Beads
Pipecleaners
Wire off cuts
Newspaper
Corks
Cardboard
Old wallpaper paste
Cotton wool
Special requests
Old  blow dryers (hair)
Old wire cutters
Pliers
Screwdrivers of all sizes
An electric fry pan
Small hammers
Sandpaper
Nails and screws (small and thin)
Your assistance is always much appreciated.
Best regards
Jenni Scott
(Art Teacher)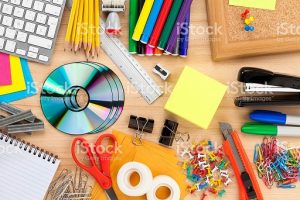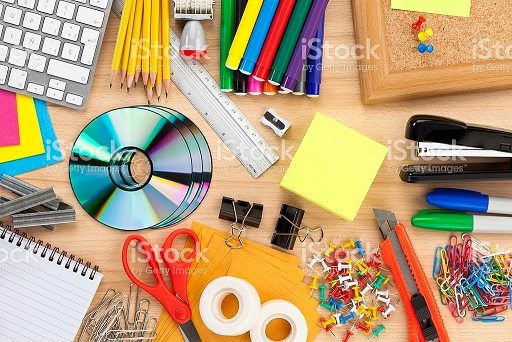 SCHOOL BBQ TRAILER
MATUA SCHOOL
TRAILER BBQ FOR HIRE
Ideal for fund-raising events, catering for large crowds at home or at work.
$100 per week day
$150 for weekend
Includes 1x full gas bottle
Bond is required
For all bookings contact Matua School on 07 576 9027, after hours 021 023 60747.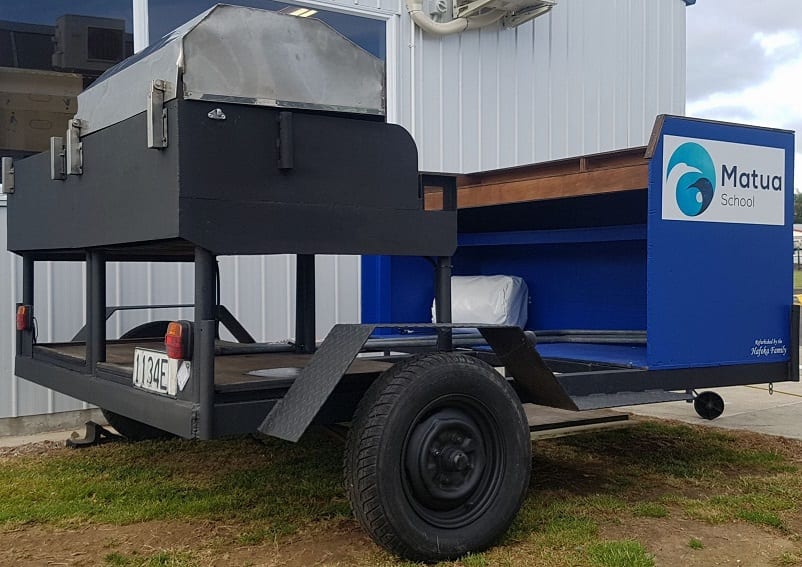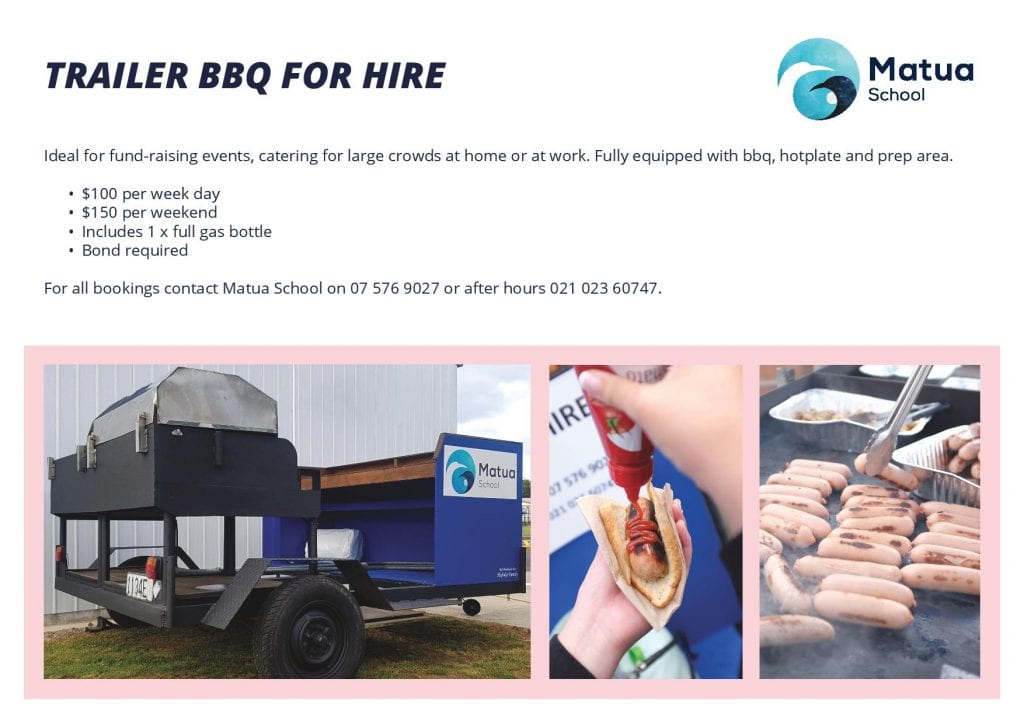 EXPLORERS SPLASH & DASH
On Tuesday our 'Explorers' took part in their "Splash & Dash". Great fun was had by all. Many thanks to all those parents that helped during the event.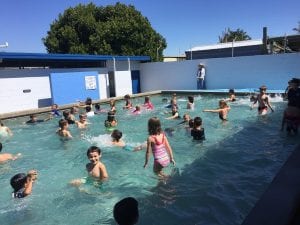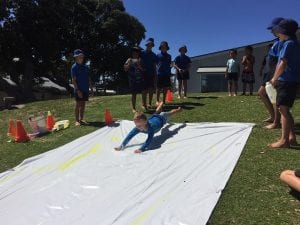 LIBRARY
During Term 4 2018 our Discoverers wrote letters to share with me their favourite books and authors.  Some children even wanted a double up of specific book series in the Library to reduce the waiting time.  Over the next few weeks I will be displaying new books which were purchased according to the children's requests.  They will be able to issue these new books out very very soon!  There is a sharing box also.  Please encourage your child to use the sharing box to share their favourite books, series and authors.  Children often introduce others to the joy of reading and I can assist by making sure these books are available to the school.
On another note, I'm seeking 15 minute parent helpers.  Anyone, for example, who can give 15 minutes after dropping off children or waiting to pick children up at the end of the day to shelve books and tidy shelves.  The School Librarians are doing a fine job and are incredibly busy at lunchtimes but need an occasional helping hand in the maintenance of the Library.  Any help is greatly appreciated!
I am based in the Library between 10am to 2pm Monday to Thursday or alternatively contact me by e-mail  library@matua.school.nz
Tracey Donovan-Grammer
 

PTA NEWS
We the PTA would love to thank everyone for the amazing jolly jars that you donated, what a wonderful job kids and parents did , they will be a big hit on the Gala day.
There is a bit of friendly competition between the Cake Stall and the White Elephant stall as to who can sell the most so make sure you get in on the action by supporting which stall appeals to you the most.
White Elephant items can still be dropped off into room 16 and cake stall notices will be coming home soon.
The PTA can not run the Gala successfully without lots of help from the children's families so please make sure you sign up for a small amount of time on your child's class stalls.
The Gala will end at 1.00pm with another Battle like last year . If you did not see this it was a very entertaining and fun event. During the day the children can enlist in the battle at the battle tent where their heights and other information will be taken for fun , at the end of the day they will get trained by a special battalion on how to battle safely . They will then receive a paper sword and some flour bombs and the battles will commence ,we do this at the end of the gala because the kids get very messy but have lots of fun.
If your child would like to make a shield at home and bring it to the battle they can. It must be made out of cardboard with nothing sharp on it.
The Gala will run on Saturday 30th March from 10 till 1pm with the battle following after 1pm. There will be plenty of food, games, rides, horses and entertainment. The gala is run cash only so be sure to bring plenty of change.
We look forward to seeing you all there .
 

PITA PIT LUNCH
Every Friday your child is able to order a Pita Pit lunch, which is then delivered to school just in time for lunch. You need to place an order via 'Kindo' , by 9am on Friday morning. Please see the menu below. It does say 'every day' but we do only offer this option on a Friday

Sustainable Backyards month is back; bigger and busier than ever!  The Sustainable Backyards programme is brought to you by Envirohub Bay of Plenty every March, and is now in its 14th year.  The 2019 calendar has over 170 events to choose from throughout the Bay of Plenty region. 
The calendar of events includes workshops, talks, festivals, film screenings, beach clean ups, frock swaps, walks, garden tours, sewing bees, crop swaps and more!
The events are fun, varied and provide people with an opportunity to connect with their communities, share knowledge, learn more, and be inspired towards achieving a more sustainable future.  With a diverse mix of activities, there is something for everyone.  Some key events to lock into your diary:
1st of March, Aongatete Forest, Katikati 6.45pm- 9.30pm, Koha
Discover how the forest comes ALIVE with this guided night walk – you'll see the elusive spiders, wetas and many more bush creatures that only come out when the sun goes down.
Bring a suitable head torch or similar, clothing and footwear for a 2.5 hour walk. Suitable for ages 8+.
Small koha per person which will go towards pest control in the forest. Registration essential, numbers limited – email events@aongateteforest.org
Assemble at the carpark 834 Wright Road.
Rocky Shore Adventure with DOC and Discovery through Nature
5th of March, 12- 2.30pm, Rock and Beach- Base Track Mount Maunganui
Fun for the family, bring your passion for shells and small creatures of the sea and become a marine biologists discovering what lives in the Rocky shore at low tide. Scramble over rocks, discover rock pools and listen to marine scientists tell tales of interesting creatures. If you are lucky find them yourself! Find an octopus, watch a starfish feed and lots more. Learn about marine conservation issues for our rocky coastlines.
Specific requirements: all children under 16 years old should be accompanied by an adult. Appropriate foot wear is necessary (such as wetsuit boots or old lace up shoes), we do not recommend bare feet. Also sunhat, sunscreen and drinking water should be brought to this event.
Booking essential limited spaces (max 60)
More information on location and to book contact nlunson@doc.govt.nz
Meeting Point: Grass area in front of Mount Surf Club (near the boat ramp)
Underwater and Beach Cleanup with Dive Zone and Western Bay Wildlife Trust
3rd of March, Pilot Bay, Mount Maunganui, 10am
Underwater clean up at Pilot Bay (old wharf). For non Divers and children there will also be a beach clean up along Pilot Bay. Bring your own dive gear catch bag and gloves, we will have a small amount of tanks available for use on the day.
Cleanup sponsored by Waste Management.
13th of March, The Orchard Church, Te Puke, 7pm, Koha
In response to a UN Food and Agriculture Organization announcement, "Only 60 Years of Farming Left If Soil Degradation Continues" University of British Columbia Emeritus Professor of Physics and Astronomer, Phil Gregory, has spent the past four years investigating the subject to see what, if anything, can be done.
The good news is that during the last 20 to 30 years there has been an amazing revolution in our understanding of soil biology and nature's complexity.
Come along to a fascinating evening by Phil.
Food for Thought by Good Neighbour
23rd of March, Our Place, Tauranga, 10am- 3pm, $10- kids under 13 FREE
Tauranga is set to celebrate another New Zealand first as the City prepares to host the Biggest Food Rescue Festival in the country. A celebration of rescued food and our community, there will be competitive cook-offs between 6 rival teams, food stalls, market items to purchase, live music and fun for the whole family.
We've got some amazing local businesses confirmed for the cook-off like New World Brookfield, PAK'n SAVE Cameron Road Tauranga and Countdown Supermarkets … just to name a few.
Food Rescue Cooking Demonstration with Peter Blakeway and Good Neighbour Trust
31st of March, 11Totara Street, Mount Maunganui, 2pm to 3.30pm, $15
Food waste contributes to one third of methane gases entering the atmosphere, and the majority of it is avoidable! Enjoy an informative afternoon learning how to create your own delicious meals with rescued food. Nibbles will be provided.
There are plenty more in the brochure so please feel free to look through or head onto Envirohub's website
Please see attached posters, there are plenty more if you would like them. 
2019 Sustainable Backyards is going to be bigger and busier than ever before, thanks to the incredible ongoing support from our sponsors; BayTrust, Lottery Grants Board, Western Bay of Plenty District Council, Pub Charity, Lion Foundation, Community Organisation Grant's Scheme, ANZ Staff foundation, Ministry for the Environment, TECT and Bay of Plenty Regional Council.
We hope you will make time to connect, learn and be inspired during March towards a more sustainable lifestyle.
Contact projects@envirohub.org.nz or call 07 578 6664 for more information.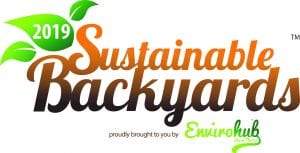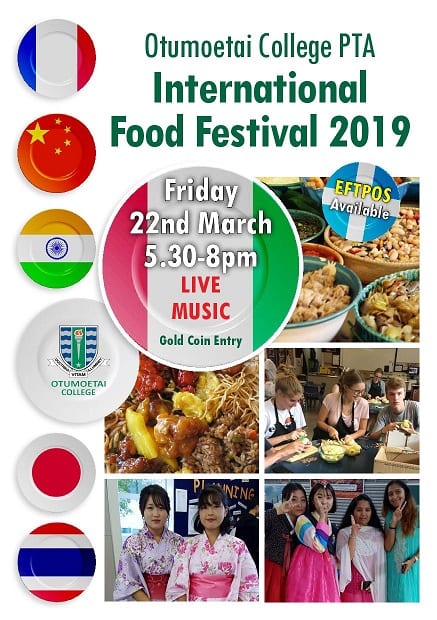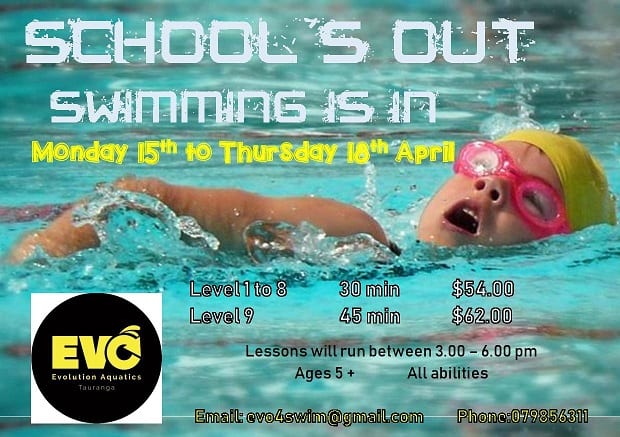 Calling all girls who want to play football in term 2 in 2019
Otumoetai Football is proud to be part of the Bay of Plenty Girls Football league. We provide girls only football teams for players from 4yrs to 14yrs and then through college to Senior Women's and we would love more girls to join this fantastic sport.
If you are interested in joining a girl's only football team, register online at comet.co.nz and select Otumoetai FC.
If you have any questions about girl's football, please contact the Amanda and Kelly on juniorgirls@otumoetaifootball.co.nz
GET INTO FOOTBALL WITH OTUMOETAI FOOTBALL CLUB
We have football teams for all abilities starting from 4yrs old. Get out and enjoy the beautiful game with Otumoetai Football Club.
Registrations are now open for 2019
Register at comet.co.nz
Any questions contact Carla at admin@otumoetaifootball.co.nz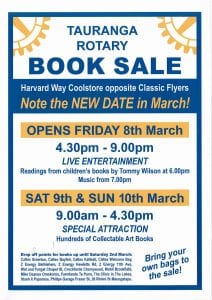 Toolbox Parenting Course
Matua Community Baptist Church will be hosting the toolbox parenting course for primary years at the church office 1 Warrington St Matua  Each Tuesday 7 – 9pm starting 19.02.19   enquire at church office  Ph 576 3743 or matuabaptist@xtra.co.nz
Healthy Homes collection: heaters, curtains, blankets sheets
Hanging out at Elizabeth St Community Center, collecting heaters, blankets and curtains and sheets  (used, but in good condition) and pyjamas and socks (new!) for families in need and making up our hand out kits and mould kits.
Saturday 9th March 8am – 12pm
For more information you can email duncan.newington@so.org.nz