Heron Herald Term 1, Week 5, 2020
Matua School is proudly supported by…
FROM THE PRINCIPAL'S LAPTOP
Kia ora koutou,
It has been an action-packed couple of weeks at Matua School with many active learning and community building opportunities happening around the school.  We love seeing children having the opportunity to explore the local environment and learn through discovery and hands-on activities.  Thanks to the many parents that have supported by attending the many trips and events that have been happening.  Your participation is so valuable.
We are excited to announce that Mrs Vanessa Millar and her husband Tim are expecting a baby!  The roar of excitement that exploded from the staffroom when this was announced was huge, so suffice to say the whole team here is thrilled with the news.
Thank you to those who have made the time to attend one of our Parent Forums.  We have completed two meetings and with two more coming up.  We have added an evening meeting to the schedule – see below for details.  Each meeting has a maximum of 12 people, so if the demand requires it, we will add further opportunities in the weeks ahead.
Parent Forum #3
Wednesday 11th March, 9:00am – 10:00am
https://www.eventbrite.com.au/e/95492944969
Parent Forum #4
Tuesday 17th March, 5:30pm – 6:30pm
https://www.eventbrite.com.au/e/parent-forum-4-tickets-97898831039
COVID-19 (novel coronavirus). Update for Matua School Whānau.
Over the last few days there has been much media coverage on this topic.
You may be wondering what Matua School is doing to plan and prepare for an event like this.
The Ministry of Education and Ministry of Health have been providing excellent communications to school principals on this issue for the last few weeks.
As a school we continue to follow the daily updates from the Ministry of Education and Ministry of Health.
Here is the current advice to us all:
All schools and early learning services are still in the 'Keep it Out' phase of a pandemic plan.
Everybody should follow the following basic principles to reduce the risk of getting an acute respiratory infection or passing it on to others:
Washing hands with soap and water for at least 20 seconds.
Covering coughs and sneezes with clean tissues or with an elbow.
Put used tissues in the bin.
Encouraging staff and students to stay home if they are unwell
Avoiding close contact with anyone with cold or flu-like symptoms.
If you feel unwell you should avoid public gatherings and events.
For further information in this topic please refer to the Ministry of Education website and the Ministry of Health website.  Both of these sites are being updated regularly.
In our school, we are encouraging all staff and students to practice good hygiene to prevent the spread of all communicable diseases such as influenza, colds and virus's.
Nga mihi,
Marcus Norrish
Principal
Ōtūmoetai Community of Learners / Kāhui Ako
TEACHER ONLY DAY – 13TH MARCH 2020
Our nine Ōtūmoetai Community of Learners / Kāhui Ako Schools will be holding a simultaneous Teacher Only Day on Friday 13th March, this term. This is an Ōtūmoetai Community of Learners / Kāhui Ako initiative to bring all the teachers and staff who work directly with students together for professional development.
This Teacher Only Day will ensure all our teachers across the nine schools are focussing on our Ōtūmoetai Community of Learners / Kāhui Ako achievement challenges in addition to addressing student wellbeing.  The schools in our Ōtūmoetai Community of Learners / Kāhui Ako are:
Ōtūmoetai College, Te Wharekura o Mauao, Ōtūmoetai Intermediate School, Ōtūmoetai Primary School, Pillans Point School, Matua School, Bellevue School, Brookfield School, Bethlehem School. We also have twenty-seven Early Childhood Centres in our Ōtūmoetai Community of Learners / Kāhui Ako.
The Ōtūmoetai Community of Learners / Kāhui Ako achievement challenges are:
Student Hauora / Well being
Oral Language development / Kōrero
Literacy with main focus on Writing/Tuhituhi
Priority Learners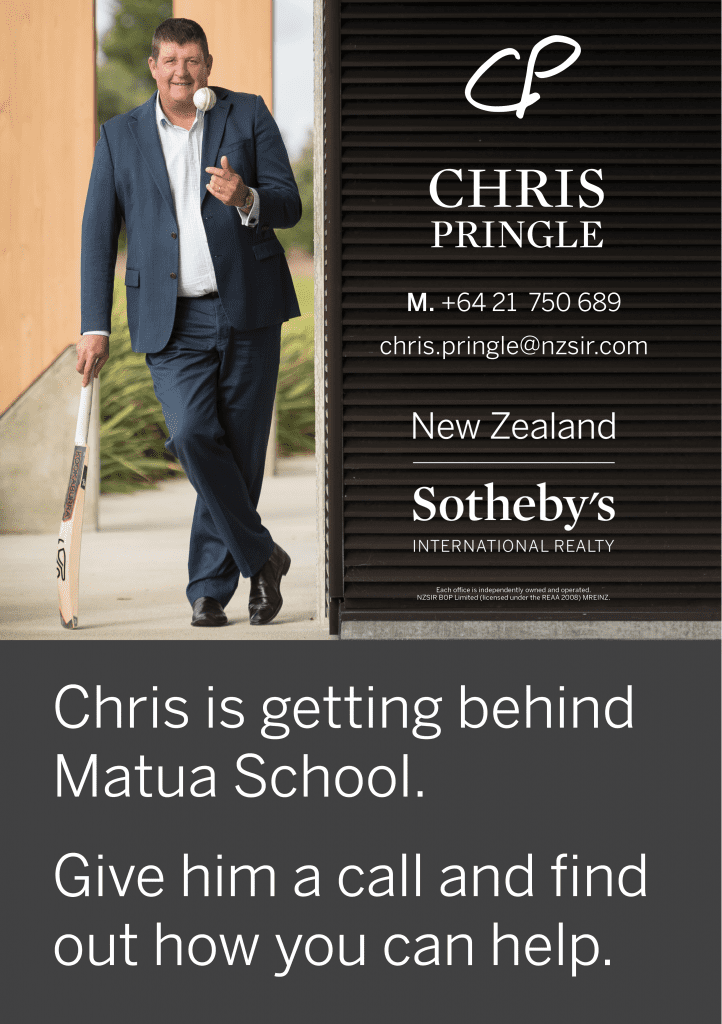 SCHOOL INFORMATION
Staff Car Park – The staff car park is for staff use only and not to be used as a drop off point for your child. We like to keep our children safe in an around our community. Please encourage your children to walk, ride or scooter to school. Allow more time in the morning to drop your children off if you need to drive. Park safely in the designated areas and please do not park on yellow lines or in front of neighbors drive ways.
Thank you for your cooperation and understanding.
Signing children in and out of school – If you collect your child/children early or drop them off late, please remember to sign your child in and out of school at the office. We do always need to know where our students are, in case of an emergency. This is for the safety and well being of our students.
Change of address/phone number – If you have recently moved house, changed home, work or mobile phone numbers, please could you contact the office and let us know. We can then update your students details. We need to be able to contact you in case of an emergency . Either email the office on office@matua.school.nz or phone us on 07 576 9027.
Absent Pupils – If your child is going to be absent from school for any reason, please notify the office (even if you have already let your child's teacher know). Your child's teacher might also be away sick and the office will not know. You can either send an email to office@matua.school.nz or you can phone 07 5769027 and leave a message on the absentee line. Please leave your child's name and room number, your name and the reason for their absence. If we do not hear from you, we do need to call and find out where they are. This is for the safety and well being of your child. If we are unable to make contact and do not know where your child is, they do get marked as truant.
School Hours – We ask that children do not arrive at school before 8.15am each day. Supervision of children is provided from 8.30am each morning. The school takes no responsibility for the supervision of children in the school grounds, earlier than this.
School does begin at 9am and we ask for all children to be in their classroom by this time. It can be incredibly disruptive for the teachers and students if children are late on a regular basis.
Sun Hats – Children must wear a sun hat during term 4 & 1. If they do not have a hat, they will be asked to stay in the shade. Please also sunblock your children before they come to school each morning.
Thank you for your co operation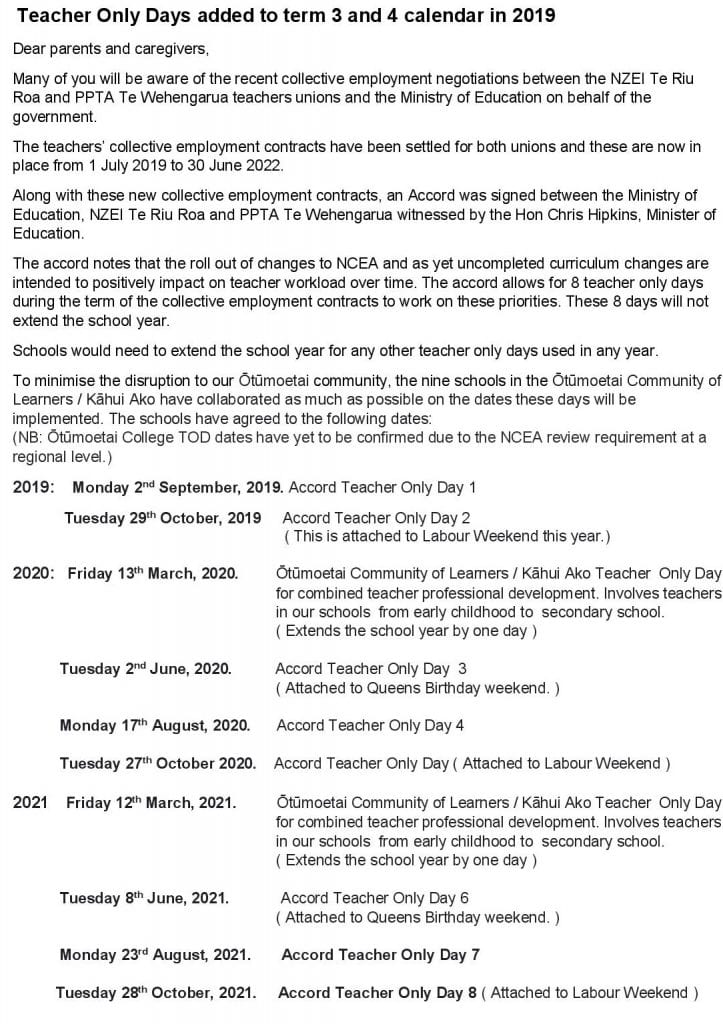 PTA NEWS
There is a lot of Gala information coming out to everyone soon. It takes the whole community to make the Gala run smoothly so any sort of help is appreciated.
The PTA have a lot of fun and amazing events planned for the day and we cannot wait to see the kids faces enjoying it all.
Don't forget to drop any white elephant donations to room 17 or contact the PTA on matuapta@gmail.com if you would like anything picked up.
We will be running a plant stall so if you can help with donating any potted herbs, veggie seedlings, plants or fresh cut flowers please email matuapta@gmail.com
There will be lots of raffles on the day so if you have a business that would like to donate a prize it would be greatly appreciated.
The next PTA meeting will be our AGM 7th April 7pm in the school staff room. We would love to see you there. If you would like to find out more information about PTA positions please email matuapta@gmail.com
Thank you for your support .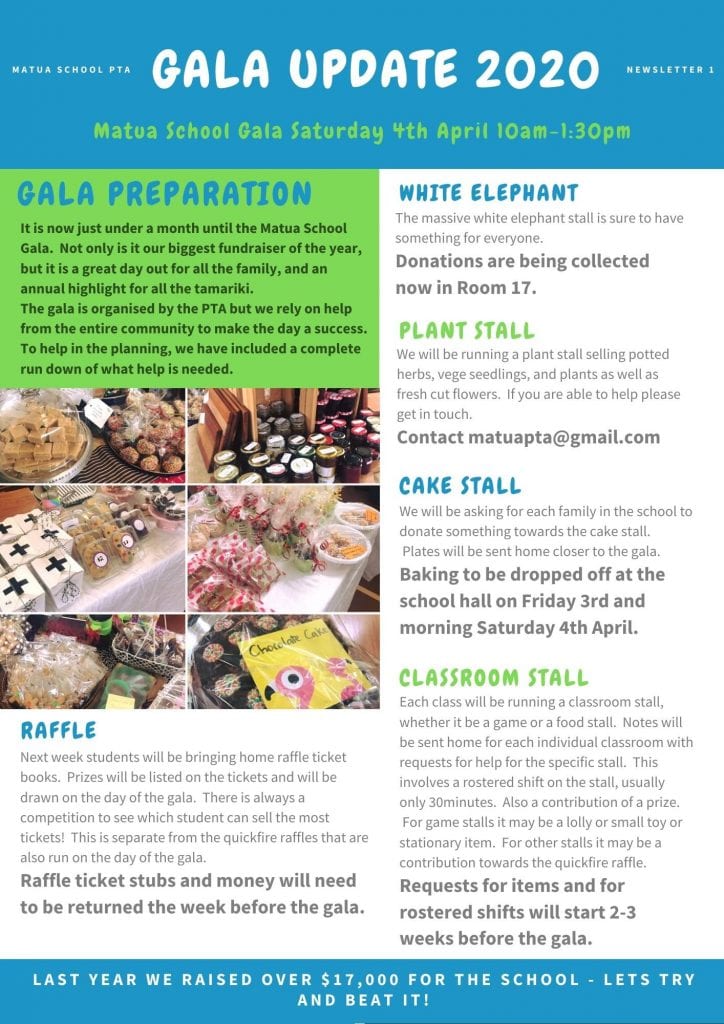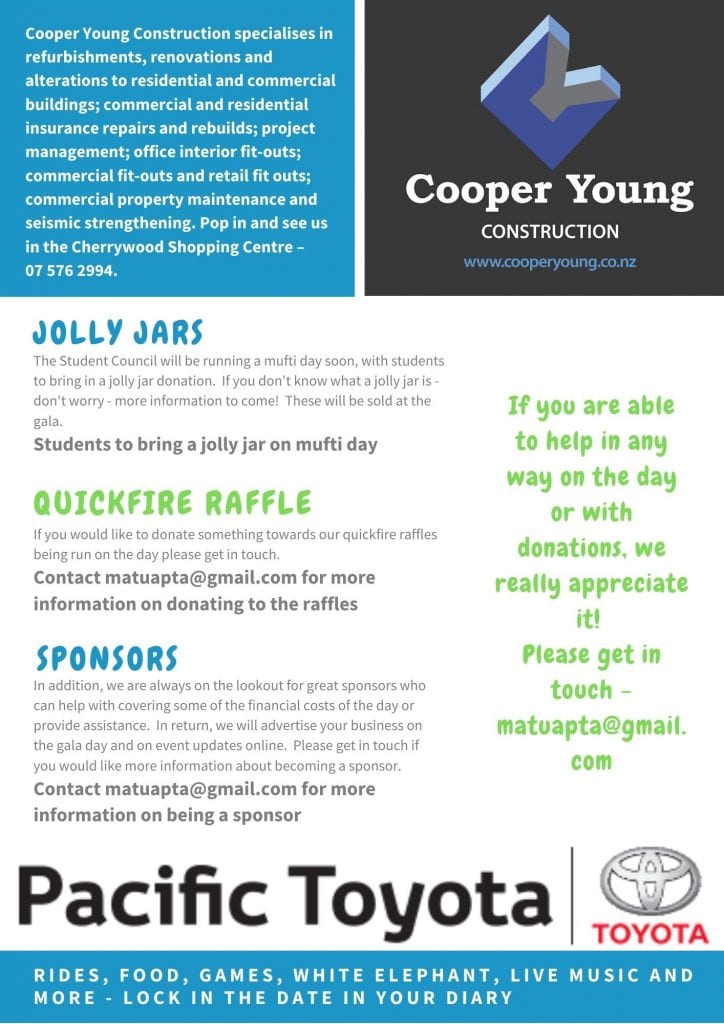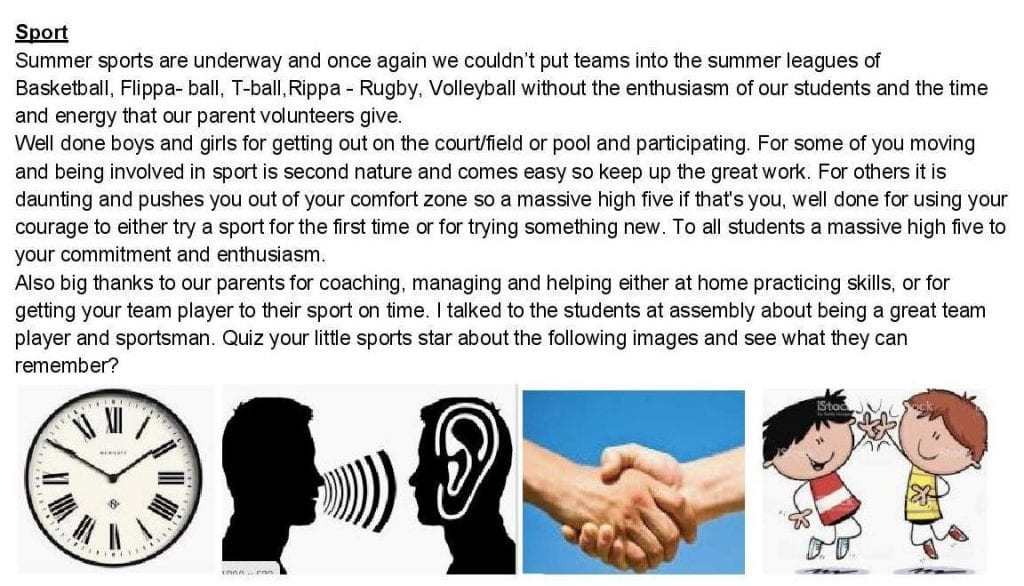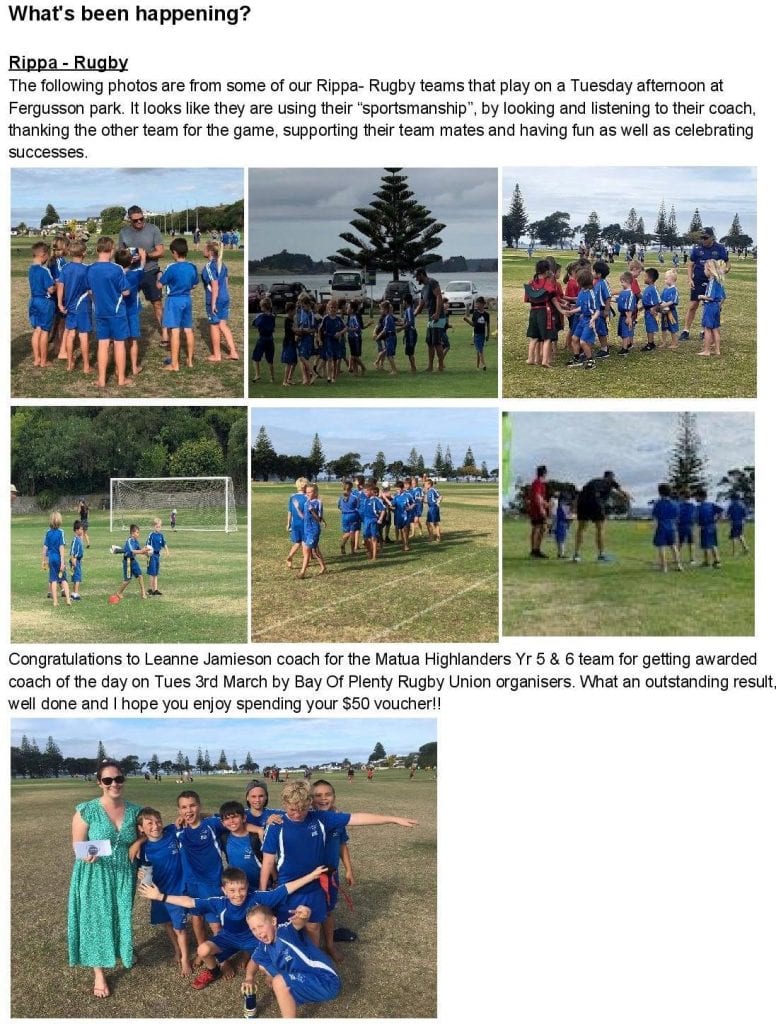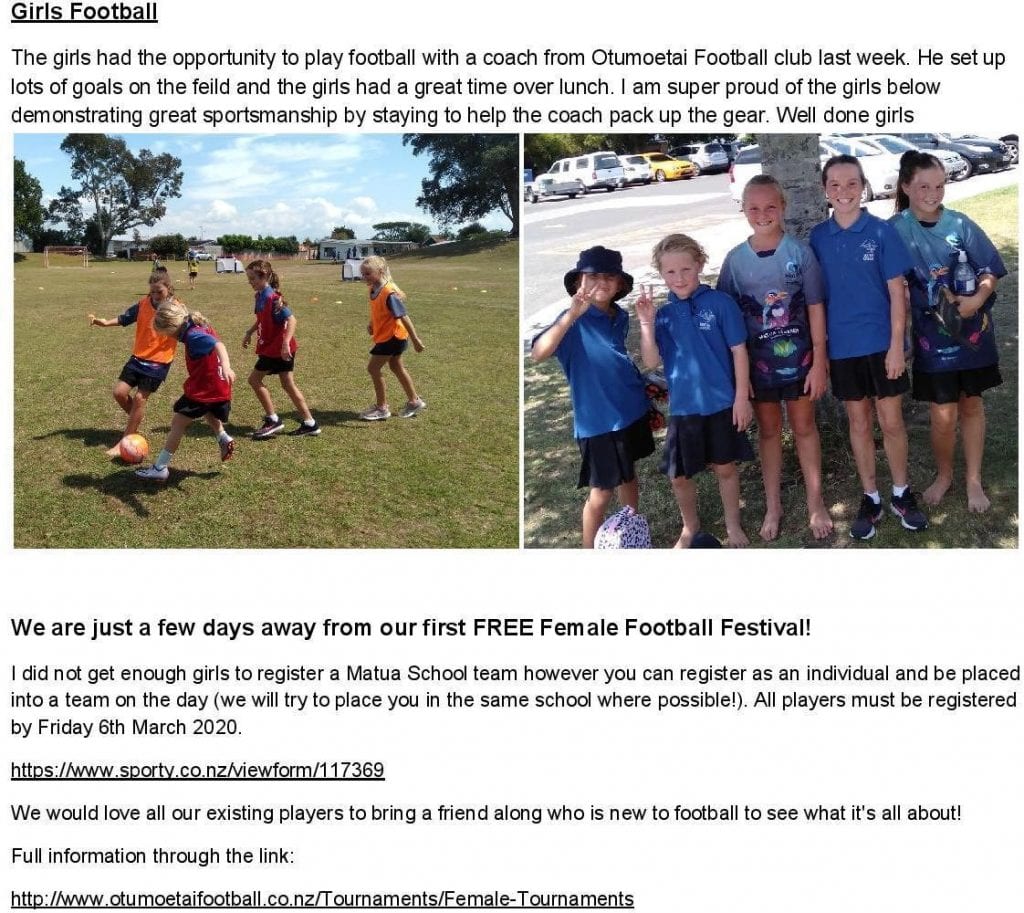 BIKING TO SCHOOL
We are noticing that children are biking to school by themselves at a very young age.
The local police suggest that children are safe and aware enough of what is going on around them, to be able to bike to school by themselves at the age of 10.
By this age their peripheral vision is developed enough for them to be aware of what is going on around them, cars coming out of driveways etc.
Our recommendation at school is that children are able to bike to school by themselves after they have completed our 'Kids Can Ride' program in year 5 and 6.
This program is run by the local council. It teaches our students about road and cycle safety and things to be aware of around them when they are out and about on their bikes.
PARKING AROUND SCHOOL – DROP OFF & PICK UP
One of the best ways to ease traffic congestion is to reduce vehicular traffic.
Encourage students, caregivers and staff to come to school by active travel:
walking
cycling
Scooting
walking school bus
car pooling
 Active travel also contributes overall to better health outcomes and increased road safety awareness skills
Ministry of Education
https://www.education.govt.nz/school/property/state-schools/day-to-day-management/traffic-management/
CHOOSE SAFETY OVER CONVENIENCE. PROTECT ALL OUR CHILDREN
 Parking
If you have senior or middle students, please consider Park & Stride (parking away and walking) so the limited parking around our school is more available for specific families. i.e. junior school, expectant and newborn parent's, families with disabilities.
If you need to drive your child to school, for the safety of your child and the local community, ensure that you drive and park safely, legally and considerately.
No parking or picking up and dropping off students on broken yellow lines
No parking on footpaths
No double parking
No parking that obstructs entry or exit to any driveway
CHOOSE SAFETY OVER CONVENIENCE. PROTECT ALL OUR CHILDREN
One of the best ways to ease traffic congestion is to reduce vehicular traffic.

TEAM PLAYER DAY – MIDDLE SCHOOL
Here are some pictures from our Middle School Team Player Day in Fergusson Park. By all accounts it was a massive success! The children participated in field sports and problem-solving activities, rotating around to make sure that nobody missed out on any of the fun. The parent support was outstanding and we look forward to many other opportunities to work together.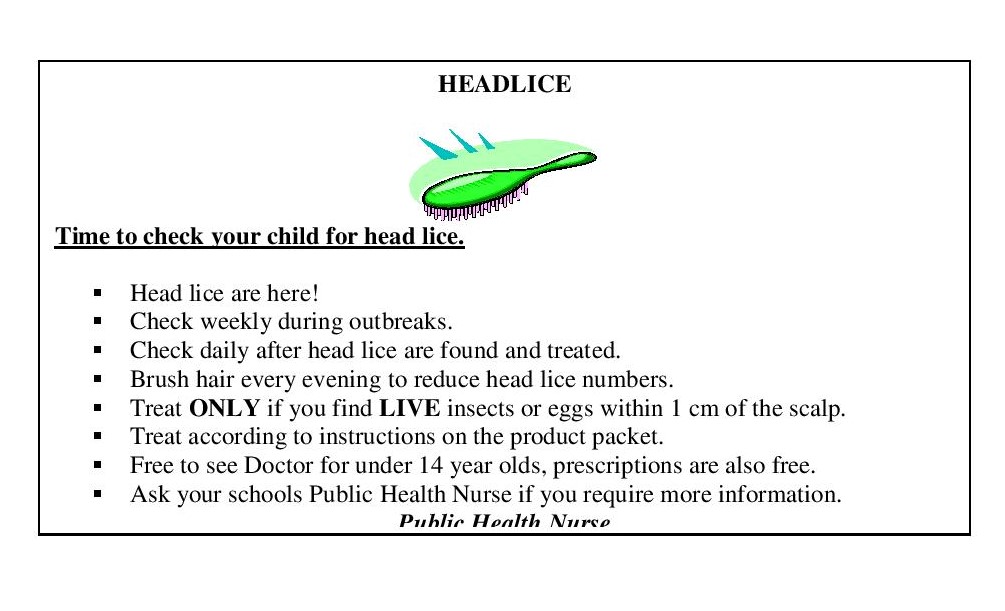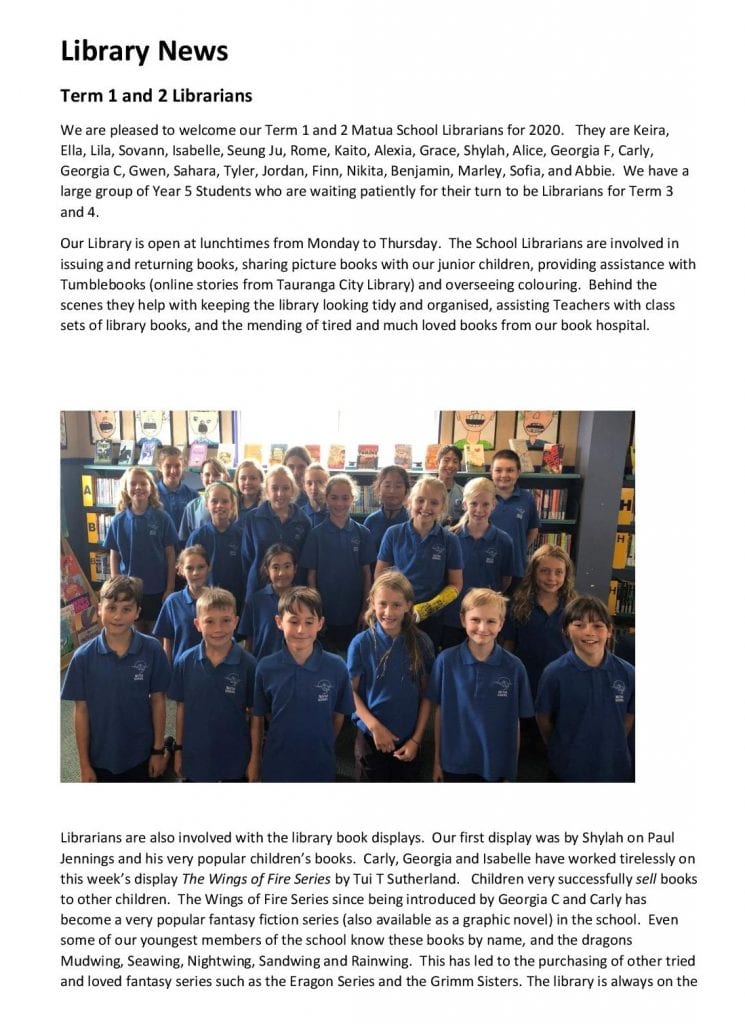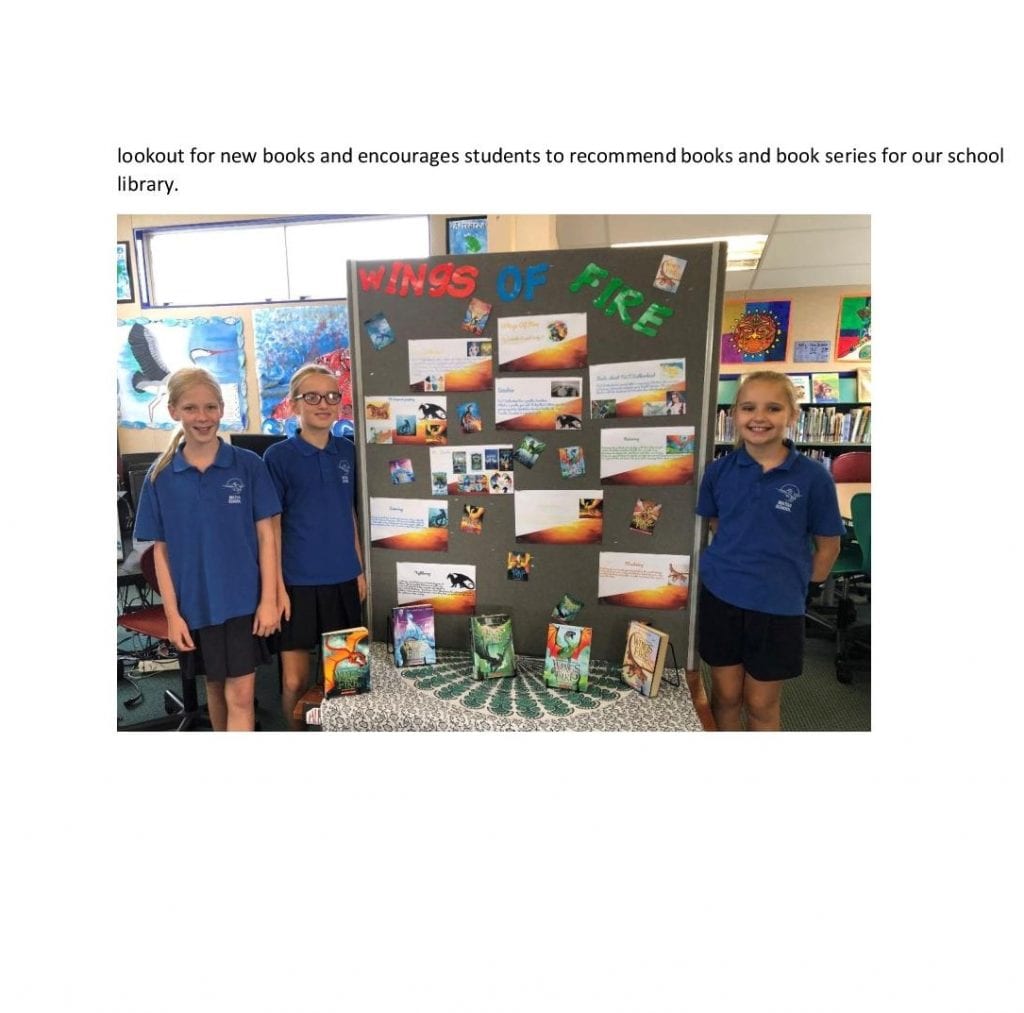 TERM DATES 2020
Term 1, 2020 – Monday 3rd February – Thursday 9th April 
Thursday 6th February – Waitangi Day. School will be closed.
Term 2 – Tuesday 28th April – Friday 3rd July (Mon 27th is Anzac Day Observed)
Term 3 – Monday 20th July – Friday 25th September
Term 4 – Monday 12th October – Friday 18th December
Our School App
We have a new school app to keep you up to date with events and notifications. Click on the button below to check it out.
Setting up with Kindo
Kindo is our new prefered payment and permission system. To help you learn how it works, we've added their new help sheet and video. We hope it helps.
 

PITA PIT LUNCH
WIN LUNCH!  FOR YOUR CHILD AND THEIR TEACHER FOR A WEEK!
Win a week of lunches for your child and their teacher! That's five days of yummy ezlunch options for two – just order an ezlunch school lunch for delivery between Monday 9th and Friday 20th March and you'll automatically be put in the draw to WIN.  The winner will be notified by 5pm on Friday 20th March and both the winning student and their teacher will receive a $50 ezlunch voucher.
Every Friday your child is able to order a Pita Pit lunch, which is then delivered to school just in time for lunch. You need to place an order via 'Kindo' , by 9am on Friday morning. Please see the menu below. It does say 'every day' but we do only offer this option on a Friday