Heron Herald Term 2, Week 2, 2021
Matua School is proudly supported by…
FROM THE PRINCIPAL'S LAPTOP
Kia ora koutou,
We are always thankful for the many people who go above and beyond to support the school and community.  You will recall that we have recently refurbished the 'Superloo' toilet block.  Our goal was to create a space that was more friendly for students to use.  We were thrilled to work with Hannah from Architects, Design Group Stapleton Elliott who did a fantastic job in reworking the space and designing a modern, yet functional space.  
Colin Bell is a professional artist and was a parent of the school until the end of last year.  As a gift to the school, Colin offered to create artwork that would enhance the new spaces and give students something to be proud of.  Colin has been working consistently on this project since early in Term 1, and the work completed so far looks stunning.
While Colin has volunteered his time to this project, the extent of it is well beyond what we anticipated at the beginning.  Many hours of work have been given already, with many more still to come.  We would love to give Colin a koha (gift) to thank him for going well beyond our expectations.  So, we have decided to hold a school mufti-day.  On this day we are asking families to consider making a donation that will be passed onto Colin and his family.  This could be a gold coin donation, or you may choose to give a greater amount, which you can donate using cash or through KINDO.  It would be wonderful to see our community pull together and show some appreciation for this wonderful contribution to our school.
Mufti Day Date:  Friday 21st May, 2021
Donations can be made by sending cash to school with children on the day.  Alternatively, if you would like to contribute a larger amount, we have set up a payment option in Kindo. 
It's Storytime!
This term we are framing some of our learning around Storytelling.  Stories are told in many different ways, in different contexts, and across all cultures.  To kick off our learning the teachers got together and held a surprise 'Storytelling Ignition Day'.  It all started with Matua staff arriving at school dressed up as story characters.  We certainly enjoyed the different reactions of children who arrived to find teachers and staff dress very differently, but acting as if nothing was different!  After an early morning tea, we came together in the hall for a short assembly, where we announced that everything was not as it seemed.  Children were then released into the school grounds to explore.  As they moved around the school children discovered a range of performers and activities that shared a story in some way.  This included musical groups, dancers, and a drama group that was performing while recording live to a green screen!  They also found stories being told around a campfire, local legends being shared in a hidden cave (the container!), and video stories from teachers about "life in the olden days".  After an hour of exploration, we all returned to the hall, where professional storyteller Zeebong took the stage and performed for the whole school.  
This 'Ignition Event' is designed to grab the attention of students and provide an opportunity for teachers to gather 'student voice' and areas of interest for our learning ahead.  We hope you heard lots of stories on Monday evening about the activities of the day!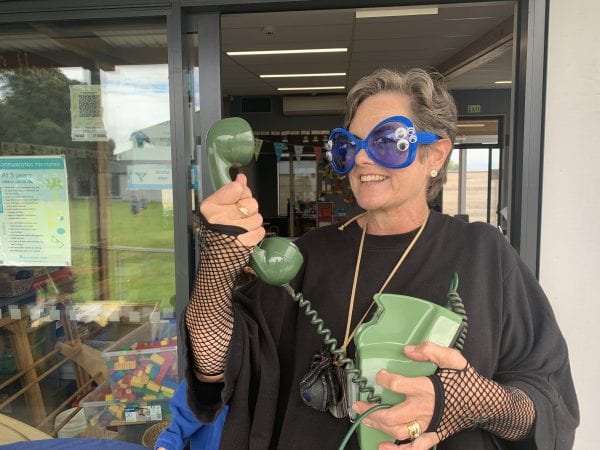 Artist Donation - Mufti Day
PTA Meeting in the Staffroom
School Cross Country
Thursday 3rd June
Fergusson Park
Queens Birthday - Public Holiday
Teacher Only Day - School Closed
Gobsmacked Performance
Tuesday 6th July 6.30pm-8pm
Gobsmacked Matinee Performance
Wednesday 7th July 12.30pm-2pm
Gobsmacked Performance
Wednesday 7th July 6.30pm-8pm
DOGS IN THE SCHOOL GROUNDS
We seem to have a large number of dogs being exercised in the school grounds after school hours. Every day this week Steve has had to clear up after dogs. On a couple of occasions children running around in bare feet have trodden in dog mess and then trampled it into classrooms. This is absolutely disgusting and we are really disappointed that owners cannot clean up after their dogs especially in school grounds.
Dogs are not permitted on site during school hours.  At other times, please take responsibility for your dog or consider exercising it elsewhere.
KOTUKU FEATHER
Last Term our school was gifted a real life Kōtuku feather to hang in Mr Norrish's office. When students have been 'Caught Being Awesome' or have work to show Mr Norrish they have the opportunity to look at it up close. Mr and Mrs Hantler found the feather in the Ōkarito Lagoon when visiting the only White Heron nesting site, and asked the land owners politely if we could have it for our school. Don at Prestige Framers offered to do the job for free when Mr Hantler took the feather in to be framed, as he has had 2 children come through our awesome school. If you need anything framed, please take it to the professionals there. Keep up the awesome work, Matua, E Rere Kōtuku.
PTA
The PTA are having a little breather at the moment after the excitement and busyness of the gala! Term two will see us organising our 'famous in Matua' Quiz Night for September and also the School Disco for Term 3.
Teachers and tamariki will all be busy with the Gobsmacked Production for Term 2 so we have no major events planned but will aim to do a sausage sizzle one lunchtime. Volunteers will be needed to enable to make this happen and we will probably run this on a preorder basis.
We are still in need of secondhand uniform stock for the PTA Uniform Shop which will be open on the 2nd and 4th Wednesday of each month from approx. 2.45pm until 3pm. Outside of these times, Emma from the office will be happy to help you and donations can also be dropped there.
Winter nights are cold and dark but the staff room is nice and warm so we would love to see your friendly faces at the PTA meetings. They are a great way to meet other school families and get involved in some of the great fundraising efforts that support school projects.
The next meeting is Tuesday 1st June at 7pm.
If you would like further information about the PTA and how you can get involved please email 
pta@matua.school.nz
Karen & Hayley
PTA Co-Chairs
TAEKWONDO CLUB
The OTTC club (Official Taekwondo Training Centre) is accepting new primary-age school members at the moment (parents are welcome to join also!). Come and watch or give it a try on Thursday nights 5.30pm to 7.00pm and Sunday afternoons 3.30pm to 5.30pm, just across the road from the school at the Matua Hall. Taekwondo is great for fitness, strength, flexibility, confidence, self-esteem, discipline, and new friendships.  We'd love to see you there.
Logan (room 1), and Nathan (room 12) are proud of their Dad Sheldon Nesdale who, in the first weekend of the holidays, was awarded 3 gold medals at the Budo South Taekwondo Tournament here in Tauranga.
TERM DATES 2021
Term 1, 2021 – First Day: Tuesday 2nd February 2021 – Friday 16th April
Waitangi Day – Monday 8th February
Easter – Friday 2nd April – Tuesday 6th April inclusive
Term 2 – Monday 3rd May – Friday 9th July
Queen's Birthday – 7th June
Term 3 – Monday 26th July – Friday 1st October
Term 4 – Monday 18th October
Our School App
We have a new school app to keep you up to date with events and notifications. Click on the button below to check it out.
Setting up with Kindo
Kindo is our new prefered payment and permission system. To help you learn how it works, we've added their new help sheet and video. We hope it helps.