Heron Herald Term 2, Week 3, 2019
Matua School is proudly supported by…
FROM THE PRINCIPAL'S LAPTOP
Kia ora and welcome to this week's edition of the Heron Herald. We are excited to officially launch the school recipe book. Thanks to our hard-working PTA for turning this into a reality. Also, a huge thank you to our sponsors for supporting the book. It has been a great week, with Book Week and a number of Anti-Bullying messages throughout the week. Oat the Goat is a great resource to support the anti-bullying message. http://oatthegoat.co.nz/
Board of Trustees Elections
The school has Board of Trustee Elections coming up soon. There is information elsewhere in the newsletter in regard to this should you wish to stand. Our school has had excellent Boards historically and it is a great way to make a real difference in the education of children in our school.
Property Work
The Board are currently working with the Ministry of Education on a property plan for the next 5 years. This takes careful planning and will be completed in the next two months. We will ensure the community feedback we gathered last year is considered throughout the process.
Teacher Strike
There is a planned NZEI union strike on 29 May. Matua School will be closed for the day. Skids will be open to provide childcare for the day. Please see further information in the newsletter.
We are very excited to welcome Abha Tandon to our International team. Abha will be responsible for pastoral care and oversight of our International department.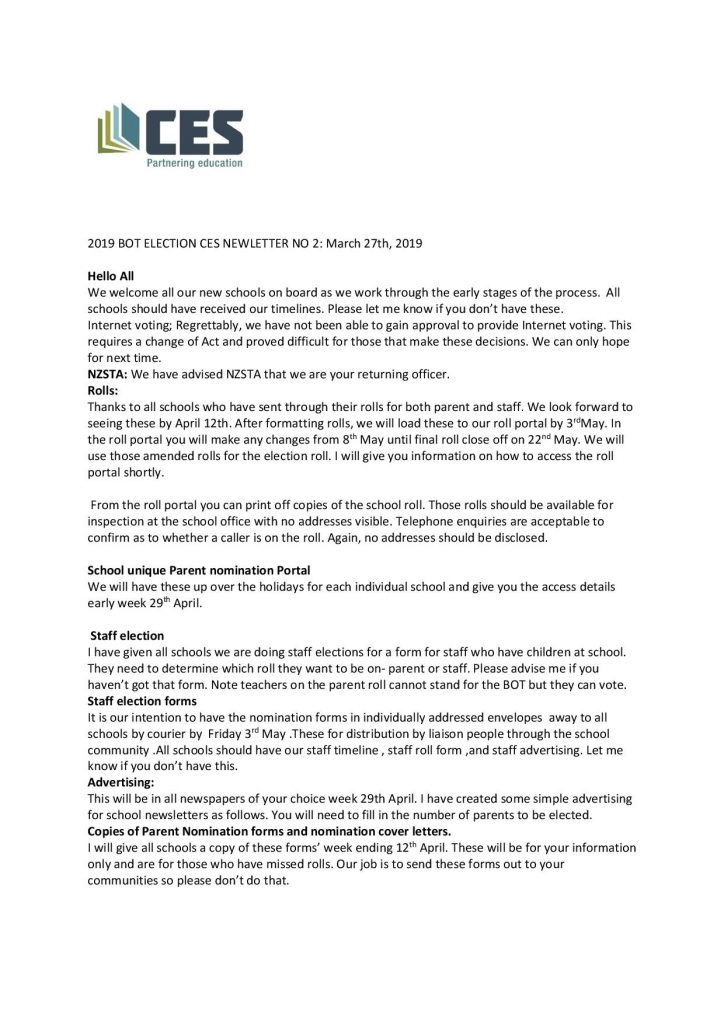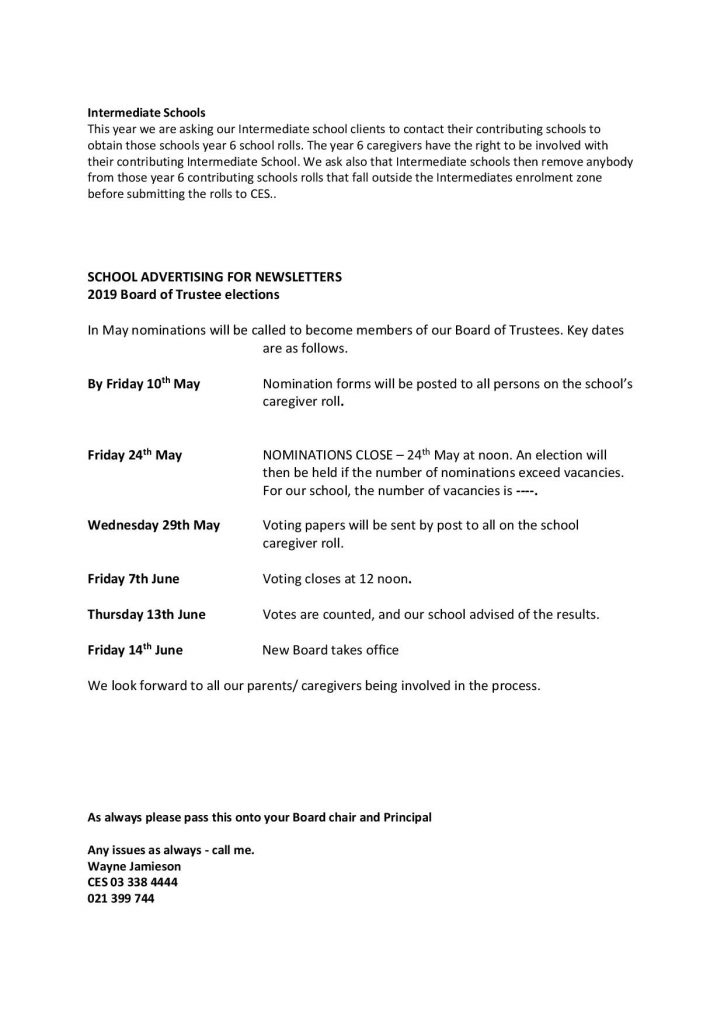 BOARD OF TRUSTEES ELECTION
Board of trustees elections are being held at the moment. CES are managing this process for Matua School. You should have received information via mail from them. If you are interested in standing for the Board of Trustees, please see further details below.
SCHOOL INFORMATION
Absent Pupils – If your child is going to be absent from school for any reason, please notify the office. You can either send an email to office@matua.school.nz or you can phone 07 5769027 and leave a message on the absentee line. Please leave your child's name and room number, your name and the reason for their absence. If we do not hear from you, we do need to call and find out where they are. This is for the safety and well being of your child.
School Hours – We ask that children do not arrive at school before 8.15am each day. Supervision of children is provided from 8.25am each morning. The school takes no responsibility for the supervision of children in the school grounds, earlier than this.
Thank you for your co operation
TERM DATES 2019
Term 1 – Mon 4th February – Friday 12th April
School holidays – 13th – 28th April
Waitangi Day – Wednesday 6th Feb, school closed
Term 2 – Mon 29th April – Friday 5th July
Queen's Birthday – Monday 3rd June, school closed
School holidays – 6th – 21st July
Term 3 – Mon 22nd July – Fri 27th September
School holidays – 1st – 13th October
Term 4 – Mon 14th October – Thurs 19th December
Labour Day – Mon 28th October, school closed
ENROLMENT 2019
If you have a child due to start with us this year, please pop into the school office and pick up an enrolment pack asap. We are receiving lots of new entrant enrolments and are putting things in place for the rest of 2019.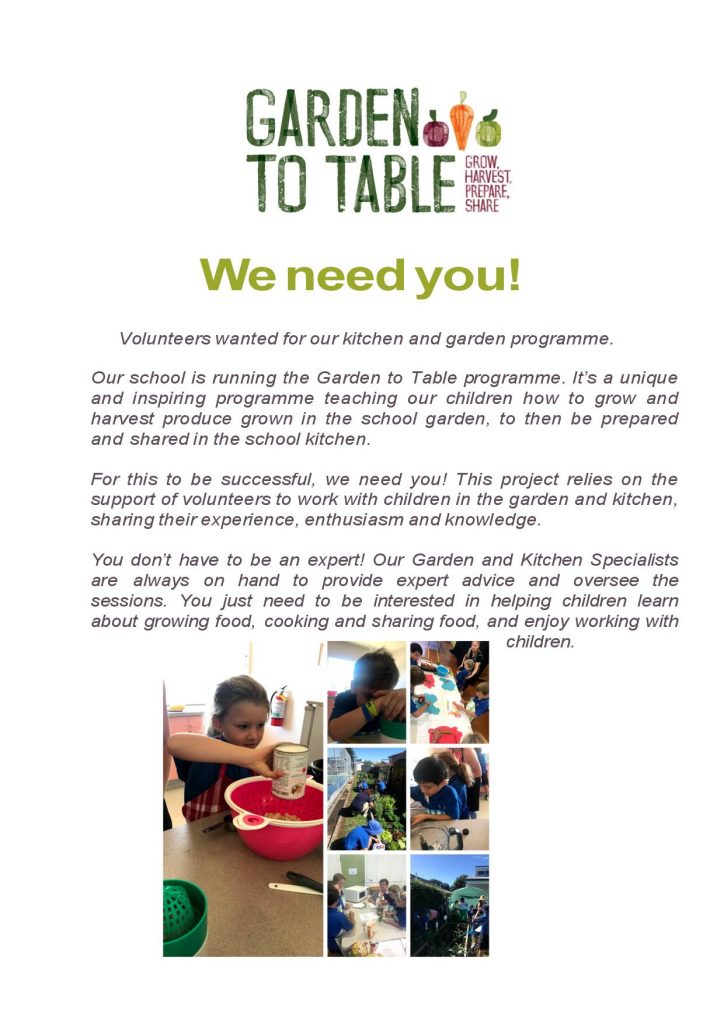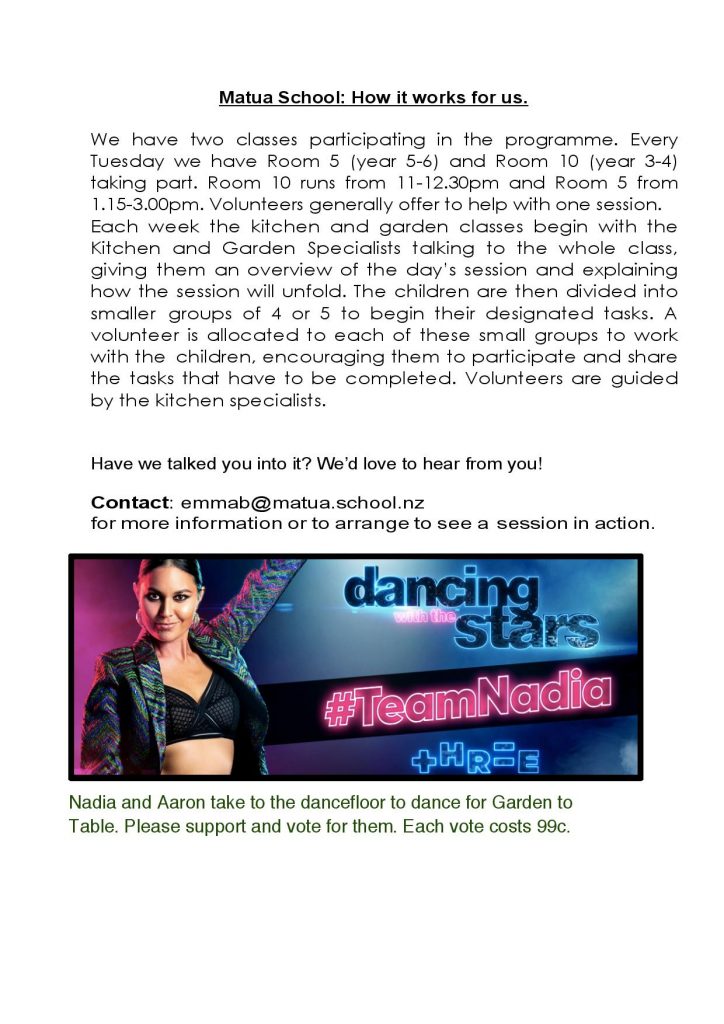 GARDEN TO TABLE
Many hands have been making light work in the garden this week. We have 3 new raised gardens being built by a team of workers. Room 10 and 5 have been working hard to make it happen. There are a few key people who need to be thanked. The Grice family are the first up. Thanks so much for the soil. We are still shovelling! The children are excited to see what this amazing stuff can grow. Craig Baker, who is Garden Solutions, delivered the soil for us. Craig is a very easy person to deal with. Thanks so much Craig. The last but not the least is our caretaker Steve. Steve has worked tirelessly alongside our students making sure it gets built properly. What a great team. Thanks from us all at Garden to Table.
Our School App
We have a new school app to keep you up to date with events and notifications. Click on the button below to check it out.
Setting up with Kindo
Kindo is our new prefered payment and permission system. To help you learn how it works, we've added their new help sheet and video. We hope it helps.
SCHOOL BBQ TRAILER
MATUA SCHOOL
TRAILER BBQ FOR HIRE
Ideal for fund-raising events, catering for large crowds at home or at work.
$100 per week day
$150 for weekend
Includes 1x full gas bottle
Bond is required
For all bookings contact Matua School on 07 576 9027, after hours 021 023 60747.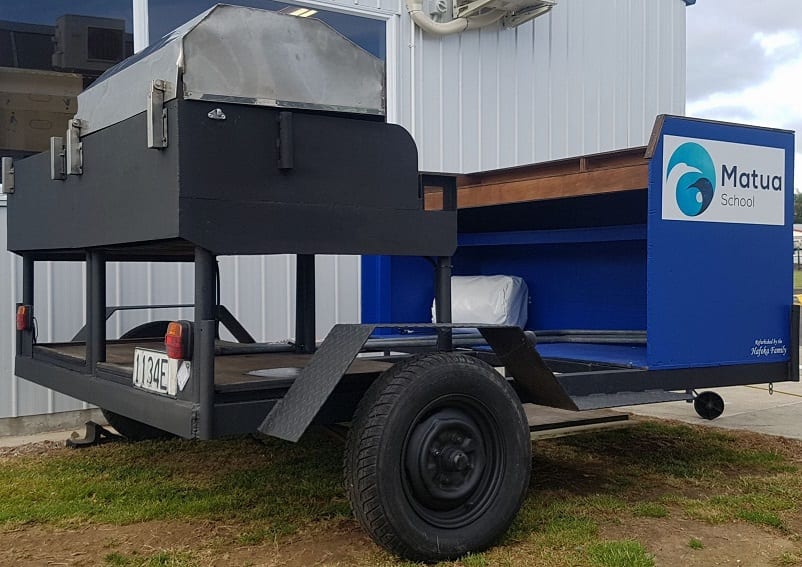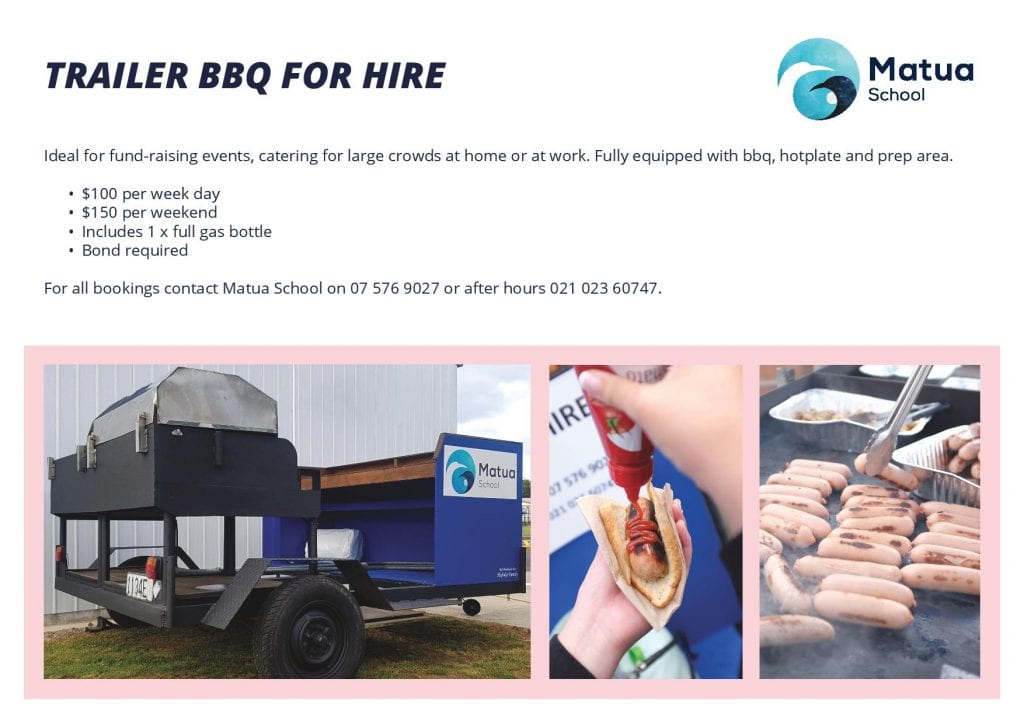 AQUINAS OPEN DAY
LIBRARY NEWS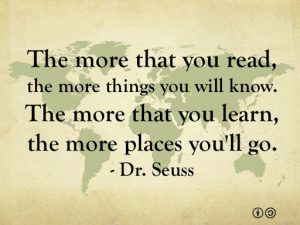 Librarians                                               
Our wonderful Student Librarians are continuing for another term in our school library. They are Ruby, Lily, Milla, Rose, Hayley, Sammy, Serenity, Hermela, Juliet, Emily, Lila, Charlotte, Olivia, Alice, Eva, Gwen, Matt, Juhi, Gracie, Zaria, Kate and Shylah.  Olivia displayed a range of books about Wizardry, featuring the popular Harry Potter series. Alice and Kate are presently showcasing Geronimo Stilton before we have a display by Juhi about author Andy Griffiths. Three of our Librarians Juhi, Charlotte and Matt helped judge our Teachers during Book Character Day, and many of our Librarians assisted buyers with their choices during our Donate A Book Fair.
Donate A Book Fair
Thank you for all our parent helpers who have assisted in the library.  Our school community shares a love of books and understands it's significance on our children's learning, and helps promote this through the giving of time to the library and the generous giving of donations to help stock our library. Well over 300 books were donated this year.  The library is a vibrant and changing space. All money donated during the library book fair is consequently used for the purchasing of new library books. Each book donated is now being covered and will have a certificate on the inside cover recognising the children and families who made the donation.  These children will have a chance to read their books first before they are made available in the library.
On this note if there are any parents who are willing to help cover books please contact me through the office or by email library@matua.school.nz  This will ensure eagerly awaiting children are not disappointed (I am having enquiries by the hour!) and that we support this enthusiasm and their love for books!
Thank you Tracey Donovan-Grammer
 

PTA NEWS
We are lucky to have the Ice skate tour come back to our school this year from 29th May to 2nd June. Each class will get their own lesson then after school and the weekends it will be open in the hall for anyone to have a go.
The PTA will be selling hot food and there will also be drinks to purchase , the entry is $8.00 a child, $12 a adult and $35 a family.
Also on the Friday night 31st May there will be a curling competition which is a ton of fun.
Enjoy a great night out with your colleagues, family or friends. A unique opportunity to try out curling, a fun activity for all! We'll have great music from the 80's and 90's going.
Teams of 4 adults compete in pools of 4 teams (so you get at least 3 matches). Each pool takes 1 hour to finish so you don't have to wait long in between matches. If you make it to the finals you'll play again around 8pm. Who is going to raise the Curling Cup?!
Sign up your team now! Limited spaces , sign up  at https://www.facebook.com/thecurlingcup/
What is curling ?
Curling is an extremely complex sport based around a very simple idea. Slide a stone down a sheet of ice and have it stop as close as possible to the center of a set of rings (called the house) – the problem being that your opposition will do everything tactically to stop you from achieving this goal. So the game contains elements of great skill, strategy, finesse, exertion and endeavor and we promise you that the perception of a slow-paced game is just that, a perception.
It is often referred to as "bowls on ice" because the format scoring is similar, but the tactics involved also make "chess on ice" a good description. It is a sport that is easy to learn – you can be playing a game within an hour of first getting on the ice – but mastering it will take longer!
Thanks for supporting the PTA
 

PITA PIT LUNCH
Every Friday your child is able to order a Pita Pit lunch, which is then delivered to school just in time for lunch. You need to place an order via 'Kindo' , by 9am on Friday morning. Please see the menu below. It does say 'every day' but we do only offer this option on a Friday