Heron Herald Term 3, Week 8 , 2019
Matua School is proudly supported by…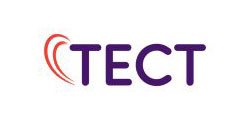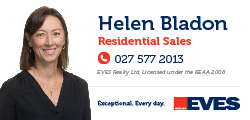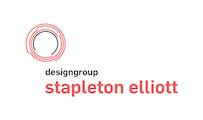 FROM THE PRINCIPAL'S LAPTOP
Kia ora Koutou and welcome to Te Wiki o Te Reo Maori. This week has been full of fun and learning about Te Reo and Tikanga Maori. Our sharing hui and school hangi is always something to look forward to.
Staffing
It seems as though we are welcoming someone new all the time due to the number of New Entrant enrolments. We are thrilled to welcome Laura Hill to the team at Matua. Laura is a passionate and experienced teacher who has already been at Matua School in a relieving capacity.
Production
We are looking forward to another fantastic production with the help of the Gobsmacked production company this year. Our production will be held on 13 and 14 November.
Measles
There are 30 confirmed cases of measles in Western Bay of Plenty, please continue to be vigilant regarding symptoms. If you have received a request to provide information regarding immunisation records, we would appreciate receiving this at your earliest convenience to ensure our records are fully up to date.
Korea
I will be away during week 10 as I am attending the Education Tauranga International Fair. Ms Angela Barlow will be Acting Principal during this time.
Quiz Night
I look forward to seeing many of you at our PTA Quiz Night this Saturday. As always our super-human PTA members have been busy in the background getting things ready for an outstanding night.
Lastly, please see below from our 2020 Principal, Mr Marcus Norrish. I look forward to working with Marcus to ensure a seamless transition.
Ngā mihi
MESSAGE FROM OUR NEW PRINCIPAL
It is with a sense of excitement that I will be joining the team at Matua Primary in 2020.  I am married to Linda and have three children who are 12 (Ethan), 14 (Hannah) and 16 (Caleb).  As a family we love mountain biking, tramping, the odd day skiing or just getting out and about.  In the last few years I have taken up running and enjoy heading out with a group of friends on running adventures that range from a Sunday loop around the estuary to off-road ultra-marathons.
I am currently the Head of Primary at Bethlehem College and was the principal at Pahoia School before that.  Prior to entering education I spent 10 years working as an Architectural Draughtsman but made the shift to teaching motivated by the opportunity to have a positive impact on the lives of children.  I am looking forward to the new year and getting to know the staff, children and families at Matua School.
Nga mihi,
Marcus Norrish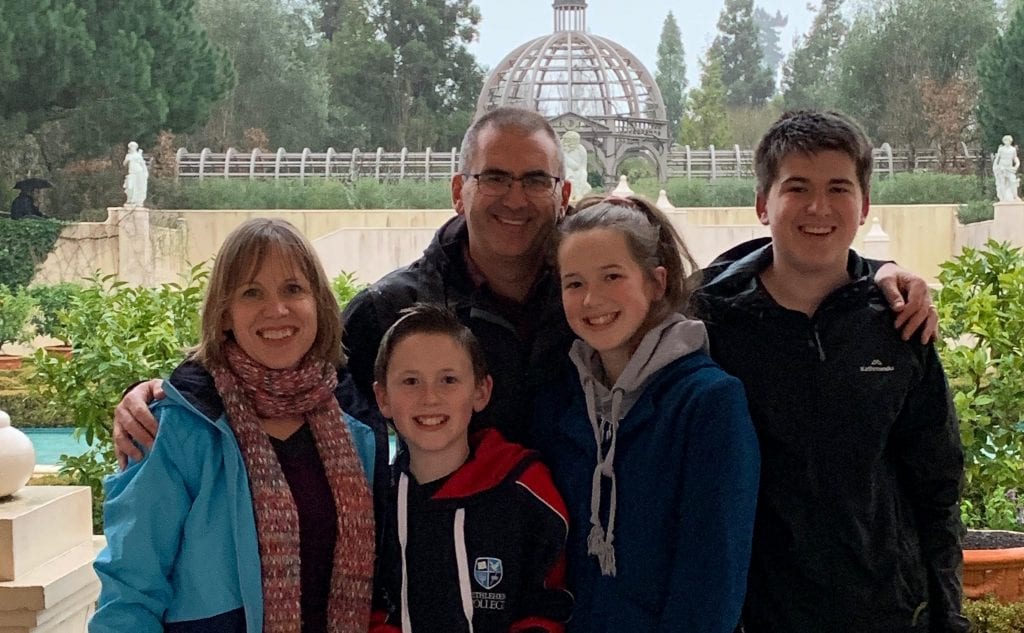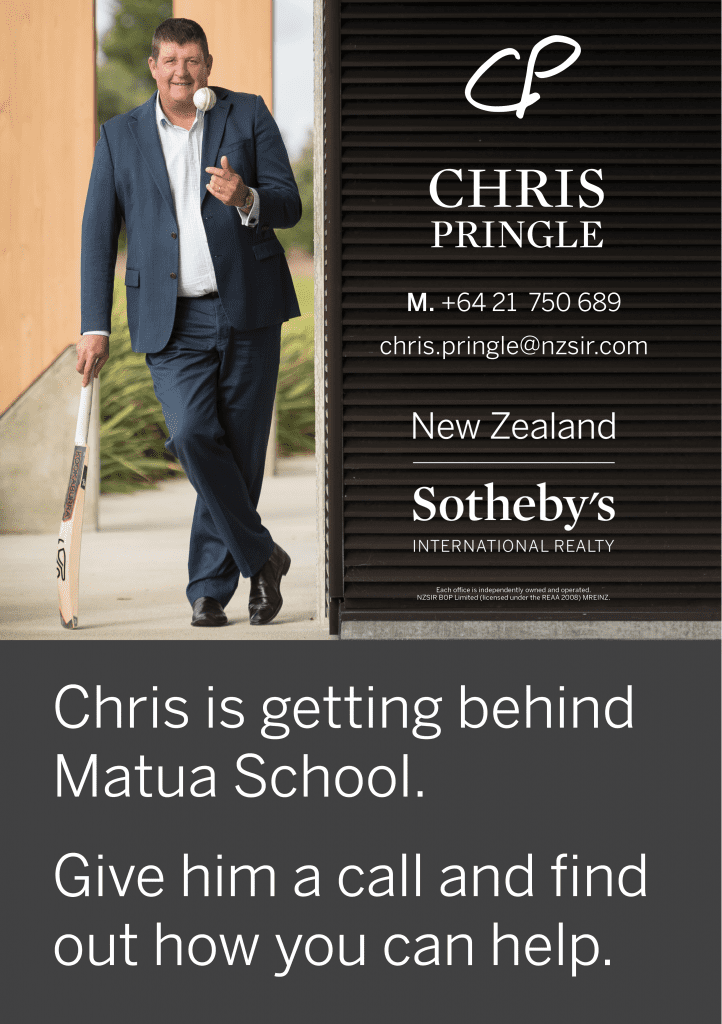 SCHOOL INFORMATION
Signing children in and out of school – If you collect your child/children early or drop them off late, please remember to sign your child in and out of school at the office. We do always need to know where our students are, in case of an emergency. This is for the safety and well being of our students.
Change of address/phone number – If you have recently moved house, changed home, work or mobile phone numbers, please could you contact the office and let us know. We can then update your students details. We need to be able to contact you in case of an emergency . Either email the office on office@matua.school.nz or phone us on 07 576 9027.
Absent Pupils – If your child is going to be absent from school for any reason, please notify the office (even if you have already let your child's teacher know). Your child's teacher might also be away sick and the office will not know. You can either send an email to office@matua.school.nz or you can phone 07 5769027 and leave a message on the absentee line. Please leave your child's name and room number, your name and the reason for their absence. If we do not hear from you, we do need to call and find out where they are. This is for the safety and well being of your child.
School Hours – We ask that children do not arrive at school before 8.15am each day. Supervision of children is provided from 8.30am each morning. The school takes no responsibility for the supervision of children in the school grounds, earlier than this.
Thank you for your co operation
MIDDLE TEAM POETRY RECITAL
Last week the 'Middle Team' took part in a Poetry Recital. Here are a couple of pictures of them in action!!!
HOLIDAYS DURING TERM TIME
We are noticing the increasing number of families who are removing their child from school to travel overseas on holiday during term time. This practice is not condoned and we draw your attention to the following Ministry of Education website:
Making sure your child attends school every day. 
Going to school every day is really important if children are to achieve and succeed. As parents and carers, it's up to you to make sure your child attends school every day, from when they first start school until they are 16. 
Does my child have to go to school every day? 
Yes, your child must go to school every day. Under the Education Act 1989, parents and carers of school children up to 16 years old can be prosecuted if their child is away from school without a good reason. 
Why do they need to go every day? 
Going to school every day really is the key to getting the best out of school because: it sets up good habits for going to school right from day one: 
learning to read, write and do maths takes a lot of practice and is easier to master if your child goes to school regularly each day is a chance to learn something new

school offers your child regular, dedicated help to master the many skills they need 

it teaches your child life skills like commitment, being reliable, having a good work ethic and sticking with things when they get hard. 
What if my child needs to be away from school?
Your child should go to school every day, but sometimes they might need to be away from school because they are too sick to attend, have an appointment or need to be at a tangi or funeral. If your child is going to be away from school you should let the school know as soon as possible. Check what your school's process is for letting them know about absences. You will need to let them know that your child will be away, why and for how long. Your child's safety and wellbeing is a priority for the school. If your child doesn't turn up to school they will be concerned for their safety. If the school doesn't hear from you, they will get in touch with you to make sure your child is okay
Can I take my child out of school during term time to go on holiday?
No, a holiday is not a good enough reason to take your child out of school, so holidays should be planned outside of term time. Events like a birthday or a special day's shopping aren't considered valid reasons for being away from school either.
What if my child is often off school sick?
If your child misses a lot of school because of a serious illness you may be able to get help from a regional health school. There are three regional health schools, based in Auckland, Wellington and Christchurch. Together they service the whole country, including remote areas. The teachers can work with children both at home and in hospital. You can contact them directly:
Northern Health School Phone 0800 153 002
Central Regional Health School Phone 0800 153 000
Southern Regional Health School Phone 03 366 6739
What can I do to make sure my child is going to school? 
The key here is to make school the priority. There are things you can do at home, and things you can work side by side with the school on. At home:
talk to your children about why it is important to go to school every day – ask them what they want to be in the future. Their education is the key to doing well in life
be positive about school
set good habits about going to school from day one
prepare your children the night before school – make sure they have done their homework
have a good morning routine that gets them to school on time, relaxed and with everything they need
don't let them have the day off just because they would rather be at home
keep absences due to sickness to times when your child is actually sick – don't keep them at home when you know that they are just nervous about school – talk to the school who can help your child overcome this
know about your child's school life – ask questions, listen to your child. This will make it easier to pick up on any issues they might be having
keep family holidays outside of term-time, as every day at school is an opportunity to build skills, and repetition is critical for learning – especially for primary school children
don't overload them – school may be exhausting for your child so make sure they have some downtime after school to relax and have a break.
What can I do if my child refuses to go to school? 
This can be really upsetting. Talk to your child about why they don't want to go. Be supportive. There may be a reason, like:
not getting on with some of the other children
bullying
feeling too much pressure in their learning
a health issue, like wetting their pants
a problem with their teacher or other staff member.
Talk to your child's teacher or principal straight away. Whatever the reason, you won't be the first parent to talk to the school about that type of situation. Your school will have some good advice, and you'll be able to work together to help your child.
If you have a really serious concern about a teacher or other staff member, or suspect your child is in danger you can contact the Ministry of Education, the New Zealand Education Council or the New Zealand Police. Further information:
Contact your local Ministry of Education office
Contact the New Zealand Education Council
Contact the New Zealand police
Every day counts towards your child's learning.
Please Note: The school position is that our teachers should not be expected to provide additional work for the student on holiday either before or after the holiday period. It is up to the holidaying child to catch up to the rest of their peers when they return to class.
TE WIKI O TE REO MAORI – MAORI LANGUAGE WEEK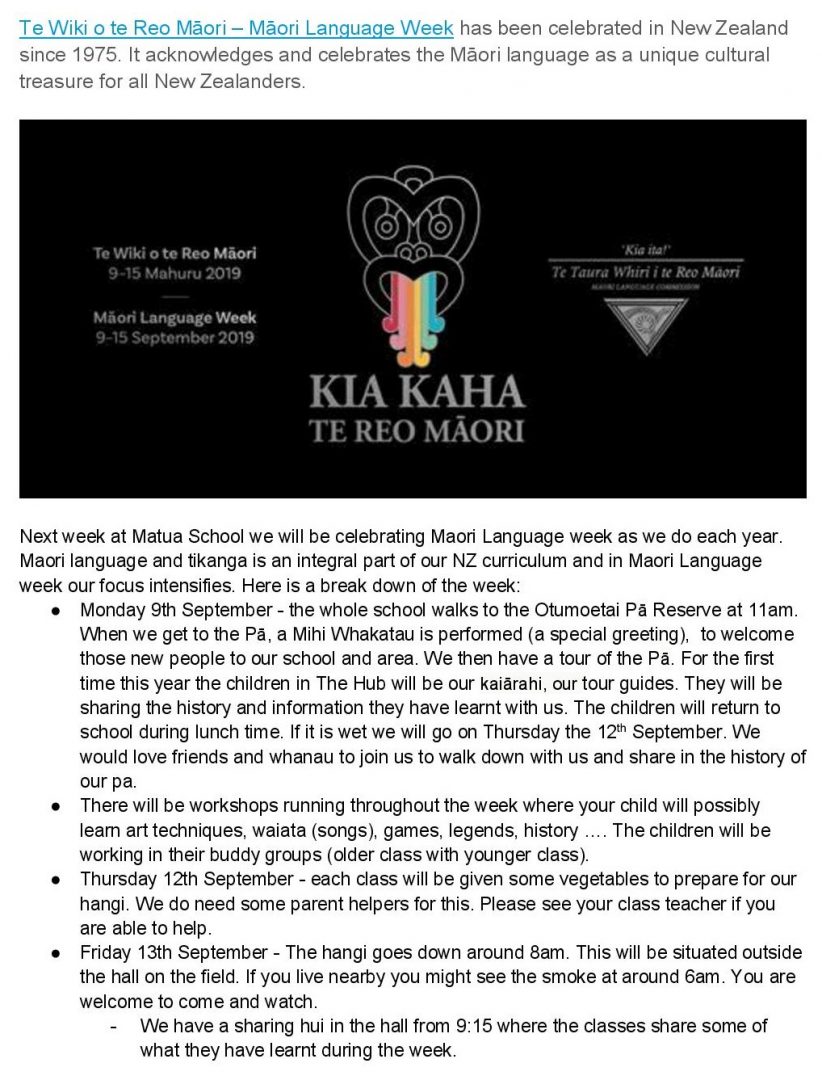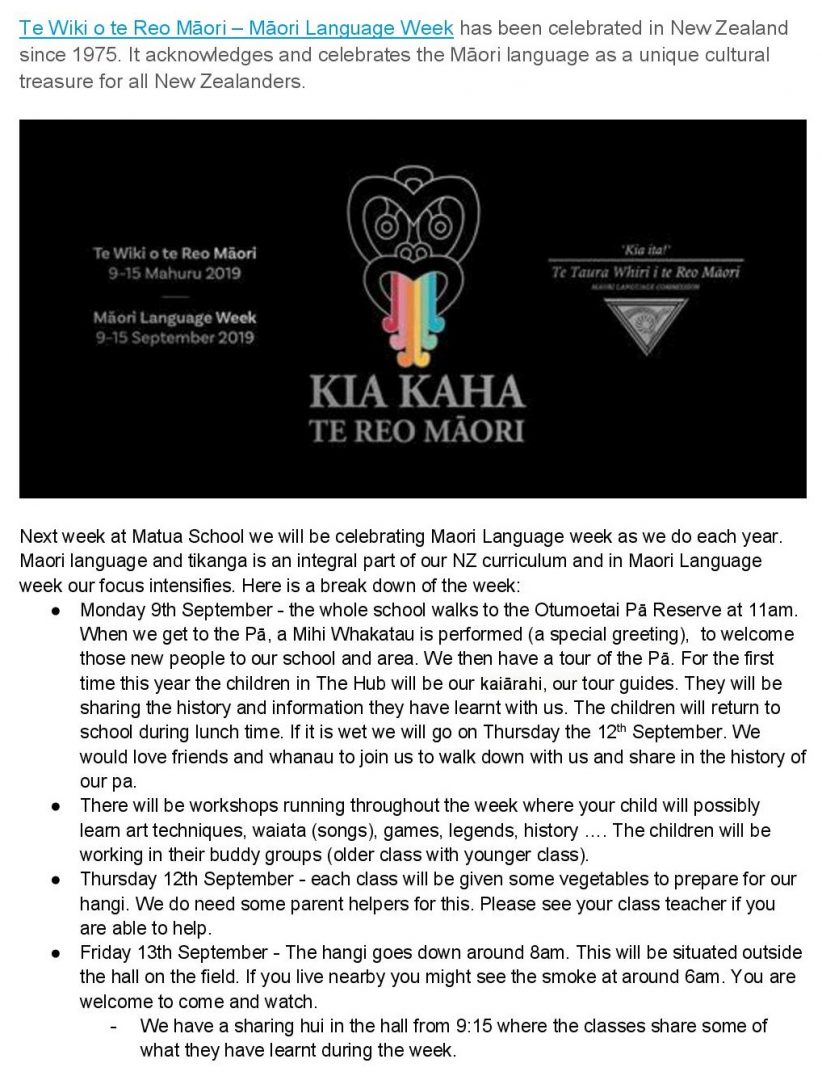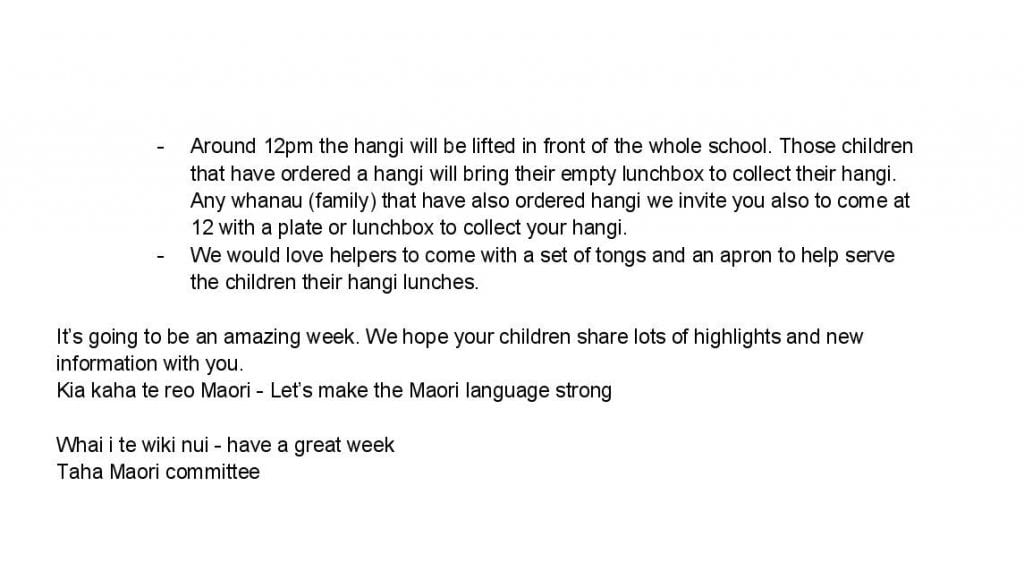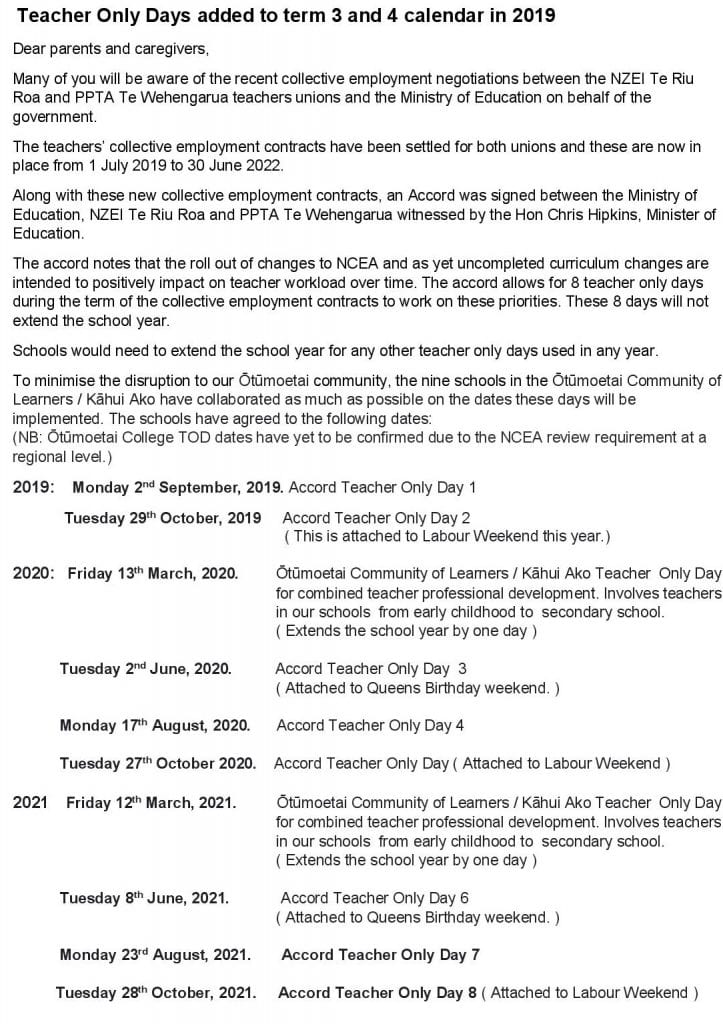 COOL BANANAS
Due to our school production, we have decided to press pause on our Cool Bananas programme until the end of the year.

HANGI
We would like to say a huge 'Thank You' to Tauriko Sawmills for donating all the timber for our Hangi this week. A very generous donation.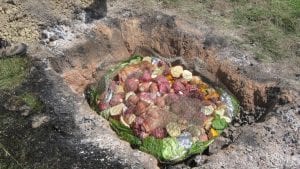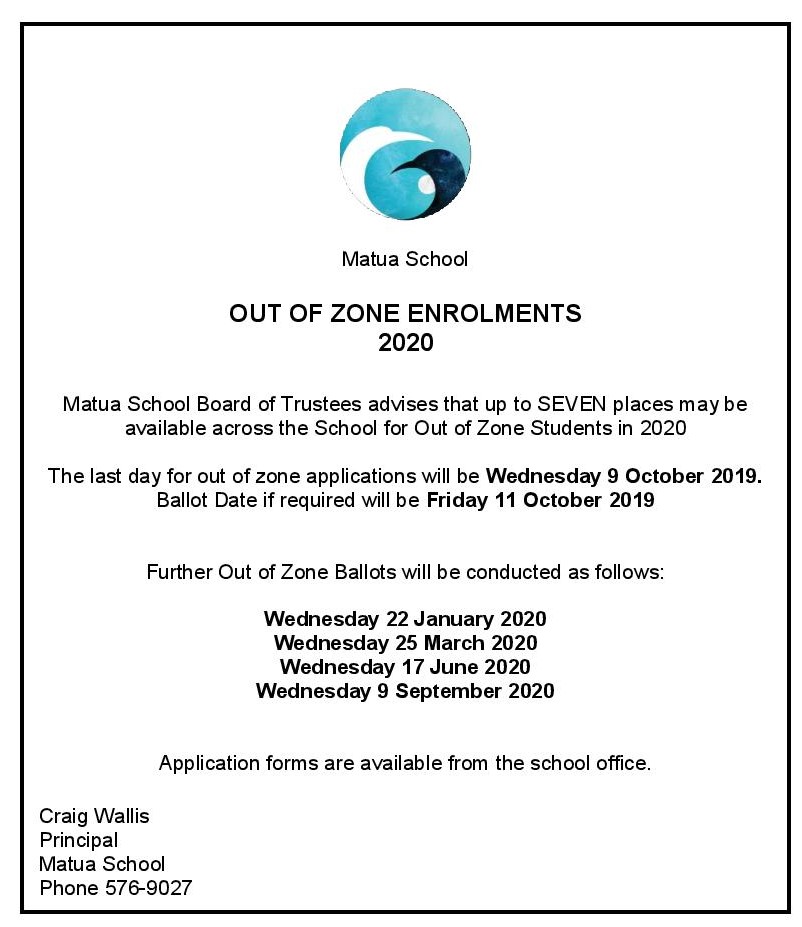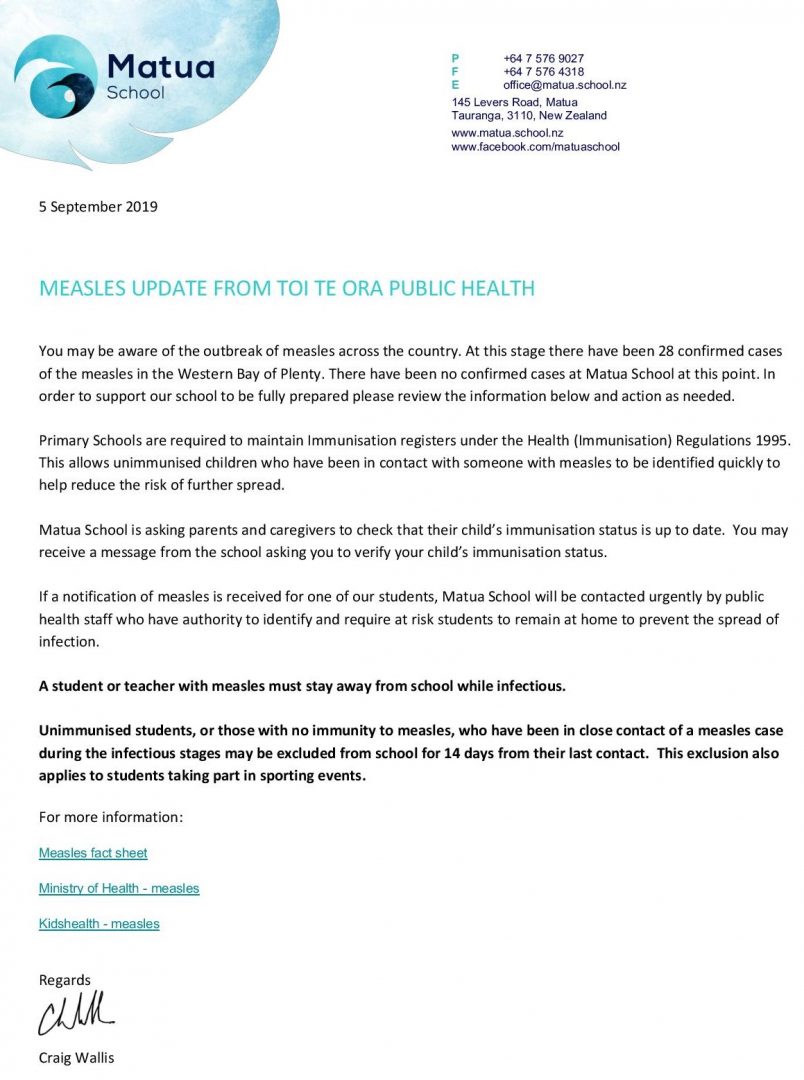 OPEN DAYS AT TAURANGA'S WATER AND WASTEWATER TREATMENT PLANTS
Have you ever wondered how clean drinking water makes it to your tap? Do you know how wastewater is treated before it is returned to the environment?
On Friday 27 and Saturday 28 September, we're opening the doors to our Oropi water treatment plant and Chapel Street wastewater treatment plant for a behind-the-scenes look at how water is processed and treated, from source to sea.
Register for one of our tours, and find out how we keep Tauranga's water flowing.
Chapel Street wastewater treatment plant
75 Chapel Street, Tauranga
Oropi water treatment plant

465 Oropi Road, Oropi, Tauranga.

Tour Times

Friday, 27 September – 9am, 10.30am, and 12.15pm.

Saturday, 28 September – 9am, 10.30am

Tour Times

Friday, 27 September – 9am, 10.30am, and 12.15pm.

Saturday, 28 September – 9am, 10.30am
To reserve your place, visit www.tauranga.govt.nz/plant-opendays
Clare Dowthwaite | Water Education Programme Specialist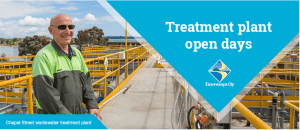 GARDEN TO TABLE
The Garden To Table programme continues to grow skills and confidence in our young gardeners and chefs.
This week the menu featured the Vegetable Nachos from the Matua School cookbook (available at our school office).
Nachos are often a hot favourite and this recipe rated 10/10 from our hungry workers.
While the cooks were working their magic, the gardeners were working on constructing a climbing frame for the beans we are going to plant. We had researched climbing frames and designed several options in class. We used bamboo and had to use our problem solving skills to decide how to construct the frame, how far apart the base should be, and how tall. Lashing the framing was tricky but we think it will look great once it is finished.

TERM DATES 2019
Term 3 – Mon 22nd July – Fri 27th September
Teacher Only Day – Monday 2nd September (School closed for instruction).
School holidays – 1st – 13th October
Term 4 – Mon 14th October – Thurs 19th December
Labour Day – Mon 28th October, school closed
ENROLMENT TERM 4 2019
If you have a child due to start with us in Term 4, please pop into the school office and pick up an enrolment pack asap. We are receiving lots of new entrant enrolments and are putting things in place for the rest of 2019.
Our School App
We have a new school app to keep you up to date with events and notifications. Click on the button below to check it out.
Setting up with Kindo
Kindo is our new prefered payment and permission system. To help you learn how it works, we've added their new help sheet and video. We hope it helps.
SCHOOL BBQ TRAILER
MATUA SCHOOL
TRAILER BBQ FOR HIRE
Ideal for fund-raising events, catering for large crowds at home or at work.
$100 per week day
$150 for weekend
Includes 1x full gas bottle
Bond is required
For all bookings contact Matua School on 07 576 9027, after hours 021 023 60747.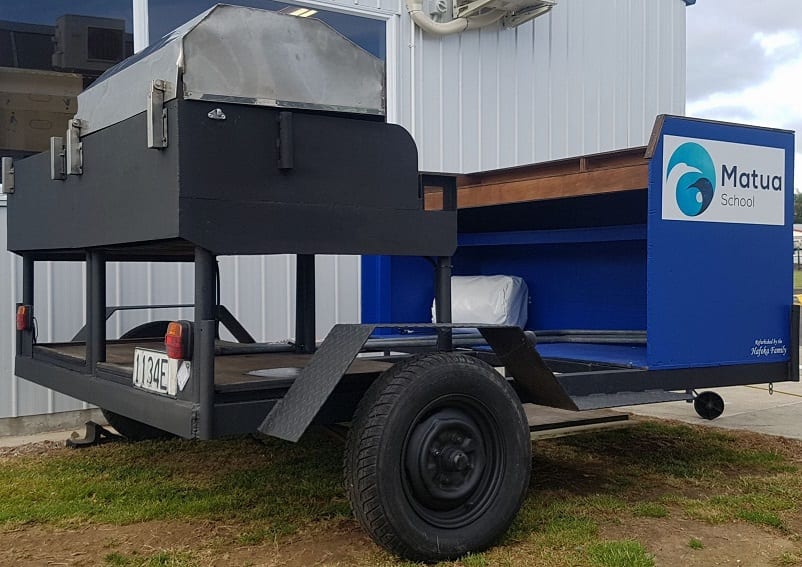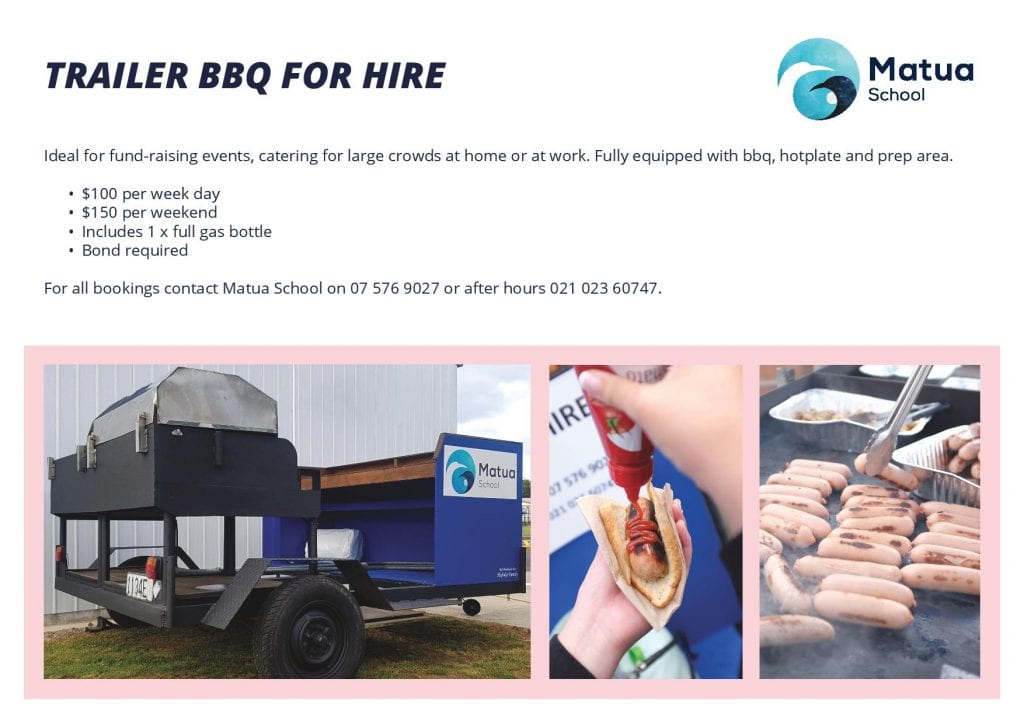 SPORT
Term 3 is almost over – where did that time go? This means all our winter sports are coming to an end. With the end of the winter sports comes the mad rush of sport uniform returns, sports registrations for term 4 and the reissuing of sports uniforms again.
As this weekend 7th Sept is the final weekend for all of our sports can I please ask that everyone uses the weekend to wash uniforms and get these returned to me next week. This is a time consuming job and even more so when people keep "forgetting" to bring it. Please make it a priority.
Term 4 sports – registrations are now open on Kindo and will remain open until Friday 13th September. Please register your child NOW! See below for a list of what is on offer:
Spring League Basketball
| | | | | |
| --- | --- | --- | --- | --- |
| Teams | Venue | Starting Date | Players | Cost |
| Yr 1 & 2 Little League | Baypark | Monday 4th November | 4 aside | $30 |
| Yr 3 & 4 | Baypark | Monday 4th November | 5 aside | $35 |
| Yr 5 & 6 | Baypark | Monday 4th November | 5 aside | $40 |
Rippa Rugby
| | | | | |
| --- | --- | --- | --- | --- |
| Teams | Venue | Starting Date | Players | Cost |
| Yr1&2 | Fergusson Park | Tuesday 5th November | 7 aside | $10 |
| Yr 3&4 | Fergusson Park | Tuesday 5th November | 7 aside | $10 |
| Yr5&6 | Fergusson Park | Tuesday 5th November | 7 aside | $10 |
Flippaball
| | | | | |
| --- | --- | --- | --- | --- |
| Teams | Venue | Starting Date & Times | Players | Cost |
| Yr 3 & 4 | Memorial Pool, Memorial Park | Tuesday 22nd October | 6 aside | $55 |
| Yr 5 & 6 | Memorial Pool, Memorial Park | Tuesday 22nd October | 6 aside | $55 |
Volleyball
| | | | | |
| --- | --- | --- | --- | --- |
| Teams | Venue | Starting Date & Times | Players | Cost |
| Yr 3 & 4 | QEYC, Memorial Park or Baypark | Friday 18th October | 4 aside | $23 |
| Yr 5 & 6 | QEYC, Memorial Park or Baypark | Friday 18th October | 4 aside | $23 |
Kiwi Tag
| | | | | |
| --- | --- | --- | --- | --- |
| Teams | Venue | Starting Date & Times | Players | Cost |
| Yr 3 & 4 | Mitchell Park, Otumoetai | Monday 14th October | 8 aside | $22 |
| Yr 5 & 6 | Mitchell Park, Otumoetai | Monday 14th October | 8 aside | $22 |
T-Ball / Softball
| | | | | |
| --- | --- | --- | --- | --- |
| Teams | Venue | Starting Date & Times | Players | Cost |
| Yr 1, 2 & 3 | Carlton Street Reserve, Otumoetai | Saturday 19th October | 10 aside | $38 |
| Yr 4, 5 & 6 | Carlton Street Reserve, Otumoetai | Saturday 19th October | 10 aside | $38 |
East Cluster Winter Tournament – this annual tournament run by our cluster schools was a success last Friday 30th August. We sent teams of year 5 students and year 6 students to compete in basketball, netball, hockey, football and kiwi tag. All students who participated had a great time and once again we came home with a couple of trophies! Congratulations to our year 6 football team who won their competition and also our year 5 basketball team who won theirs. Well done everyone! I can't wait to see what will happen next year.
Next week we will be sending the winners of our senior speech competition to Pillans Point School where they will compete in the East Cluster Speech Competition for a chance to go through to the WBOP event. Good luck to Holly and Aadit.
We also have another academic event happening next week at Bethlehem School – the annual Young Einstein competition. We will be sending 3 teams to compete against our other cluster schools. Good luck!
The beginning of term 4 sees some very popular events happening – WBOP Orienteering, WBOP Tennis and Girls Playing Sport Day. I am in the process of selecting students for these events now. More details to follow.
Save the Date – the Weetbix Kiwi Kids TRYathlon 2019 will be held on Sunday 24th November. I still have a few free entries to give away which I hope to do next week. Registrations will open soon.
Good luck to all our teams still playing sport this term. I look forward to the massive influx of uniforms and kit bags at my door on Monday!
Our year 5 kiwi sticks hockey team came 3rd in the hockey finals at Blake Park. Congratulations. Kimverley is missing from the photo, due to a broken arm.
Congratulations to the following students (and their parents) for their impressive 11 medal haul at the recent "Bay Open" NZUTA Taekwondo Tournament held at Tauranga Boys College on Saturday 7 September 2019.
Room 6: Harper: Gold medal
Room 8: Charlie: Silver medal
Room 5: Oscar: Gold medal + Silver medal
Room MPR: Logan: Silver medal
And to their parents:
Ross Downard: Gold medal + Silver medal
Sheldon Nesdale: Gold medal + Silver medal + 2 x Bronze medals
Well done!
They are all members of the OTTC Taekwondo club which meets twice a week at the Matua Hall on Levers Rd:
Thursdays 6pm to 7.30pm
Sundays 4.30pm to 6pm
"Ross and Sheldon have been part of the club for just over a year now, they love being able to participate in this sport with their kids. The youngest club member is 5 and Ross and Sheldon are in their 40's so it really is for all ages. It's great exercise and you also learn discipline, form, flexibility, technique, and have fun as you challenge yourselves. The instructors and senior belts are always happy to coach the juniors. It has a real family atmosphere, with 50/50 boys and girls and 10 of the mums and dads too. Come for a free session to try it out." – Sheldon Nesdale
You are welcome to join them for a free session, contact Mae Oficial on 0220 962 886 or 
maebienne@yahoo.com
 anytime.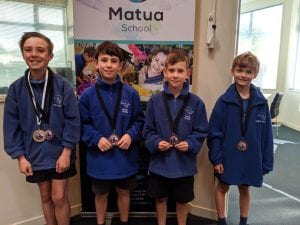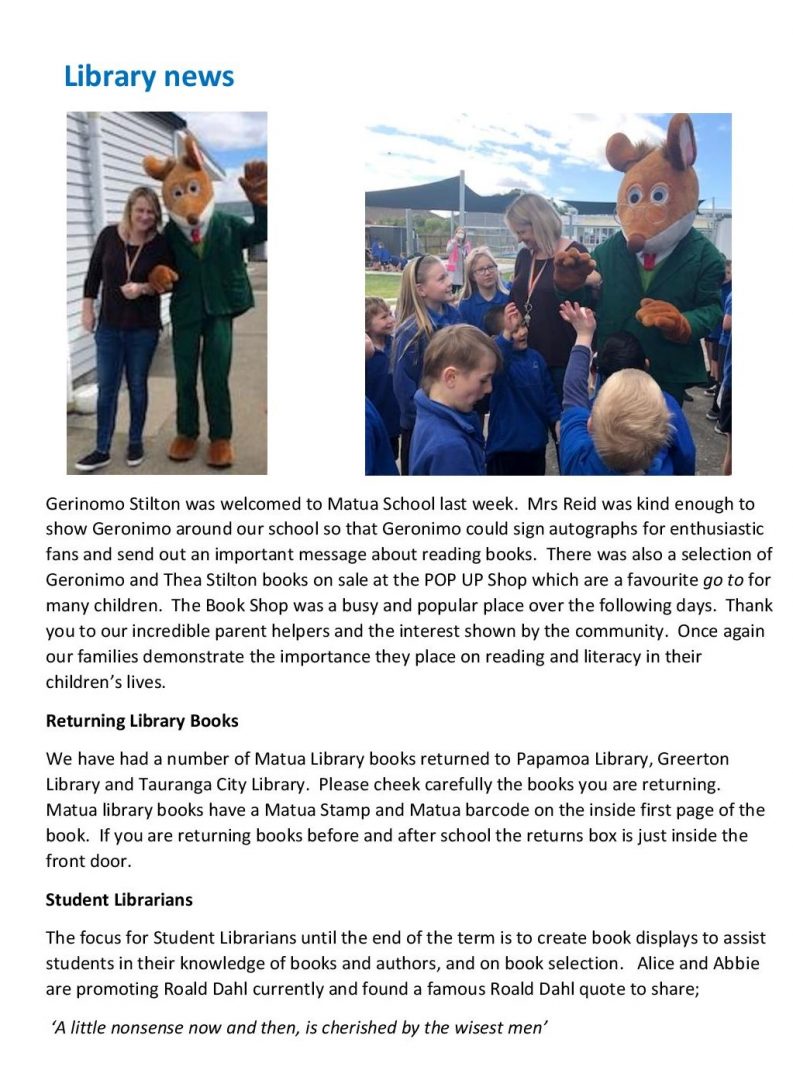 PTA
It is not long now till the quiz night . We cannot wait to see everyone's costumes and have lots of fun.
Don't forget there will be lots of amazing live auctions to bid on on the night and great prizes for the  best dressed team and first place in the quiz.
The money raised from the quiz night will be going towards an upgrade of the hall kitchen which gets used for our awesome Garden To Table programme.
We will be having a Christmas night market in the hall late November . If you are interested in having a stall please email matuapta@gmail.com for more information.
If you are interested in becoming part of our PTA team our meetings are the first Tuesday of every month at 7pm in the school staff room. We would love to see you there.
Thank you for all your support
From the Matua School PTA
OTUMOETAI INTERMEDIATE
Enrolment packs have been sent home with our year 6 students for Otumoetai Intermediate. If you wish to enrol your child at Otumoetai Intermedate, please complete the forms and return them to our school office.
If you do not require this pack, please send it back into school so we can allocate it to another student.
There is a huge amount of information in these packs for Otumoetai Intermediate so please take some time to have a good read. It gives you dates for their Information and Open Evening, as well as when the packs need to have been returned to school.
Enrolment forms will be collected from us on the 16th August, 6th and 20th September. After this time you will be responsible for taking them to the intermediate yourself.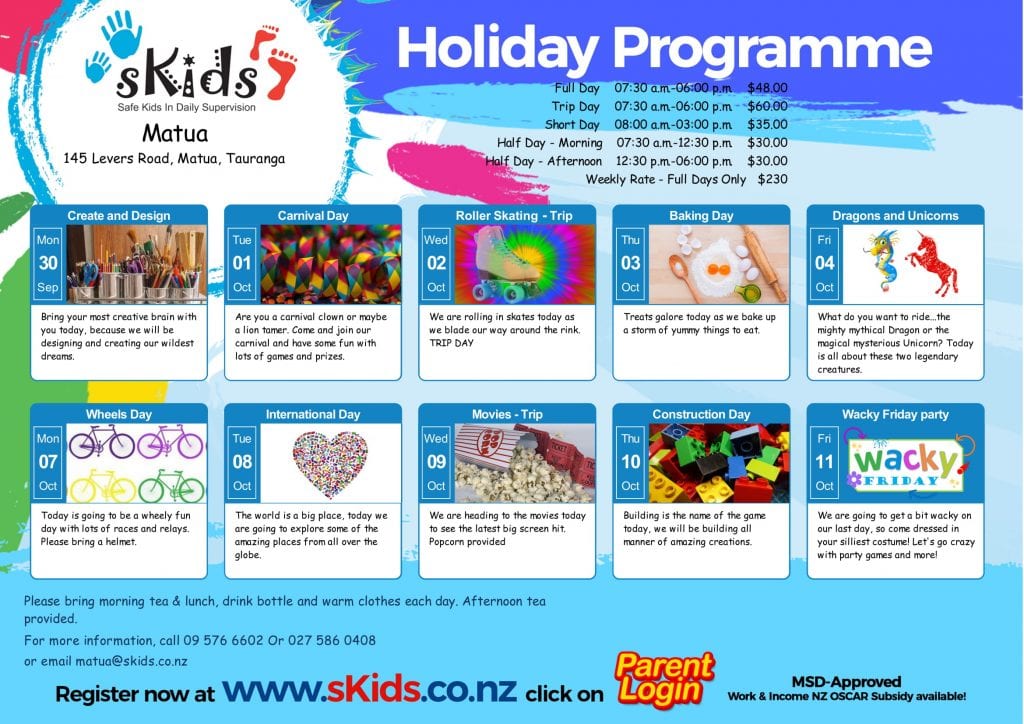 PITA PIT LUNCH
Every Friday your child is able to order a Pita Pit lunch, which is then delivered to school just in time for lunch. You need to place an order via 'Kindo' , by 9am on Friday morning. Please see the menu below. It does say 'every day' but we do only offer this option on a Friday.
We have been advised by Pita Pit's Head Office that due to the global price increase of pork resulting from the African swine flu, all pulled pork pitas and salads will be marked as being out of stock until further notice.  Apologies for any inconvenience this may cause your students and staff.