Heron Herald Term 3, Week 8, 2023
Matua School is proudly supported by…
Kia ora koutou,
We have an outstanding Board of Trustees at Matua School. It is fantastic to have experienced people who have a passion for the community and also bring experience that contributes to the governance of the school. Over the last 3 years, the Board has been led by Fiona Lavin as our 'Presiding Member'. Fiona has recently stepped down from the role of Board Chairperson after signalling her intention to do this earlier in the year. She has worked to support a smooth transition to our new Board Chairperson, Kim Bevins.
Fiona has served Matua School so well in this role, including being a key leader for our school as we navigated the COVID pandemic and all the challenges linked with that. Fiona has a strong understanding of governance and a community mindset that always puts student learning and the well-being of all at the centre of decisions. Although Fiona has stepped down as Chairperson, she continues to serve on the Board of Trustees as an elected member.
Thank you to Kim Bevins for taking on the role of Board Chairperson (Presiding Member).
DEPUTY PRINCIPAL UPDATE
As noted in our last newsletter, one of our Deputy Principals, Sara Lambert, is now on Maternity Leave. I am pleased to announce that Vanessa Millar is stepping into this DP position while Sara is away. We have an experienced staff at Matua School, and Vanessa is a quality educator who knows our kura well. She has leadership experience within the school and across the education network. Vanessa currently teaches in Room 18. While we will release Vanessa from the classroom on a few occasions this year, we want to ensure she is able to complete the 2023 with Room 18. Vanessa will join Marcus and Angela on the SLT and work full-time in a DP role in 2024.
TEACHER ONLY DAY
Just a friendly reminder that we have a Teacher Only Day scheduled for Monday 18th September (Week 10). The school will be closed for all students for the day. Teachers and schools across Tauranga Moana are all involved and will be meeting for professional learning at Mercury Arena – Baypark. sKids childcare are open for the day, but will be based at Pillans Point. Please contact sKids if you would like to book your child in.
SCHOOL PŌHIRI – ŌTŪMOETAI PA
After the weather prevented us from holding our annual pōhiri at Ōtūmoetai Pa, we aim to hold the event on Friday, 22nd September – the last day of Term 3. This event is subject to the weather, as with 600 people being outdoors with no option for shelter, it's essential the weather is fine. We would love parents to join us for this special event, particularly if you haven't been welcomed onto the Pa before.
If the weather prevents this from happening again on Friday, 22nd September, we will look to visit sometime in Term 4.
SCHOOL DONATIONS
The Ministry of Education uses an 'equity index' to fund schools. A school's equity index number impacts several funding streams, with some schools receiving more income than others depending on the socioeconomic factors identified within their community. Schools above an identified index can also opt into a government scheme where $150 per child is paid in exchange for not seeking donations from parents. Matua School is not eligible for this scheme and cannot access the $80,000 other schools of a similar size receive. As a result, the Matua School Board ask parents to contribute $130 per year for each child to ensure that our tamariki have equitable access to resources, activities and learning opportunities.
We are thankful for the families that support us by paying the school donation.  A large number of people pay the school donation at the start of the year, while a number pay smaller payments across the year. Some do not contribute at all.
We would like to understand the range of decisions that parents make on paying our school donation.  Please take a minute to complete this short survey.
If you would like to pay your school donation for 2023, please visit your Kindo Account, which can be accessed via the @School App.
TUI TALKS – EPISODE 2
The theme of Episode 2 is SPORTS and welcomes our special guest, Mrs Sutherland.
Please follow the link below to listen, and subscribe to our Tui Talks SPOTIFY channel for future episodes.
SENSORY SPACE
We are looking to create a Sensory Space at Matua school. This space will be designed to provide a calming and engaging environment where students can explore their senses, manage their emotions, and enhance their focus.
But to make this Sensory Space a reality, we need your help!
We are reaching out to our wonderful Matua community to request donations of items that would enrich our Sensory Space. If you have any of the following items in gently-used or new condition and are willing to contribute, we would be incredibly grateful:
• Soft cushions and bean bags
• Weighted (or cosy) blankets / toys
• Comfortable couch
• Textured rug
• Hanging swing
• Fidget toys and stress balls
• Bubble tubes or sensory lighting
• Balls of wool to create sensory artwork
• Lego
Your support will play a vital role in creating an environment where all our students can thrive and learn. If you have any of these items to donate or, please contact Teresa at ht.mcclean@gmail.com or 021 544 507.
SCHOOL DONATIONS
Thank you to families that have paid the School Donation for 2023.  Your support in this area would be appreciated if you haven't done so yet.  Payment can be made via Kindo.
The Ministry of Education uses an 'equity index' to fund schools. A school's equity index number impacts several funding streams, with some schools receiving more income than others depending on the socioeconomic factors identified within their community. Schools above an identified index can also opt into a government scheme where $150 per child is paid in exchange for not seeking donations from parents. Matua School is NOT eligible for this scheme and cannot access the $80,000 other schools of a similar size receive. As a result, the Matua School Board ask parents to contribute $130 per year for each child to ensure that our tamariki have equitable access to resources, activities and learning opportunities.
Your contribution supports  :
Learning support staff
Garden to Table staffing and resources
School pool maintenance
Library books and resources
Support for school trips
Inter-school sporting events
Replacement of digital devices
Learning through play resources
Did you know?
Your donation can be claimed as a Tax Credit. Receive one-third back from the IRD at the end of the financial year!
HAUORA HOME
Last week we had Peter and Dana from Otumoetai College come and teach some of our Rākau students a new game that they have created as part of Student Enterprise. Please keep reading to find more out about this awesome resource.
Hauora Home's philosophy is not new; The four pillars of Hauora is a Maori holistic view of health. The Te Whare Tapa Wha model was created by Dr Mason Durie as a way of visualising each pillar of Hauora, physical, social, spiritual, and mental wellbeing, as a wall of a Whare.
We at Hauora Home value the importance of a balanced hauora; each wall of a house must be equally strong. After observing our own experiences with misusing technology, poor communication, and reduced physical activity, we found a need to engage students in a constructive way, outside of technology.
Hauora Home is a snakes and ladders inspired board game in which every "tile" represents a different pillar of Hauora. When a player lands on a tile, after rolling the dice, they complete a challenge which corresponds to the area of Hauora, as dictated by accompanying challenge cards. A successful completion of the challenge allows the player to remain on their tile; A fail sends them back to where they started the turn.
Hauora Home is designed to be a learning tool for classrooms and parents to utilise. Students are encouraged to channel the same competitiveness as an online game, but in a social and productive setting, while simultaneously engaging their own Hauora.
The link to our website is:
PODCASTING VISIT AT SELWYN RIDGE SCHOOL
Our current Y6 podcasters and some Y5's that have joined the group headed out to Selwyn Ridge Primary School for a podcasting Hui. It was a great chance to share our ideas and ask some questions about each other's podcasts. We have released two episodes so far and episode three is right around the corner.
You can find the latest episode at the top of our School newsletter.
MEGAN HULL
This week we have been really lucky to have had the amazing Megan Hull, who plays for the Black Sticks, come to our Winter Tournament Hockey practice.
She is a defender and was co-captain for the Birmingham Commonwealth Games.
Megan showed us a great game that can improve our skills and gave us some positive feedback.
She shared a little about herself and her career during our Rākau team assembly. We also had the opportunity to ask her questions.
Some were lucky enough to get a signature.
It was great fun to see her challenge her big brother Mr Hull with hockey juggling.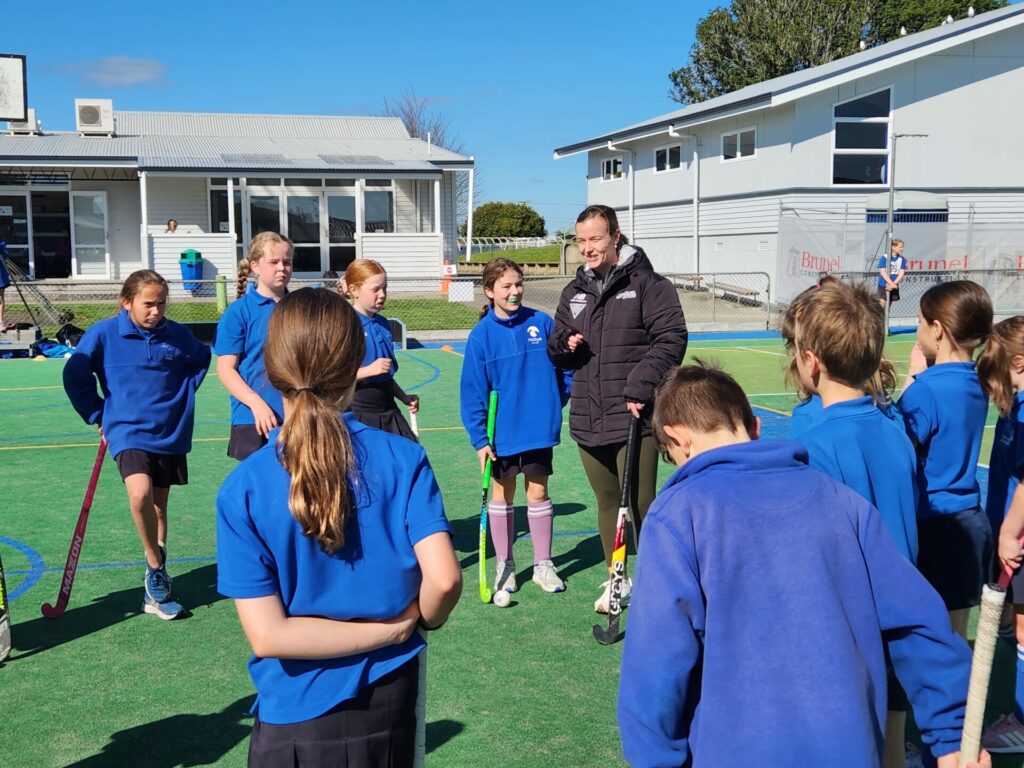 WIG WEDNESDAY
Once again we are getting behind the Child Cancer Foundation this year and holding a Wig Wednesday 13th September.  Tamariki can either come to school wearing a wig or their best crazy hair! Please help support this amazing foundation by sending along a gold coin donation. Tamariki are still expected to wear uniform, it is not a mufti day.  Thank you for your support with this.
LIBRARY
Recall of Library Books
A big thank you to everyone that has been assisting children to return library books.  A recall notice went out this week to all families and teachers of children that had library books in their name.
It's a big group effort to locate these books!  There will be a residual number of books still outstanding when the library is closed Week 10 of this term.
We will still be requesting these books and collecting them.  Please return these books to classroom teachers or to the school office.
Please contact Matua School on 07 576 9027 or email the library directly on
library@matua.school.nz
 if you have any queries regarding your children's library books.
A reminder that classes will still have access to Matua School Library books in classrooms but will be unable to take books home.
The Tauranga City Library bus is available Tuesday afternoons alternating between Levers Road and Tilby Drive.  This is a great service to support!
NEW ENROLMENTS
If your child is due to start school before the end of the year, we ask that you please go onto the Matua School website and complete the 'Intention to Enrol' form.
We are forward planning for teaching spaces and teachers, and need to know who is starting with us as soon as possible.
Link for the 'Intention to Enrol' form here 
WEDNESDAY CHALLENGE
Don't forget to take part in the Wednesday Challenge.  Challenge your family to avoid single-family car use on a Wednesday and make use of other modes of transport, such as carpooling, bus, walking, cycling, skating and scootering. 
Do it for your health, the planet, your wallet and your community.  We're having fun and giving away prizes.  Go to www.wednesdaychallenge.co.nz
'Inspace Joinery is a reliable and skilled carpentry company that offers quality services for kitchen and home joinery projects. With their attention to detail and commitment to customer satisfaction, they can turn any space into a work of art. Contact them today to discuss your renovation ideas. Visit our Showroom at
301 Maunganui Rd, Mt Maunganui.'
SCHOOL HOURS
A friendly reminder that school is not open until 8.30am. If you require childcare before these hours, please contact SKIDS either by email – matua@skids.co.nz, phone – 027 586 0408, or book online – www.skids.co.nz/Matua.
YUMMY STICKERS
2023 has already thrown us all some tough challenges, but together we will get through it.
Our orchards like many other growers in Hawkes Bay and Gisborne, have been badly affected by the recent cyclone.  Yummy are fortunate to have orchards spread widely across the Bay, which has meant some of our orchards have been completely devastated but some have survived.  It has been a tricky time for sure, but we are managing to pick the majority of our crop this season, so that's some good news
The other good news is, we will push on with the Yummy School Sticker Promo again this year.  This is something we really value being part of, and I'm sure schools will value free sports gear even more  this year.  Even in these tough times, it's great to be part of a community and give back to schools and kids, so thanks for being part of this promotion 26 years on!
You can start collecting anytime now (if you haven't already started), and some more good news – we will be switching over to compostable stickers in the next few months
LUNCH ORDERS – EVERY FRIDAY
Lunch orders are available for delivery to Matua School each Friday.
SUBWAY
Simply order your SUBWAY lunch online through you myKindo account by CLICKING HERE
Order (or cancel) any time before 9:00am on the day or schedule in advance.
Help? Visit support.mykindo.co.nz or call 09-869 5200 Mon-Fri, 8:00am to 4:00pm.
TERM DATES 2023 / 2024
TERM 3 – Monday 17th July – Friday 22nd September.
Term 4 – Monday 9th October – Friday 15th December @ 12.30pm
Labour Day – Monday 23rd October
Last Day of School – Friday 15th December at 12.30pm
Term 1, 2024 – Wednesday 7th February 2024 – Friday 12th April
Waitangi Day – Tuesday 6th February
Easter Weekend – Friday 29th March until Tuesday 2nd April
Term 2, 2024 – Monday 29th April – Friday 5th July
King's Birthday – Monday 3rd June
Matariki – Friday 28th June
Term 3, 2024 – Monday 22nd July – Friday 27th September
Term 4, 2024 – Monday 14th October – Last Day tbc
Labour Day – Monday 28th October
Our School App
We have a school app to keep you up to date with events and notifications. Click on the button below to check it out.
Setting up with Kindo
Kindo is our prefered payments system. To help you learn how it works, we've added their new help sheet and video. We hope it helps.
COMMUNITY NOTICES
FUSE DRUMMING
Our Matua Fuse Drumming class starts up Tuesday morning, 5th September (8.15 am till 8.45 am). We are looking for Year 2 to 4 students ideally, but will consider Year 1 and Year 5. A 9 week term of Fuse is $139, but Term 3 fee will be reduced as there will be 3 lessons from week 8 to 10. Contact me 

carl@mor.net.nz

 for more info.
CHILDREN'S HOLIDAY ART WORKSHOP 

Once again Lynne Sinclair Taylor is running this popular workshop for ages 6 to 12. The children will have fun while learning about colour and techniques. All art supplies provided. Limited numbers.
Thursday 28th September10am to 3pm
Cost: $65 ($45 for additional children in family)
Where: St Stephen's Methodist church, 9 Brookfield Tce, Otumoetai, Tauranga
To enrol: Contact Lynne on 021 121 9864 or lynnestaylor@gmail.com
Lynne has been tutoring children and adults for over 30 years.