Heron Herald Term 4, Week 1
Matua School is proudly supported by…
FROM THE PRINCIPAL'S LAPTOP
Kia ora Koutou
It has been a great start to Term 4 at Matua School. It is always pleasing to see enthusiastic students keen to return and share their holiday adventures.
The weather has been fantastic, so it is timely to ensure all students have a suitable hat to wear for Term 4. It is also a good idea for students to bring a drink bottle.
We are excited to welcome Tracey Donovan-Grammar as our new librarian. Tracey is a trained Primary and Early Childhood teacher and Speech and Language Therapist, coming with a wealth of experience working with students. We are equally excited to welcome Katy Prentice to the team as a Teacher Aide. Katy also has a variety of expertise and experience working with primary students and we are fortunate to have her help in the junior school. Lastly, welcome to Sara Lambert, who will be joining us in 2019. Sara has skills in science and ICT, particularly in flipped learning. We are looking forward to having her join the team.
This term our learning is focused on Technology. The 'big idea' is identifying problems that exist and following a design process to create a solution – I am looking forward to trialing many of these solutions later in the term.
All the best for a great term ahead.
Cheers
Craig

Our School App
We have a new school app to keep you up to date with events and notifications. Click on the button below to check it out.
KIDS FOR KIDS
Kids 4 Kids choir is on next Thursday 25th October at Baypark Arena.
ART SUPPLIES
Thank you so much to all the parents who have dropped off card, rolls and all the other bits and pieces to the art room.  I really appreciate all of your help.
Regards
Jenni Scott
Art Teacher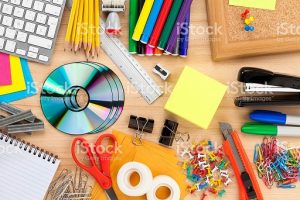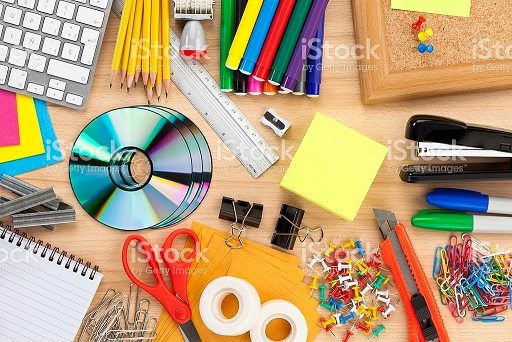 SPORT

     
Term 4 has finally arrived and with it is the start of the spring sport season. This week I will be finalising teams and hopefully by the beginning of next week you will start receiving the team contact lists. This term we have had VERY few volunteers for coaching and managing our teams. It's a little disappointing to say the least. This is not an onerous task but one of high importance. Without coaches and managers our teams cease to exist. Please help our children out and give a little back.
Here's a list of each sport and the date the competition starts:
Flippaball – Tuesday 23rd October
Volleyball – Friday 26th October
T-Ball – Saturday 27th October
Kiwi Tag – Monday 29th October
Basketball – Monday 29th October
Rippa Rugby – Tuesday 30th October
Sports uniforms will be issued next week. With the number of sports on offer and teams we have this term, uniforms will be in hot demand. Can I please suggest that if your child will continue to play sport for the school, you think about purchasing a sports uniform for them to keep.
Next week I will be taking a group of budding tennis players to compete at the WBOP Inter-school Tennis Competition. We may even have the next Serena Williams or Roger Federer right here!
The fun doesn't stop there, we have many exciting events this term which include the Girls Playing Sport Day, WBOP Cricket Carnival, School Athletics Day, the ever popular WBOP Orienteering, East Cluster Athletics, Weetbix Kiwi Kids TRYathlon, WBOP Athletics, Girls Cricket Tournament the list is endless!
Weetbix Kiwi Kids TRYathlon
 – so far we are half way to our target with 50 entries! Spread the word and lets get another 50 so we can top our school group from last year. 
Early bird entries close next Thursday 25th October. 
Here is a quick access link to our school group for registration: 
https://www.registernow.com.au/secure/Register.aspx?E=30015&G=67626
I look forward to seeing those registrations rolling in!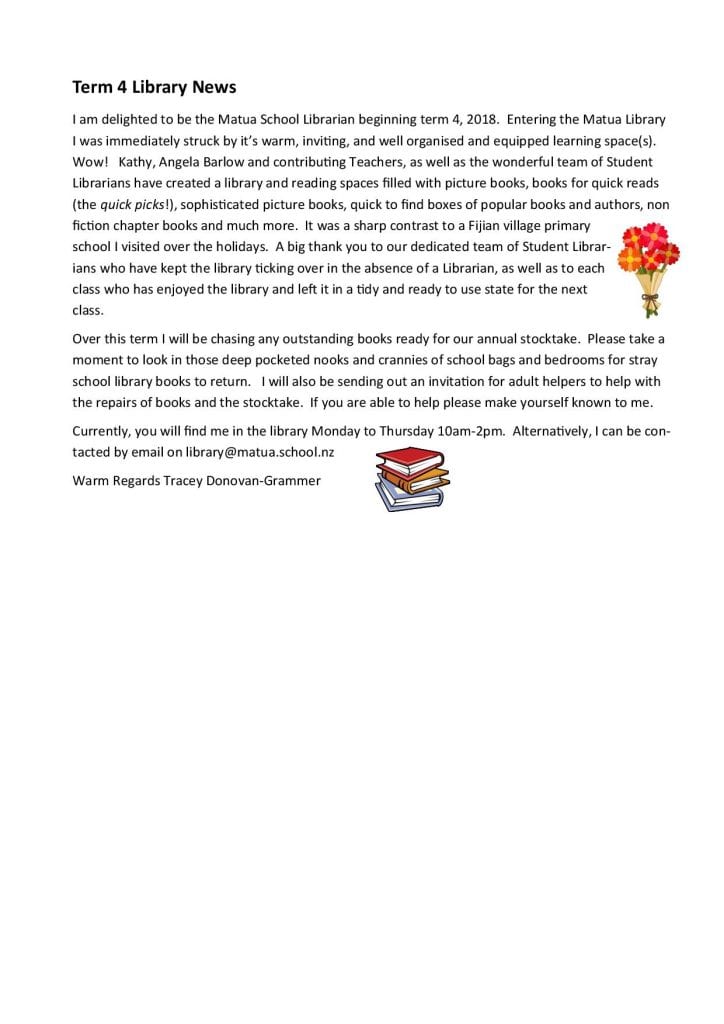 TERM DATES
Term 4 2018 – Monday 15th October – Tuesday 18th December
22nd October – Labour Day, school closed
18th December – Last day of term 4. School finishes at 12.35pm
Term Dates for 2019
Term 1 – Mon 4th February – Friday 12th April
School holidays – 13th – 28th April
Waitangi Day – Wednesday 6th Feb, school closed
Term 2 – Mon 29th April – Friday 5th July
Queen's Birthday – Monday 3rd June, school closed
School holidays – 6th – 21st July
Term 3 – Mon 22nd July – Fri 27th September
School holidays – 1st – 13th October
Term 4 – Mon 14th October – Thurs 19th December
Labour Day – Mon 28th October, school closed
Setting up with Kindo
Kindo is our new prefered payment and permission system. To help you learn how it works, we've added their new help sheet and video. We hope it helps.
PTA
The PTA Quiz Night was a fantastic success raising a whopping $13,214.00 to go towards making improvements to the school pool.  Well done everyone on your amazing costumes and for making it a fun night for everyone involved.
The Second-Hand Uniform Shop is needing more uniforms.  If you have any uniform items that your child has out grown or no longer need, please drop them off to the school office. Other families in the school will really appreciate them.
This term we have the Christmas Night Market coming up on Thursday 8th November from 6.30 pm. Come along and check out all the amazing stalls and get some early Christmas shopping done.
https://www.facebook.com/events/241026483259248/?ti=icl
The PTA will also be running the School Disco on November 23rd.  The Disco will have a Circus theme so start thinking of your costumes.  You could be the Ring Master, a lion, or an acrobat – let your imagination run wild. There will be a prize for the 'Best Dressed'.
We are looking for some helpers that could help make some art work to decorate the Hall for the night.  If you are interested please email matuapta@gmail.com and we will get a team together.
The PTA still need a Treasurer to join our awesome team.  It is a great way of meeting new people and finding out what is going on around the school.  If you are interested please email matuapta@gmail.com .  We look forward to hearing from you.
The next PTA meeting is on 6th November at 7.00pm in the school staff room.  We love to have new faces and fresh ideas so feel free to come along and join in
If you are interested in being involved in the PTA in some way, please send an email to matuapta@gmail.com.
MAORI LANGUAGE WEEK
Te Wiki o te Reo Maori …Thank You!
Thank you to all the people who helped make Maori Language week such a success.
From those who walked with us to the Pa, to people who shared areas of expertise, to the many hands who helped prep and serve the Hangi food.
To Chris and Mr Knight for their awesome guidance and support all the way.
Thank you too to Pak n Save who very generously supplied the produce for our hangi.
Thank you to our local Kaumatua and his whanau who manned the hangi from 5am.
Thank you to the awesome Matua staff who embraced the week and celebrated many things Maori with your children.
Tu meke!
SCHOLASTIC
Everyone should now have received term 4's Scholastic catalogue. If you place an Issue 7 order via LOOP you will have the opportunity to select a FREE book to help keep your children reading over holidays (conditions apply).
AS well Scholastic has turned on Gift Function in LOOP this term! The Gift Function allows you to place a separate order as a surprise gift for your child. Items marked as a gift will be delivered to Matua School, along with all your other Book Club orders. They will be marked accordingly as a gift (not gift wrapped), so they can be set aside for you to collect. I will ring you, when it arrives, so your child does not know!
There are many fantastic titles available at reasonable prices, but please don't feel pressured by your child to purchase from these.
Our school does receive 20% back to spend on books, which is wonderful, but I also understand this is not possible for everyone. Sometimes I purchase things just to put away as gifts for birthdays or Christmas.
The school does not accept cash. Orders can either be made online with credit card payment, or an order form with cheque may be brought to school. If neither of these are an option, please contact me: Friederike on  0274957989 or  fvbultzingslowen@gmail.com  and we will work something out.
Last orders on October 31st.
LOST KEY
Has anyone lost a car key? A key has been found in the sand pit on the first day of term. If it belongs to you, come and give a description at the school office and find out if it's yours.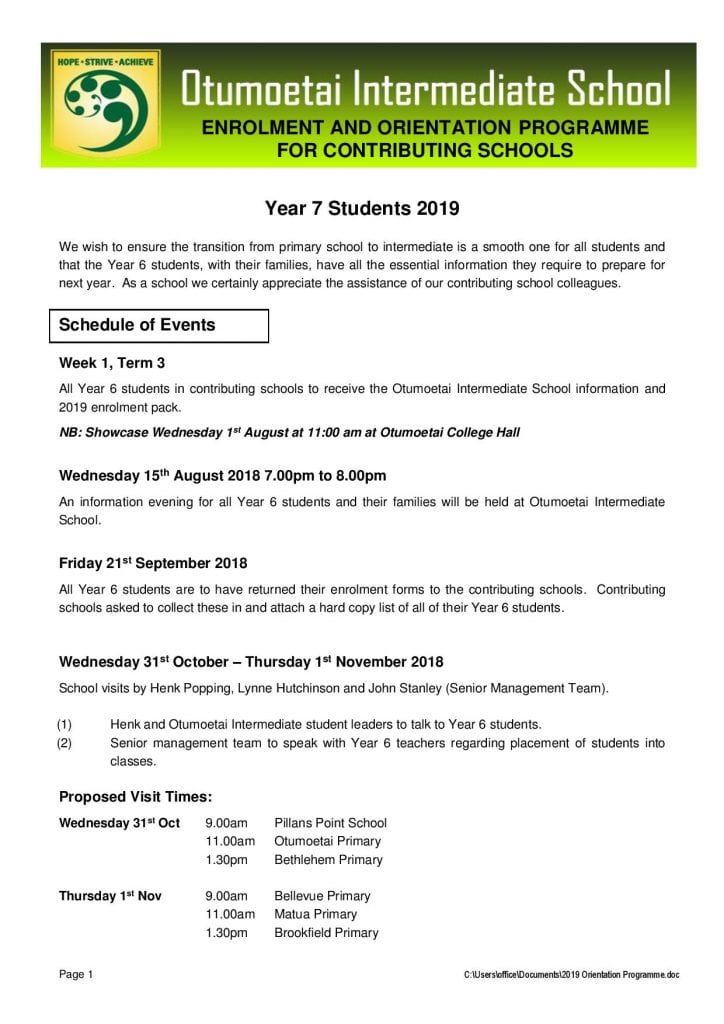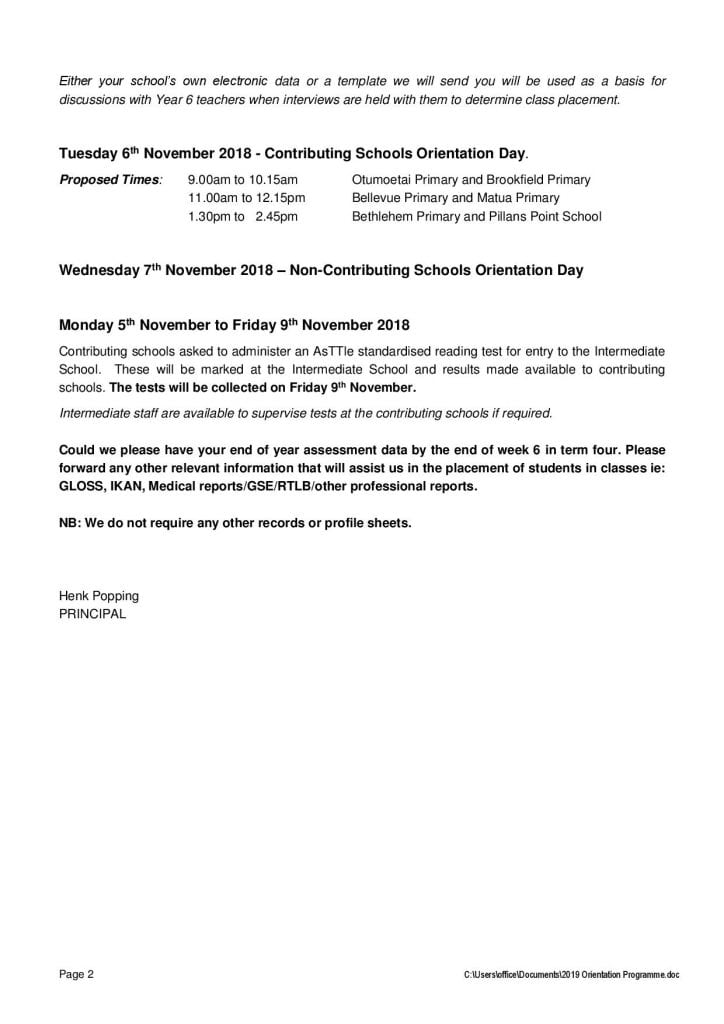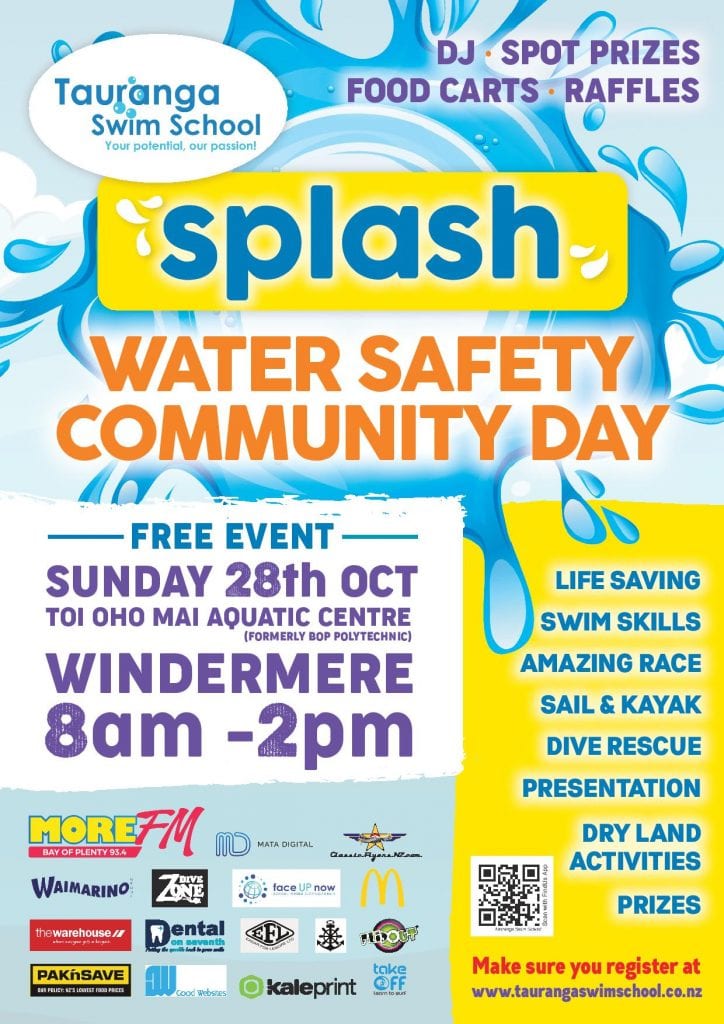 The Affordable Art & Artisan Fair
The Affordable Art & Artisan Fair happens on the last Sunday of every month (and December 15th) from 11am to 3pm at the Black Sheep, Cnr SH2 and Plummer's Point Road, Whakamarama (just north of Te Puna).  We're on every month; rain, hail or shine as the Black Sheep has large indoor spaces and covered verandah areas.  There's live music, great food and a huge sealed parking area right outside the door.  We have a wide range of art, art craft and artisan products on display and for sale.  Visual art, woodware, handmade chocolates, flowers, foliage, photographs, container plants, jams and pickles – "something for everyone".    The Fair is on facebook and from there you can access the monthly videos created by one of our organizing team, artist Birgitt Shannon – you'll soon get an idea of how good our Fairs are!    For more information:  e:  aaafair17@gmail.com   or 021 276 7877
Drama Programme – Year 1-3
Attending Speech and Drama lessons in a supportive and fun environment gives children the opportunity to extend their language and communication skills through the use of drama and poetry, while developing confidence.
In response to enquiries from parents of junior students, Lee Watkins, a qualified speech teacher, will be running a six session 'Introduction to Speech and Drama' next term. It will be run on Friday mornings.
If your child is interested in attending ring Lee for more information.
Phone 5787171 or 021565836  email: lee.margaret.watkins@gmail.com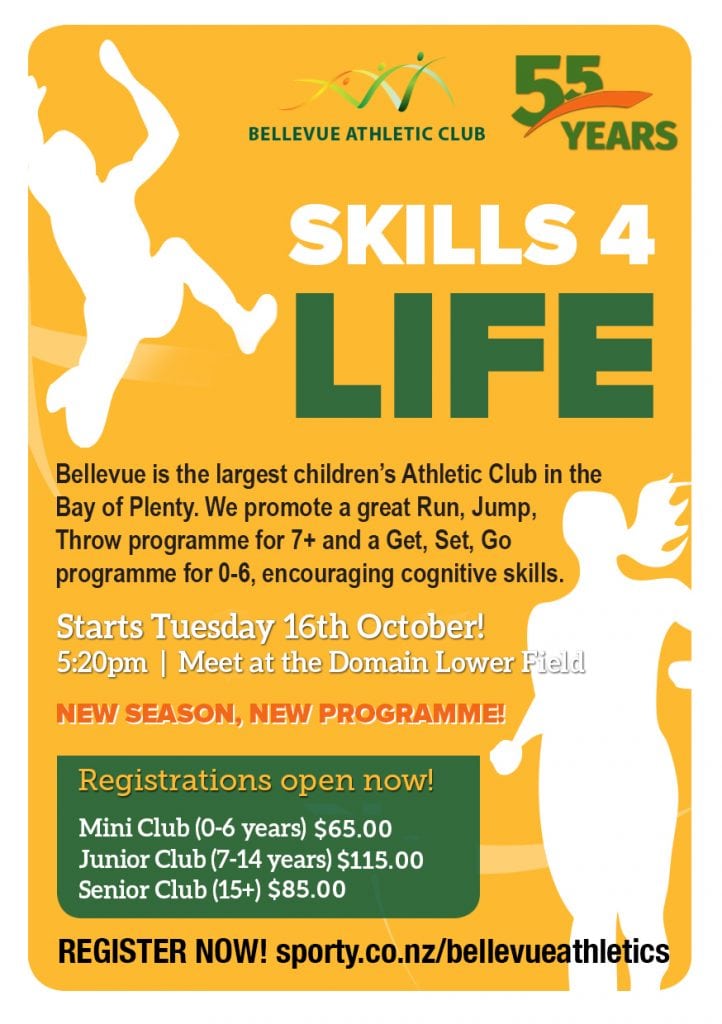 SKILLS FOR LIFE!
Bellevue is the largest children's Athletic Club in the Bay of Plenty. We promote a great Run, Jump, Throw programme for 7+ and a Get, Set, Go programme for 0-6 encouraging cognitive skills for life! We are also turning 55 this year! 
Our first club night is Tuesday 16th October! 5:20pm | Meet in the Domain Grandstand
Mini Club (0-6 years) $65.00
Junior Club (7-14 years) $115.00
Senior Club (15+) $85.00                                                                                         
REGISTER NOW! sporty.co.nz/bellevueathletics
LETS GET READY FOR SUMMER!!
Tauranga Swim School is offering lessons for all ages and abilities from 6 mths old, where you will achieve measurable results. The cost of lesson's staring at $155 per 10 week term. We are also offering a holiday intensive programme during the October holidays, starting at as little as $80 per week. For more information please contact Andrea 0272868506 or  075442141, email 
andrea@taurangaswimschool.co.nz