Heron Herald Term 4, Week 5
Matua School is proudly supported by…
FROM THE PRINCIPAL'S LAPTOP
Kia ora Koutou
What a wonderful few weeks it has been. It certainly feels like Summer is on the way. With the Summer sun comes the need to ensure all our tamariki have hats to wear for Term 1 and 4. A drink bottle full of water is a great idea to keep students hydrated, too.
Next Friday is our Kapa Haka Festival, Te Rā Rēhia. It will be held at Ōtūmoetai Intermediate with a pōwhiri starting at 9:30am. All whanau are welcome to attend. Our kapa haka students will be performing several items.
It is great to have our pool up and running. This year, we have installed a salt water chlorinator to ensure the water is better for students eyes and skin. A huge thank you to Jay, our caretaker for making this happen.
It is the time of year when we are planning class lists etc. While we don't take requests from parents regarding placements, please be assured that we put a great amount of time into this and it is looked at by many staff members.
In this newsletter, we have included the survey results for our previous property survey. A huge thank you to all who completed this survey, it has given some important feedback to integrate into the future direction of Matua School.
Matua Property Survey Results 2018
Ngā mihi
Craig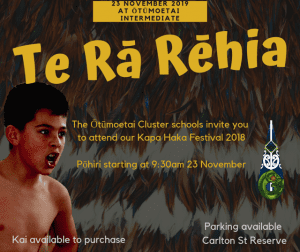 Our School App
We have a new school app to keep you up to date with events and notifications. Click on the button below to check it out.
HAUORA / WELLBEING UPDATE
Kia Ora Koutou
This year the Otumoetai Community of Learning (COL/Kahui Ako) worked with the ERO Team in Wellington to develop a Hauora/Wellbeing Survey specifically for our students.  The majority of the Year 4-13 students in the Otumoetai Cluster of schools undertook the Hauora/Wellbeing Survey in Term Two.  General survey trends were shared with all schools in Term Three.  Individual schools retained ownership of student's voice particular to their school.  From these results, we will be working on a plan in 2019 to implement the goals/next steps identified from this survey.  The survey results suggest that our focus should include:
– working to further engage with our whanau and families,
– building better student/teacher relationships and
– developing student agency (student agency refers to learning through activities that are meaningful and relevant to learners, driven by their interests, and often self-initiated with appropriate guidance from teachers. To put it simply, student agency gives students understanding, voice and choice in how they learn.)
We look forward to keeping our communities updated as our journey progresses.
Term Dates for 2019
Term 1 – Mon 4th February – Friday 12th April
School holidays – 13th – 28th April
Waitangi Day – Wednesday 6th Feb, school closed
Term 2 – Mon 29th April – Friday 5th July
Queen's Birthday – Monday 3rd June, school closed
School holidays – 6th – 21st July
Term 3 – Mon 22nd July – Fri 27th September
School holidays – 1st – 13th October
Term 4 – Mon 14th October – Thurs 19th December
Labour Day – Mon 28th October, school closed
Enrolment for 2019
If you have a child due to start with us in Term 1 next year, please pop into the school office and pick up an enrolment pack asap. We are receiving lots of new entrant enrolments and are starting to put things in place for 2019.
Don't forget our 'New Parent Information Evening'. This will take place in rooms 20 & 21 on Thursday the 15th November, 7 – 8pm. Come along and meet some of the new entrant teachers, look around the classrooms and find out any additional information you may need.
ART SUPPLIES 
Mrs Jenni Scott is looking for a couple of old hair dryers to use in the art room. If you have any that you would like to donate to school, please drop them in to the school office.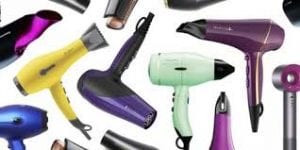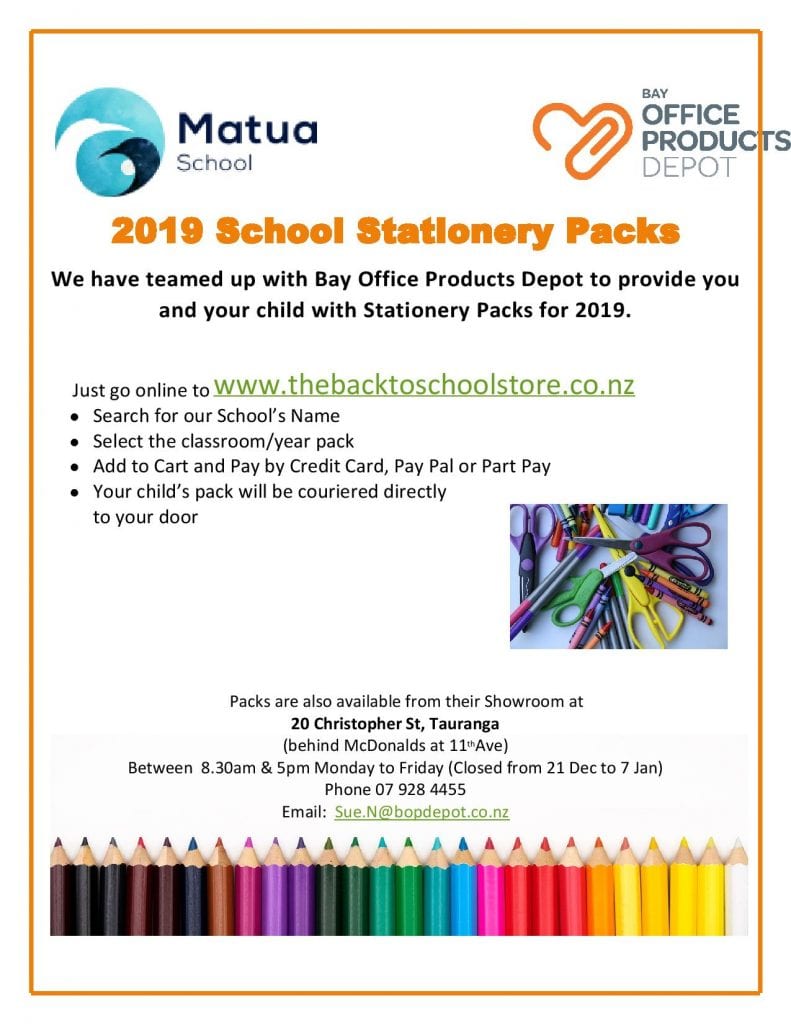 Setting up with Kindo
Kindo is our new prefered payment and permission system. To help you learn how it works, we've added their new help sheet and video. We hope it helps.
PTA
Thank you to everyone who came to our Christmas Night Market last week.  It was a very successful evening for the stall holders and for the school.  We raised $1477 to go back into our school projects.
Our next PTA event is the School Disco on the 23rd of November and the theme is Circus.  There will be a $5 entry fee on the night.  There will be snacks available to buy and also glow in the dark toys, CASH ONLY.
Year 0-2 starts at 5.00 – 6.15pm,  Year 4-6  starts at 6.30 – 8pm and Year 3's can choose which one they would like to attend.  There will be prizes for the Best Dressed on the night, so put your thinking caps on.
The PTA have two Facebook pages if you would like to join. The first is a page where we keep you updated with events and news;
https://www.facebook.com/1947768091919883/
And our other Facebook page is the Friends of the PTA page where we ask for helpers;
https://www.facebook.com/groups/FriendsofMatuaSchoolPTA/
The PTA has had a fantastic year this year and we are already busy planning next years' events.  If you would like to be part of the planning, our meetings are in the school staff room at 7.00pm the first Tuesday of every month we would love to see you there
If you are interested in being involved in the PTA in some way, please send an email to matuapta@gmail.com.
Can you help with some fabric?
I am making sandwich wrap for all and sundry and need fabric 32 x 32 – double sided.
I propose to make 500 for the school. They will cost $3 each for the school fund.
Email me – tess.nesdale@gmail.com if you can provide either fabric or help. Sewing would also be appreciated.
It looks like completion of the project will be early 2019
Many thanks – Tess Nesdale
SCHOOL POOL KEYS
Our school pool is now open and in use.
If you would like to apply for a key to use the pool outside school hours, you can do so via our website. Go to the bottom of the page and click on 'School Pool', following the prompts. Keys cost $75 plus a $25 bond which is refunded when you return your key.
Payment is made via Kindo.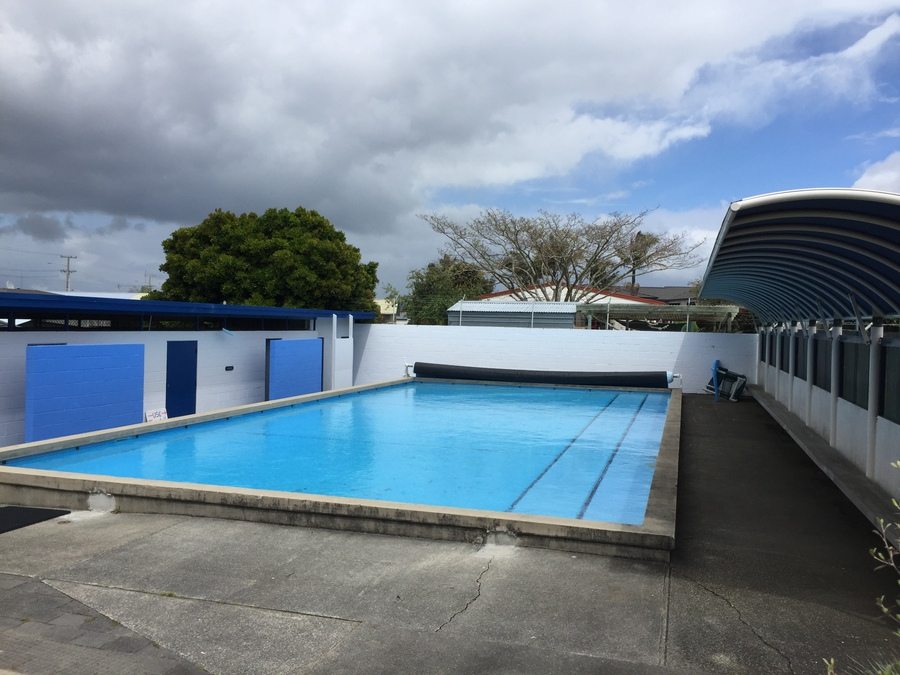 SCHOOL BBQ TRAILER
MATUA SCHOOL
TRAILER BBQ FOR HIRE
Ideal for fund-raising events, catering for large crowds at home or at work.
$100 per week day
$150 for weekend
Includes 1x full gas bottle
Bond is required
For all bookings contact Matua School on 07 576 9027, after hours 021 023 60747.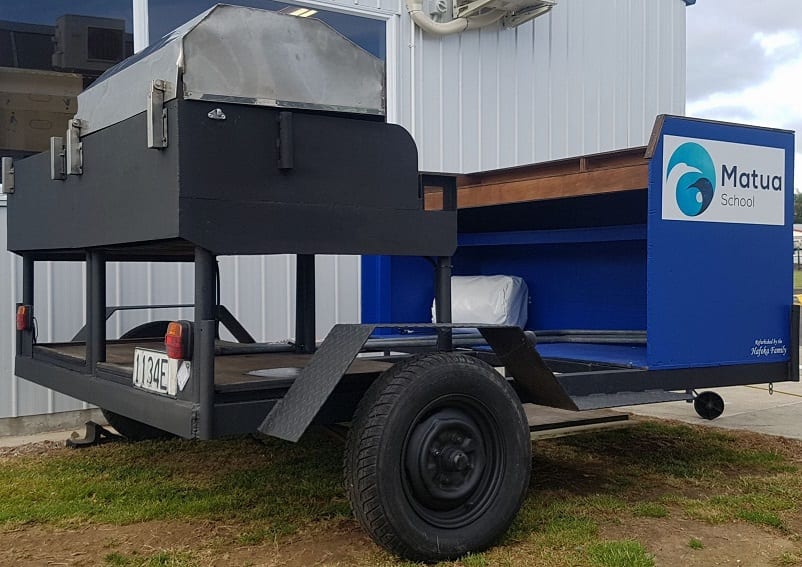 ICAS RESULTS
YEAR 3 /4
Digital Technologies
Credit – Tyler M
Merit – Jordan M
Science
Credit – Brody W
Merit – Ciara Lee, Nikita, Georgia & Takara.
Distinction – Samuel H, Mylo, Liam H, Erik H, Amy R & Ella
Spelling
Credit – Holly A W, Benjamin, Takara & Ella
Merit – Amy
Distinction – Mylo,
English 
Credit – Holly A W, Liam H, Alexia, Erik H & Zara
Merit – Tom P
Distinction – Benjamin G, Isabelle, Takara & Ella
High Distinction – Amy
Mathematics
Credit – Mylo, Liam H, Erik H, Georgia, & Takara
Merit – Samuel & Kallam
Distinction – Alexia, Amy & Ella.
High Distinction – Danny, & Benjamin.
YEAR 5 / 6
Digital Technologies
Credit – Emily B, Amy E, Sammy & Xavier
Merit – Harrison Y, Riley, Chelsea F & Aadit
Distinction – Liliana, Lochy W & Noah
Science
Credit – Emily P, Amy E, Noah, Xavier & Catalena
Merit – Emily B & Antoni,
Distinction – Harrison Y & Aadit
Spelling
Credit – Yoonjae (Sean), Sammy & Aadit
Merit – Amy E, Olivia M & Harrison M
Distinction – Beth M & Xavier
English 
Credit – Liliana, Lucia, Angelo, Rose, Lochy & Olivia M
Merit – Yoonjae, Justin & Amy E
Distinction – Isabel, Noah, Beth M, Aadit & Xavier
Mathematics
Credit – Yoonjae, Liliana, Emily P, Braxton, Harrison Y, Antoni, Brian, Noah, Aadit & Xavier
Merit – Felix W, Sam W, Lucia M, Amy E & Sammy
High Distinction – Reco Q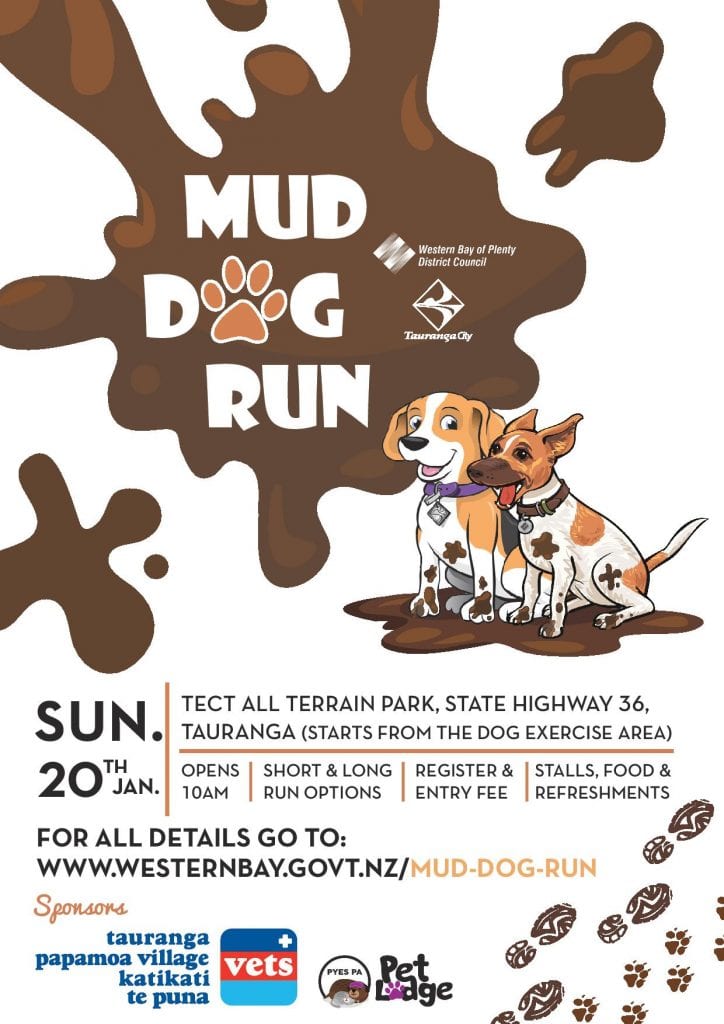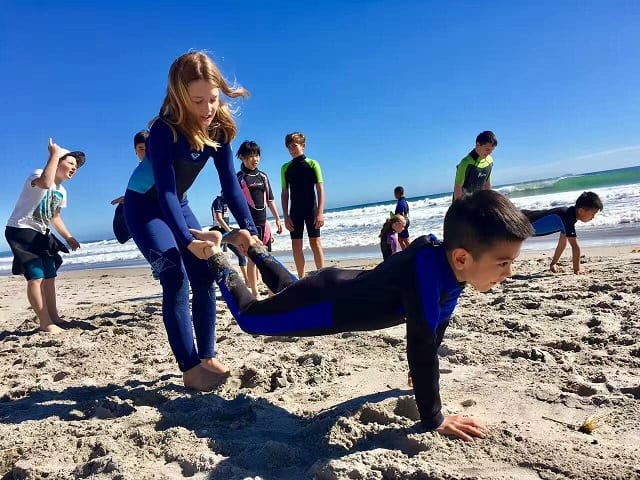 Edventure Summer Camps.
Based in the BOP, we have 3 awesome camps geared to get kids excited about the outdoors. With a focus on water safety, we have planned a range of activities including surfing, SUP, water safety lessons, as well as tramping, rock climbing, confidence courses, bush survival skills, hot pools, orienteering, team building, camp cooking and heaps more.
– January 14th – 18th – Aongatete Lodge
– January 21st – 25th – Aongatete Lodge
– Jan 29th – Feb 1st – Reedwood Valley Farm
OSCAR available
8-14 yr olds
Pick up/drop off points in Auckland, Waikato, Tauranga, Whakatane and Rotorua.
For more information or to book now visit www.edventure.co.nz email mark@edventure.co.nz or phone 02102241576
Book before Xmas and be in to win a surfboard.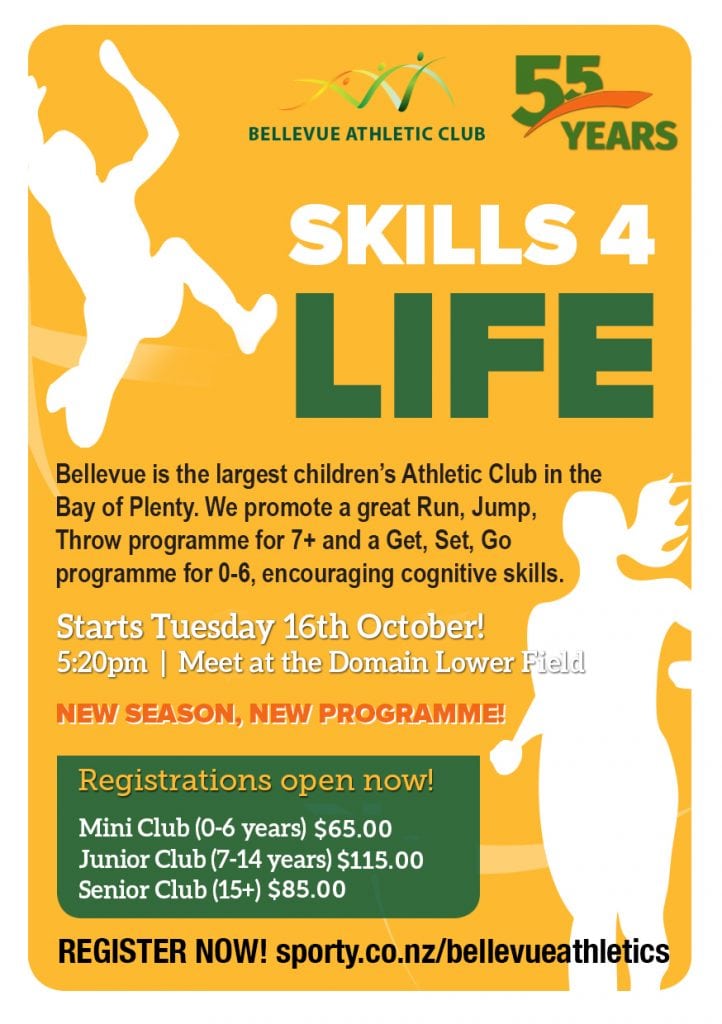 SKILLS FOR LIFE!
Bellevue is the largest children's Athletic Club in the Bay of Plenty. We promote a great Run, Jump, Throw programme for 7+ and a Get, Set, Go programme for 0-6 encouraging cognitive skills for life! We are also turning 55 this year! 
Our first club night is Tuesday 16th October! 5:20pm | Meet in the Domain Grandstand
Mini Club (0-6 years) $65.00
Junior Club (7-14 years) $115.00
Senior Club (15+) $85.00                                                                                         
REGISTER NOW! sporty.co.nz/bellevueathletics