Heron Herald Term 4, Week 7
Matua School is proudly supported by…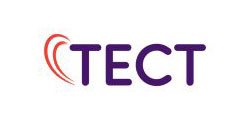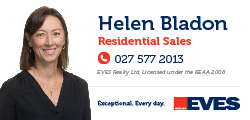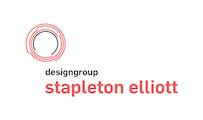 FROM THE PRINCIPAL'S LAPTOP
Kia ora and welcome to the latest edition of the Heron Herald.
We are excited to let you know our teaching teams for 2019. We look forward to partnering with you all to achieve successful outcomes for our students.
Year 5 and 6 Team
Kim Bartley – Room 1
Hannah Newton – Room 2
Jonny Bull – Room 3
Andy Cochrane – Room 4
Robyn Carlisle – Room 5 (Team Leader)
Year 3 and 4 Team
Sara Lambert – Room 6
Suzanne Tawharu – Room 7
Nikki Reid – Room 8
Joe Hull – Room 9
Emma Bryant/Ann Marie Needham – Room 10
Fiona Matthews – MPR (Team Leader)
Year 2
Lindsay Crisp – Room 11
Vanessa Millar – Room 12
Courtney Martin – Room 13 (Team Leader)
James Morris – Room 14
Year 0-1
Jennie Gordon – Room 18
Karina Tinholt – Room 19 (roll growth)
Janine Bell – Room 20 (Team Leader)
Sarah Reid – Room 21
A reminder that reports will be sent home on 14 December with students. This is also the day when students will visit their new class and teacher. This visit is deliberately arranged to allow students and families know placements for 2019 before the Summer break. Students can often feel overwhelmed on this initial visit and will react differently to change (as we all do). Please help your children to focus on the positives and reassure them.
We have our final assembly on 13 December at 11:15 am. Whanau are welcome to attend. This will be a chance to acknowledge our Year 6 students leaving Matua School. It will also be a chance to celebrate the achievements throughout 2018.
It is with regret that we farewell Mrs Susan Taylor this year from her full-time position. Susan has a long association with Matua School and will be missed greatly. She has held a range of positions over the years from running productions to serving on the Board of Trustees. We wish her and Rod all the best and I'm sure we will see Susan around Matua School in the future.
This year, we will not be awarding end of year badges. The introduction of our new Matua Learner certificates (both the class and school version) has been a way for us to more regularly recognise the contributions and achievements of all students at Matua School.
Congratulations to Mr James Morris who graduated as a Fully Registered Teacher on Friday.
I wish you all a great week ahead.
Ngā mihi
Craig

Our School App
We have a new school app to keep you up to date with events and notifications. Click on the button below to check it out.
COMMUNITY GARDENS
 MPR spent time helping out at the Community Gardens as part of a student volunteer army project. We weeded, planted seedlings, made compost and painted rocks. We also left two scarecrow which we had designed and made in class. A big thanks to our super-mum Pam Heaton for coordinating this fun day for us.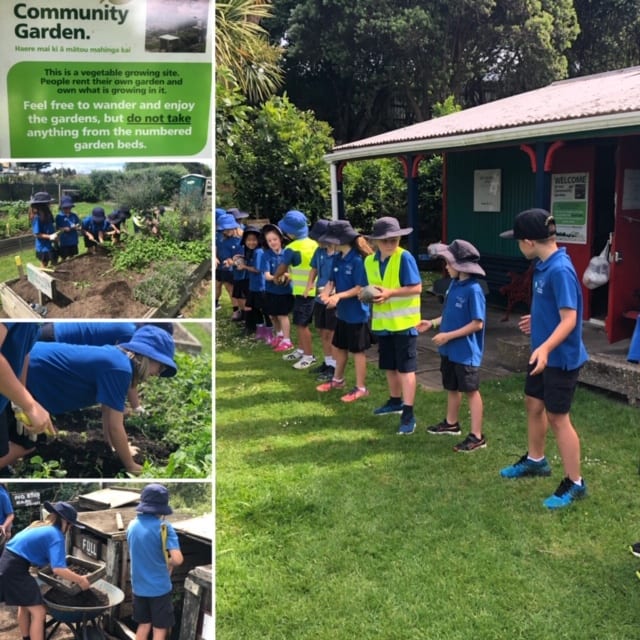 GARDEN TO TABLE
We are looking for financial sponsors for our new project starting next year. If you know of anybody who would be interested, please contact Emma Bryant on emmab@matua.school.nz.
HAUORA / WELLBEING UPDATE
Kia Ora Koutou
This year the Otumoetai Community of Learning (COL/Kahui Ako) worked with the ERO Team in Wellington to develop a Hauora/Wellbeing Survey specifically for our students.  The majority of the Year 4-13 students in the Otumoetai Cluster of schools undertook the Hauora/Wellbeing Survey in Term Two.  General survey trends were shared with all schools in Term Three.  Individual schools retained ownership of student's voice particular to their school.  From these results, we will be working on a plan in 2019 to implement the goals/next steps identified from this survey.  The survey results suggest that our focus should include:
– working to further engage with our whanau and families,
– building better student/teacher relationships and
– developing student agency (student agency refers to learning through activities that are meaningful and relevant to learners, driven by their interests, and often self-initiated with appropriate guidance from teachers. To put it simply, student agency gives students understanding, voice and choice in how they learn.)
We look forward to keeping our communities updated as our journey progresses.
Term Dates for 2019
Term 1 – Mon 4th February – Friday 12th April
School holidays – 13th – 28th April
Waitangi Day – Wednesday 6th Feb, school closed
Term 2 – Mon 29th April – Friday 5th July
Queen's Birthday – Monday 3rd June, school closed
School holidays – 6th – 21st July
Term 3 – Mon 22nd July – Fri 27th September
School holidays – 1st – 13th October
Term 4 – Mon 14th October – Thurs 19th December
Labour Day – Mon 28th October, school closed
Enrolment for 2019
If you have a child due to start with us in Term 1 next year, please pop into the school office and pick up an enrolment pack asap. We are receiving lots of new entrant enrolments and are starting to put things in place for 2019.
MUFTI DAY
Huge thanks to everyone that made a gold coin donation for the last mufti day. We raised a grand total of $594.80. This money will be put towards concrete pavers for around the sandpit.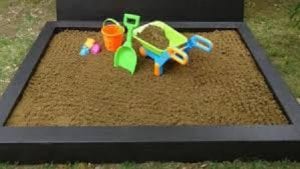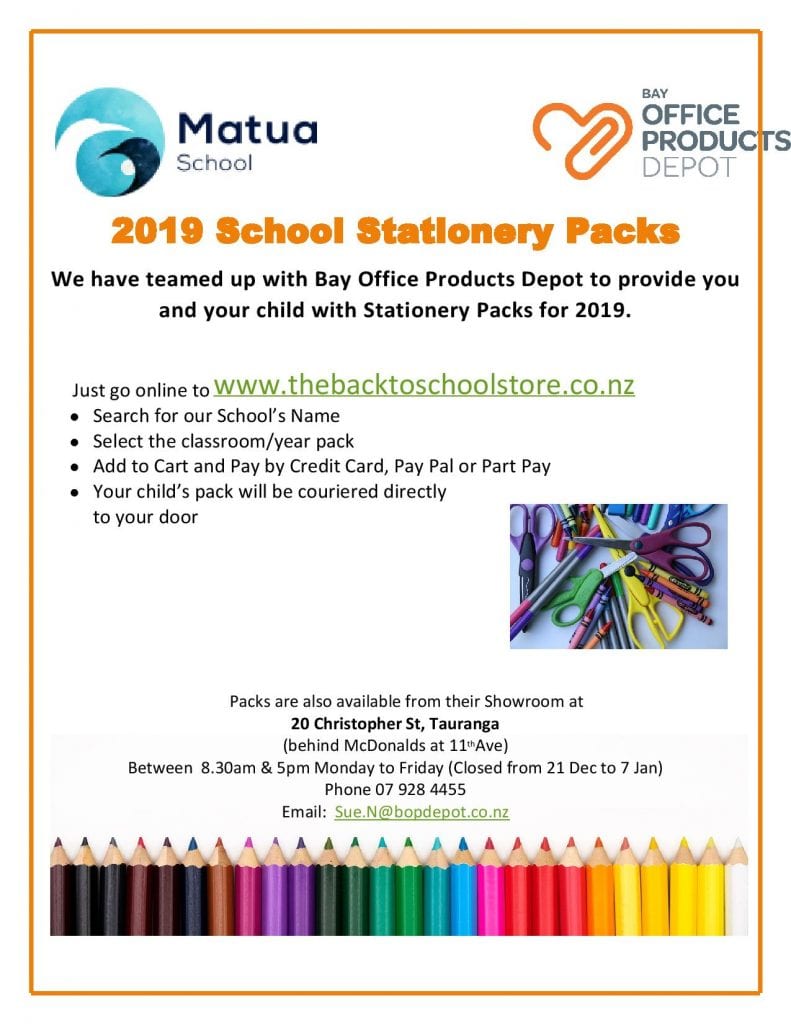 Setting up with Kindo
Kindo is our new prefered payment and permission system. To help you learn how it works, we've added their new help sheet and video. We hope it helps.
SPORTS NEWS
The year is coming to close which means the term 4 sports season is about to wrap up for the summer break. There are still a huge number of sports fees that are yet to be paid. Please ensure you have made payment for these on Kindo. I will be following these up next week with emails and then invoices home if we are still waiting for payment.
Sports uniforms will also need to be returned. Once your child has finished playing their sport for the year please get them washed as soon as possible and returned. I spend a large amount of my time chasing these up and would be very grateful if you could all get these in soon after your child has finished playing.
In the middle of November a group of us had a lovely day out at Mt Maunganui competing in the annual WBOP Orienteering competition. It was great way for the children to practice their cross country and navigation skills at the same time. We came away with a few podium positions with Chelsea coming 2nd in the year 6 girls individual competition, Sam and Joshua won 1st place with a time of 17.57m in the year 5 boys pair, Jacob and George in 2nd in the year 6 boys pair, Lydia and Genevieve 2nd in the year 6 girls pair and Liliana and Erin 3rd place in the year 6 girls pair. Well done to everyone involved. I hope to see more keen faces for next years event.
Our girls cricket team has been working hard this term with Rebecca from BOP Cricket coming in once a week to coach the girls. We took 10 girls to the Super 6's cricket tournament at Bay Oval. Every single girl has improved their game tremendously over the past 2 years and they played some really great cricket. The dressing up was just an added bonus.
Athletics has been the talk of the term with all of our syndicates participating in their school athletics over the past few weeks. Our senior school athletics top placing qualify for the East Cluster Athletics Champs where they compete against the 5 other schools in our cluster. This was a fantastic day out at the Domain last week with some stunning performances. Luckily the weather was kind to us and only decided to let loose once all the children were back on the buses to head back to school. From East Cluster our top placings qualify for WBOP Athletics. The event held this week was another great day at the Domain with schools from all over the WBOP Region. We had 7 students representing Matua from the East Cluster and all students competed well. I only know of two results from our students – Harrison placed 3rd in the year 6 boys discus and Finn placed 3rd in the year 5 boys long jump. Congratulations to all our athletes.
Weetbix Kids TRYathlon – It was such a shame that this event didn't go ahead on its scheduled date. However, I am sure there were a few parents secretly happy about not having stand out in that rain. Never fear, a new date has been set. The rescheduled event will now take place on Sunday 3rd February 2019 (the day before school goes back!). Here is a bit of information should you decide to change events, want a refund or need new stickers:
We are pleased to announce that the Mt Maunganui Weet-Bix Kids TRYathlon will now be held on Sunday 3rd February 2019 at Arataki Park in Mt Maunganui.
All participants will automatically be transferred to the new Mt Maunganui event. If you are now unable to attend the event you can either transfer your entry to another TRYathlon or receive a full refund. Please find details below.
We would like to thank all of our local partners, especially the Tauranga City Council, for their assistance in helping reschedule the event.
What do I need to do now?
1) I am attending the TRYathlon on the 3rd February 2019
You are not required to do anything. We will automatically transfer your entry to the new event and send you a new registration confirmation email with the new event details.
You will be able to use your existing bib number and bib number stickers. We ask that you keep these in a safe place until the event day.
If your bib stickers are no longer usable, please email our Customer Services team at tryathlon@sanitarium.co.nz  with the following details:
Subject line: New Bib Number Sticker for Mt Maunganui TRYathlon Entry
Participants' full names
Participants' Mt Maunganui bib numbers
Contact phone number
You will be able to collect your new bib number sticker from the Pack Pick Up tent on the event day between 7am-8am.
TRYathlete Kit
We encourage you to keep your TRYathlete kit in a safe place until the event to ensure items are not misplaced.
If you did not receive your TRYathlete kit by courier, you will still need to collect it on the day from the Pack Pick Up tent between 7am-8am. It will not be couriered out.
2) I would like to transfer to another event
If you would like to transfer your entry to another Weet-Bix Kids TRYathlon event, at no cost, please email our Customer Services team at tryathlon@sanitarium.co.nz  by Friday 11th January with the following details:
Subject line: Entry Transfer from Mt Maunganui TRYathlon
Participants' full names
Participants' Mt Maunganui event bib numbers
Event location you are wanting to transfer into
Contact phone number
You will receive a confirmation email from our team that your entry has been transferred and provided with details of where to collect your new event bib number sticker and TRYathlete Kit from, if required.
Upcoming local events are:
Rotorua on Sunday 2nd December at Kuirau Park.
(Please note transfers into this event close 5pm Thursday 29th November)
Hamilton on Sunday 17th February at the University Grounds in Hamilton East
3) I would like a refund
You are entitled to a full refund of your entry fee and of any unfulfilled purchases (i.e photo packs).
Please notify us by Monday 10th December if you would like to receive a refund by emailing our Customer Services team at tryathlon@sanitarium.co.nz with the following details:
Subject line: Refund for Mt Maunganui TRYathlon Entry
Participants' full names
Participants' Mt Maunganui bib numbers
Contact phone number
You will receive a confirmation email from our team that your entry has been refunded, and when you can expect the funds to appear in your account.
Please note once you have requested a refund you will need to pay the advertised entry fee if you choose to enter an upcoming TRYathlon event.
Stacey.
SCHOOL POOL KEYS
Our school pool is now open and in use.
If you would like to apply for a key to use the pool outside school hours, you can do so via our website. Go to the bottom of the page and click on 'School Pool', following the prompts. Keys cost $75 plus a $25 bond which is refunded when you return your key.
Payment is made via Kindo.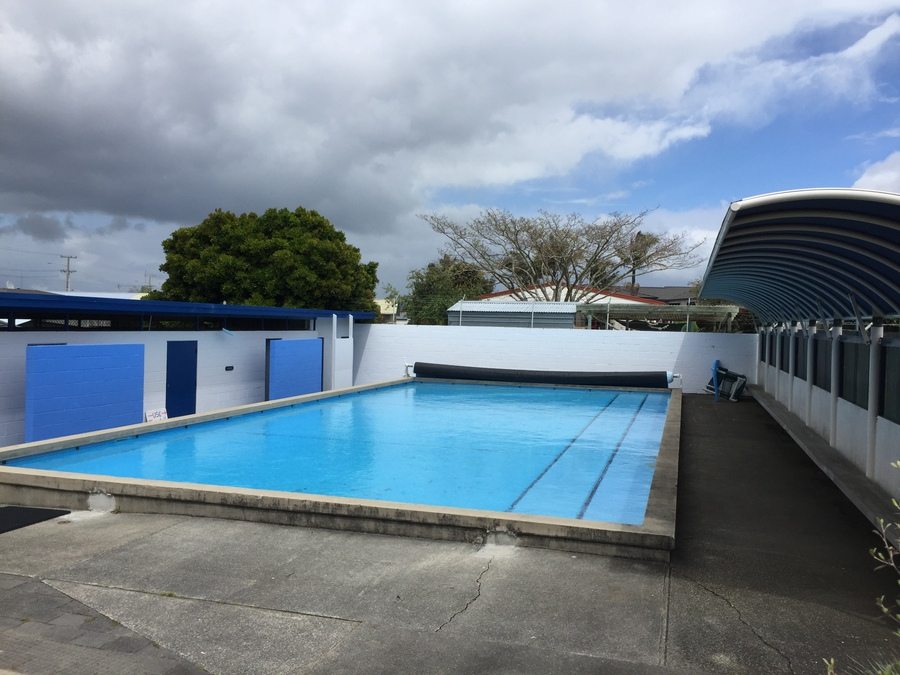 SCHOOL BBQ TRAILER
MATUA SCHOOL
TRAILER BBQ FOR HIRE
Ideal for fund-raising events, catering for large crowds at home or at work.
$100 per week day
$150 for weekend
Includes 1x full gas bottle
Bond is required
For all bookings contact Matua School on 07 576 9027, after hours 021 023 60747.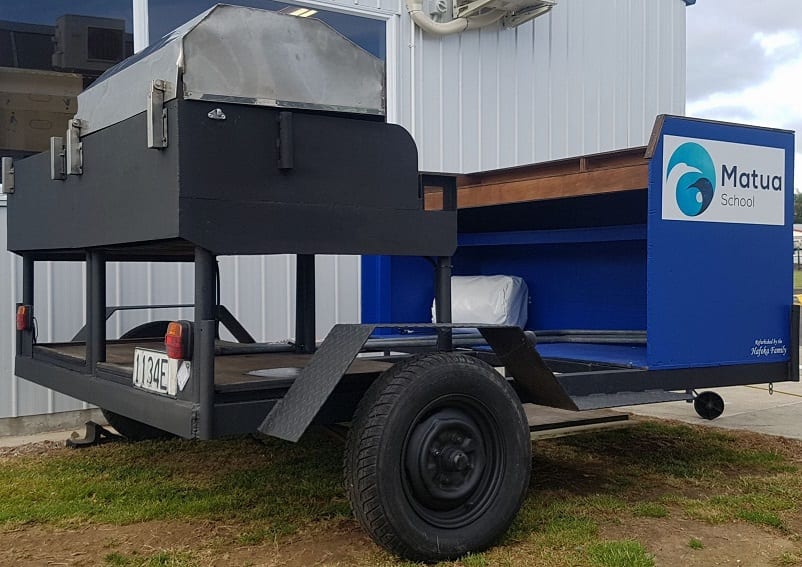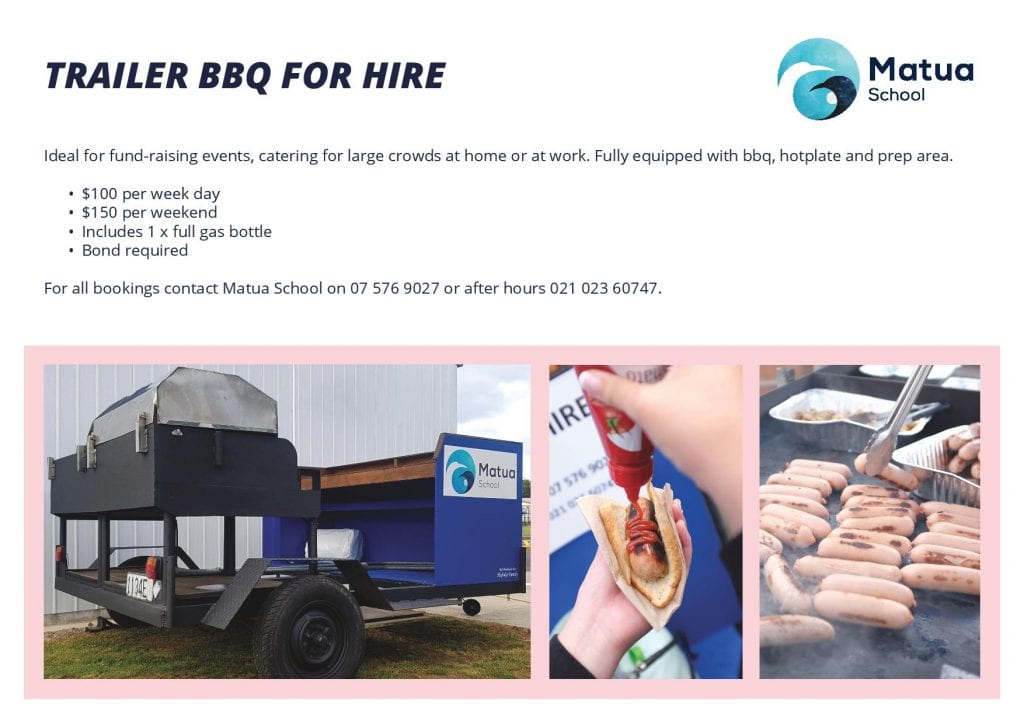 PTA NEWS
Support our school by purchasing our first ever School Recipe Book.
A collection of family favourite recipes from Matua School parents and a sneaky few from celebrated chefs.
We have our fingers crossed that the recipe books will arrive by the last week of term!
However  just in case they don't and you would like to gift these to family and friends, we can give you a gift voucher(s) to pop under the tree.
The Matua Family Kitchen Recipe Book
***Pre-Sales***
$35 for 1 book,  $65 for 2 books and $90 for 3 books.
Pre-sales available through Kindo now.
Cash sales for pre-orders are available on Monday and Wednesday mornings 8.30am-9am, outside the School Hall.
It is important that you have the exact cash as no change will be given.
All proceeds go towards refurbishing the school pool.
Thanks for your support!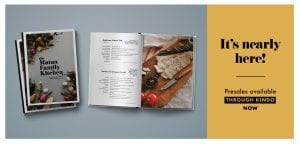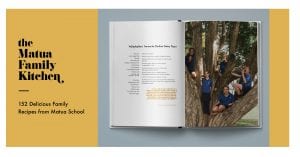 Sausage Sizzle
The PTA are organising a sausage sizzle for Friday the 14th December. Sausages can now be ordered and paid for via Kindo. Orders close at 12 midnight on the 13th December.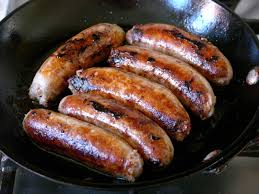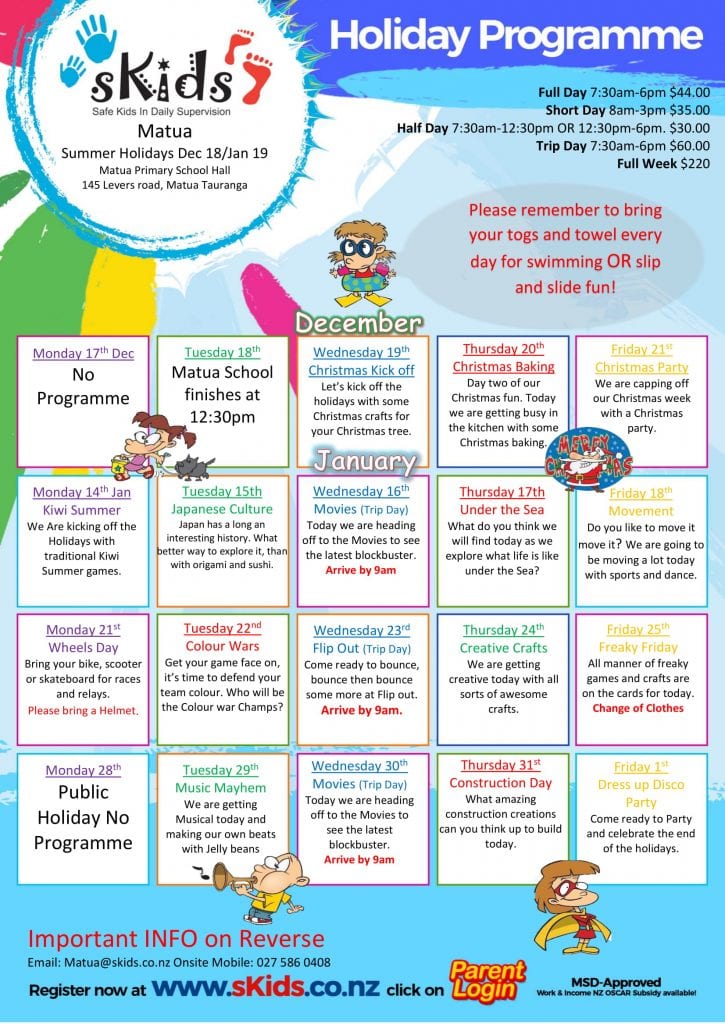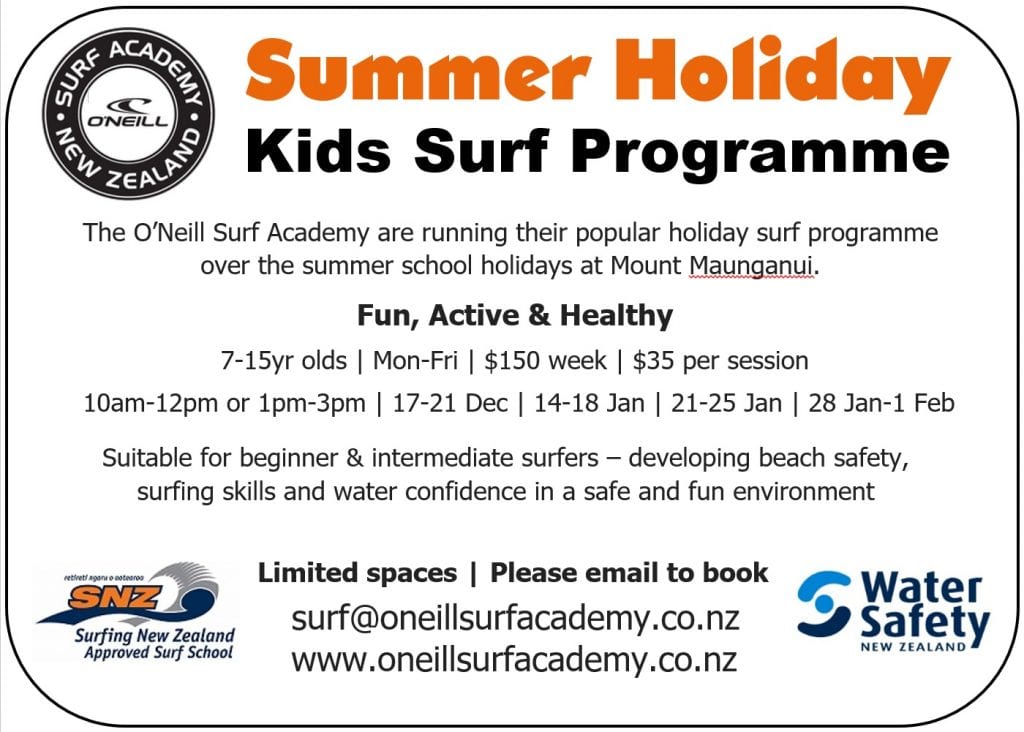 Come join us for the 10th Anniversary of the Epic Swim, 12-13 January 2019 at Lake Taupo.
Great spot prizes up for grabs
Open Water swim clinic for the kids
Great food and beverage vendors
All participants receive a free swim cap and participant medal
Make it a family weekend away with races for all ages and ability levels. ENTER NOW
CHILDREN'S HOLIDAY ART WORKSHOP and HOT SWIM 
Tuesday 15th and Wednesday 16th January 10am to 3.30pm
Ages 7 to 11
with professional artist Lynne Sinclair Taylor
The children will have fun while learning about colour and techniques with different mediums over the two days. All art supplies provided.  Limited numbers.
Enroll early to avoid disappointment.
Cost: $65 for one day (on Tuesday) or $120 for two days
Where: Lynne's home studio, 15 Hartwell Place, Matua, Tauranga.
To enroll: Contact Lynne on 021 121 9864 or lynnestaylor@gmail.com
Lynne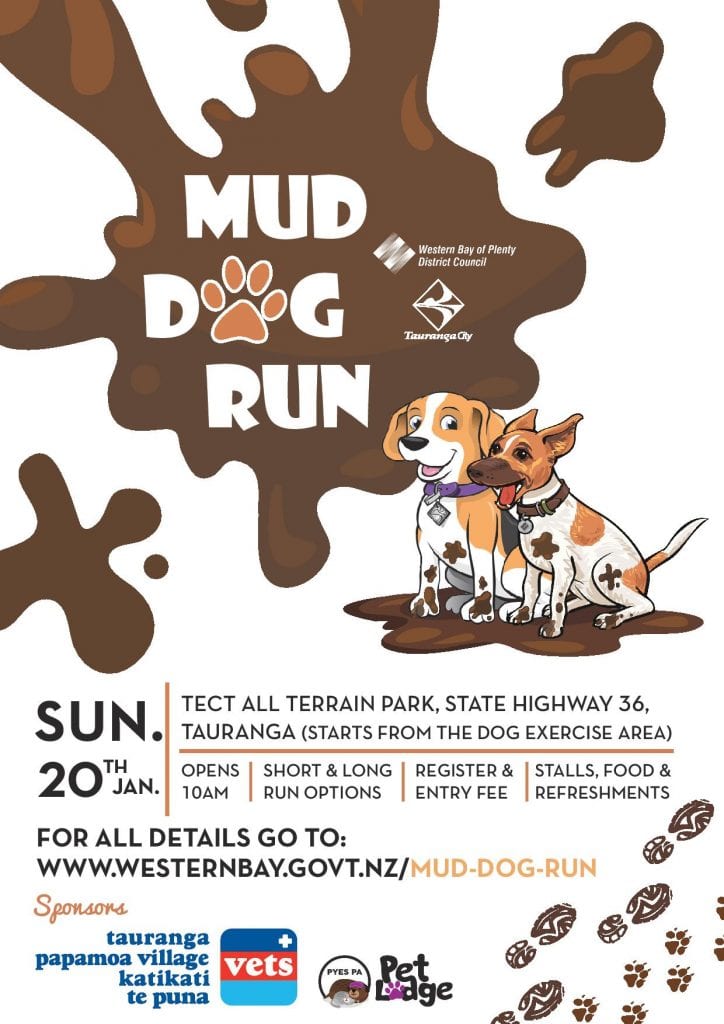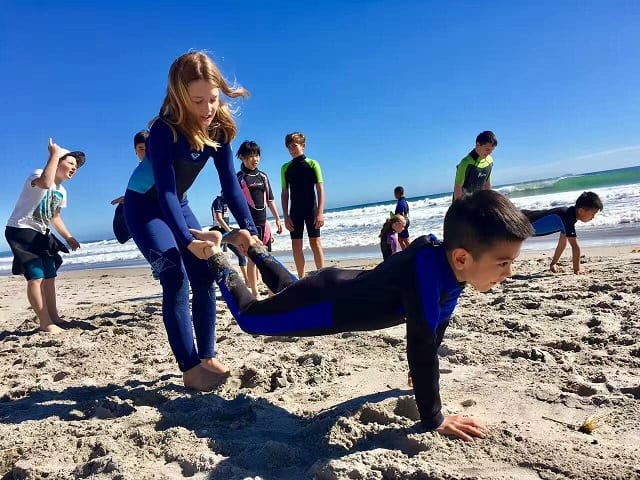 Edventure Summer Camps.
Based in the BOP, we have 3 awesome camps geared to get kids excited about the outdoors. With a focus on water safety, we have planned a range of activities including surfing, SUP, water safety lessons, as well as tramping, rock climbing, confidence courses, bush survival skills, hot pools, orienteering, team building, camp cooking and heaps more.
– January 14th – 18th – Aongatete Lodge
– January 21st – 25th – Aongatete Lodge
– Jan 29th – Feb 1st – Reedwood Valley Farm
OSCAR available
8-14 yr olds
Pick up/drop off points in Auckland, Waikato, Tauranga, Whakatane and Rotorua.
For more information or to book now visit www.edventure.co.nz email mark@edventure.co.nz or phone 02102241576
Book before Xmas and be in to win a surfboard.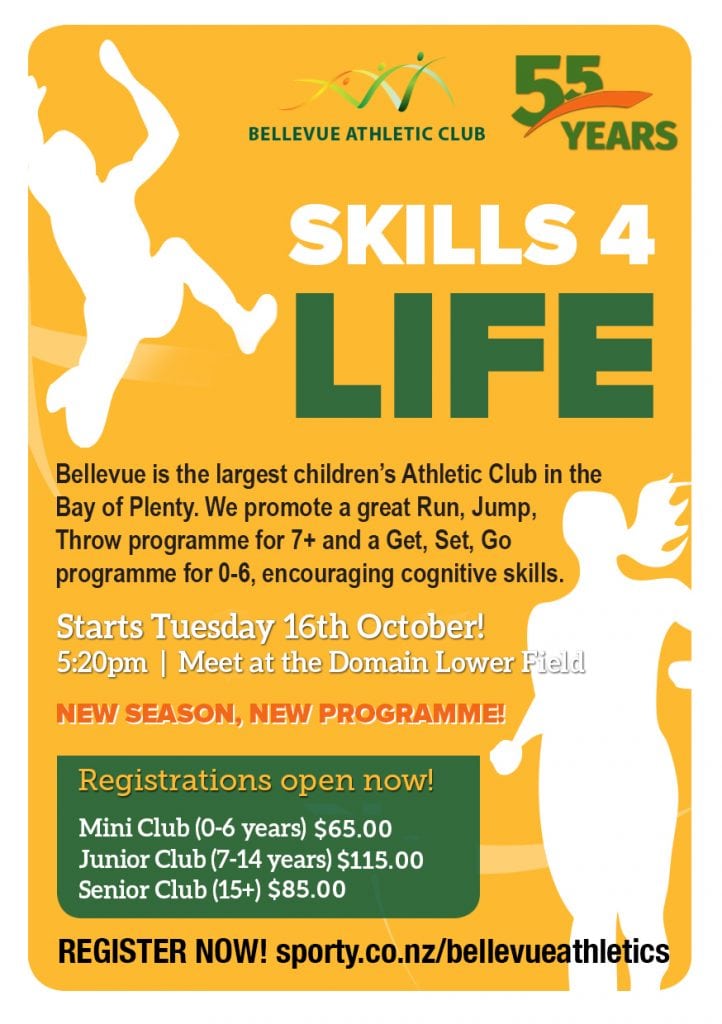 SKILLS FOR LIFE!
Bellevue is the largest children's Athletic Club in the Bay of Plenty. We promote a great Run, Jump, Throw programme for 7+ and a Get, Set, Go programme for 0-6 encouraging cognitive skills for life! We are also turning 55 this year! 
Our first club night is Tuesday 16th October! 5:20pm | Meet in the Domain Grandstand
Mini Club (0-6 years) $65.00
Junior Club (7-14 years) $115.00
Senior Club (15+) $85.00                                                                                         
REGISTER NOW! sporty.co.nz/bellevueathletics