Heron Herald Term 4, Week 7 , 2019
Matua School is proudly supported by…
FROM THE PRINCIPAL'S LAPTOP
Kia ora all and welcome to the latest edition of the Heron Herald.
School Production
A huge thank you to all those in our community who supported our Senior and Middle School production. Our students performed exceptionally to wonderfully supportive audiences. Personally, school shows and camps are my enduring memories from primary school, I hope we are creating these same wonderful memories for our students.
School Donations
You may be aware the Ministry of Education has provided funding for decile 1-7 schools of $150 per student in exchange for the school to not request a school donation from parents. As we are a decile 9 school, this option was not available to us, so while there will be changes for many other schools in our community, it will be business as usual for us in 2020. We are very grateful for the donations we receive from our community as it allows us to provide a greater level of education to our students.
School Reports and Leavers Assembly
Our end of year reports will be sent home on Friday 13 December. Our Year 6 Leavers Assembly will be held at 11:10am 17 December. Parents and whanau are welcome to attend.
Volunteers and School Support
It is at this time of year that we reflect on the year that has been and look ahead to the year ahead. As we look back, it seems an appropriate time to thank all of the many volunteers and supporters of our school. You are an incredibly supportive community and the sense of community spirit is alive and well at Matua School. Whether it is serving on the Board of Trustees, the Parent-Teacher Association, or supporting school initiatives such as Garden to Table, please know that we really appreciate your support!
Have a wonderful rest of the week and go the Black Caps!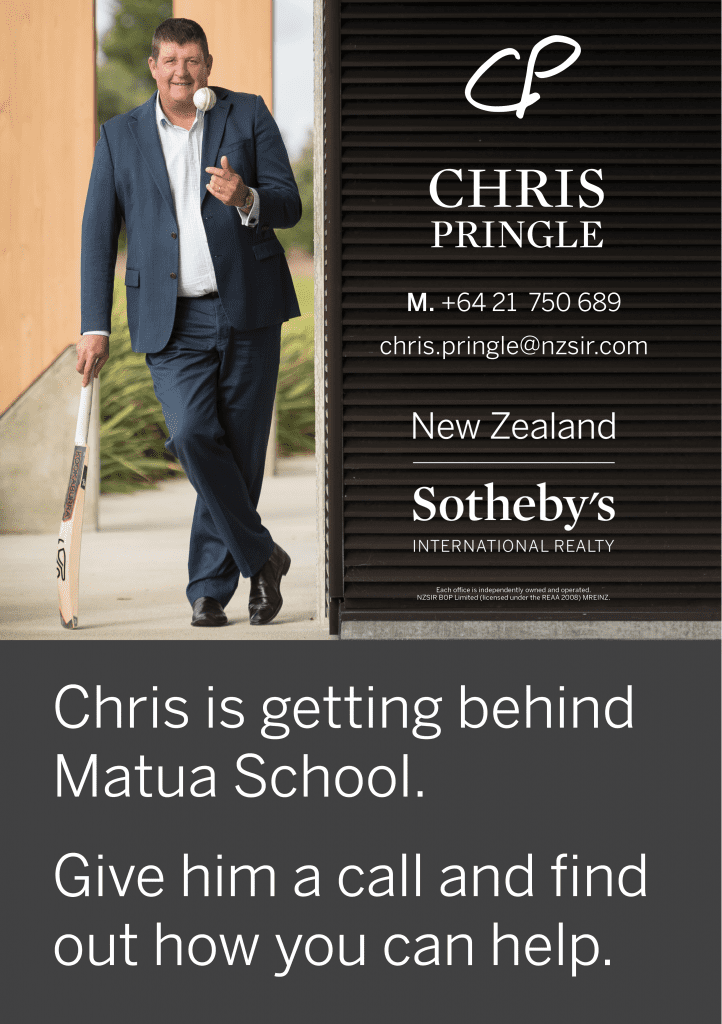 SCHOOL INFORMATION
Signing children in and out of school – If you collect your child/children early or drop them off late, please remember to sign your child in and out of school at the office. We do always need to know where our students are, in case of an emergency. This is for the safety and well being of our students.
Change of address/phone number – If you have recently moved house, changed home, work or mobile phone numbers, please could you contact the office and let us know. We can then update your students details. We need to be able to contact you in case of an emergency . Either email the office on office@matua.school.nz or phone us on 07 576 9027.
Absent Pupils – If your child is going to be absent from school for any reason, please notify the office (even if you have already let your child's teacher know). Your child's teacher might also be away sick and the office will not know. You can either send an email to office@matua.school.nz or you can phone 07 5769027 and leave a message on the absentee line. Please leave your child's name and room number, your name and the reason for their absence. If we do not hear from you, we do need to call and find out where they are. This is for the safety and well being of your child.
School Hours – We ask that children do not arrive at school before 8.15am each day. Supervision of children is provided from 8.30am each morning. The school takes no responsibility for the supervision of children in the school grounds, earlier than this.
Thank you for your co operation
SCHOOL PRODUCTION
The children and staff have had a lot of fun over the last few weeks with the school production.
Have a look at some of the characters!!!
GOBSMACKING TOP QUALITY RECORDING OF SHOW!!!
If you missed the deadline to order a DVD or HD USB of 'The Tale of Dilbert Clancy', don't worry, we are re-opening the deadline to Monday, Dec 2.
Check out the highlight video that gives you a sneak preview of what our professional recording will look like. Your child will want to remember this AMAZING memory of their primary years forever. Our very talented videographer, Murray has done the most incredible job capturing this unforgettable experience.
We also have had a number of enquiries about ordering the 'Poseidon's Tale' recording too.
Poseidon's Tale
HD USB: $17
Reference: PT, name, class
The Tale of Dilbert Clancy & the simply enormous gold nugget of Cooee Dupp
DVD: $20
HD USB: $25
Ref: Name, class, dvd/usb
Account Name: Gobsmacked Ltd
Account Number: 02-0432-0104049-000
Reference: Students full name, class and reference
DVD – eg. JenWestRM7DVD/USB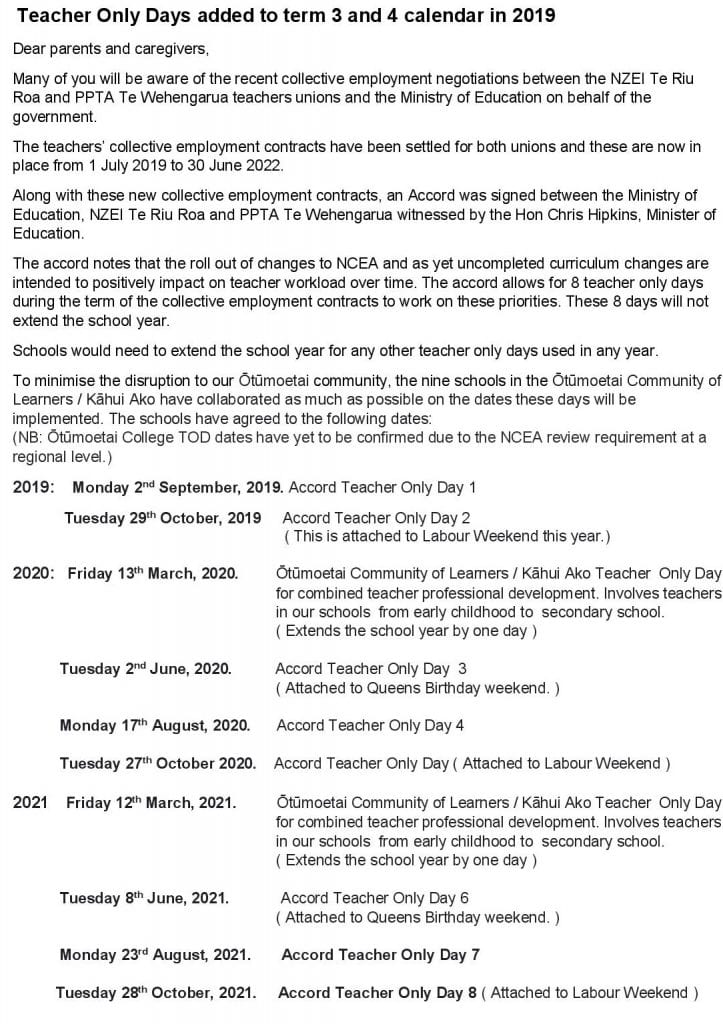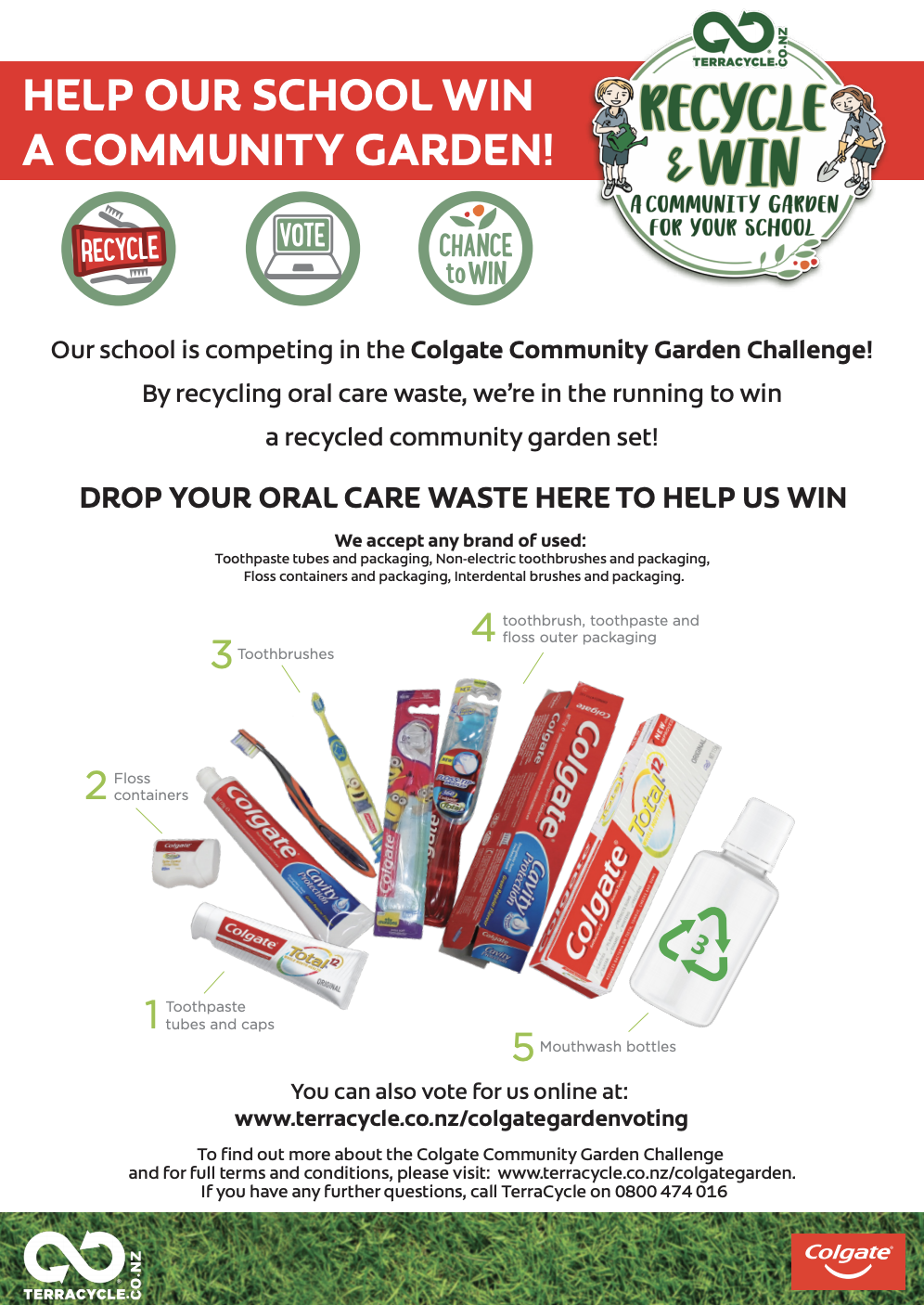 PTA NEWS
Matua School Christmas Night Market is on November 28th in the school hall from 6.30pm.
There are lots of amazing stalls coming so be sure to come and check it out and get some Christmas shopping ticked off.
Follow the Facebook link to keep up to date with what will be avaliable. It is a gold coin entry which goes to our fundraising for a upgrade of the Hall kitchen.
This is the time of year the PTA start planning for our Gala in term 1 2020.
We need as many helpers as possible to make it work.
If you would like to work beside a knowledgeable PTA member to help plan and co ordinate this event we have many different areas to organize eg Food, Raffles, Entertainment….
We are also open to listening to any new ideas or different stalls we could have .The PTA are having a special Gala meeting on November 19th (Tuesday next week) at 7pm in the school staffroom if you would like to come along for drink  and find out more information.
Sadly next year we are losing a few PTA members as their children will be moving on to different stages of schooling so we will be needing some new faces to keep up the fantastic fundraising we do for the school.
If you are interested in joining you can contact Brenda at matuapta@gmail.com otherwise the meetings are the first Tuesday of every month in the school staff room at 7pm we would love to see you there.
Thanks
Matua School PTA
GARDEN TO TABLE
Heather Heaphy (our Kitchen Specialist) has just bought in a New World promotion leaflet. It has a deal on glasses. If you would like to donate your stickers to Garden to Table, we would love to be able to get some glasses for the programme.
 Please drop them into Room 10.
Many thanks
Emma Bryant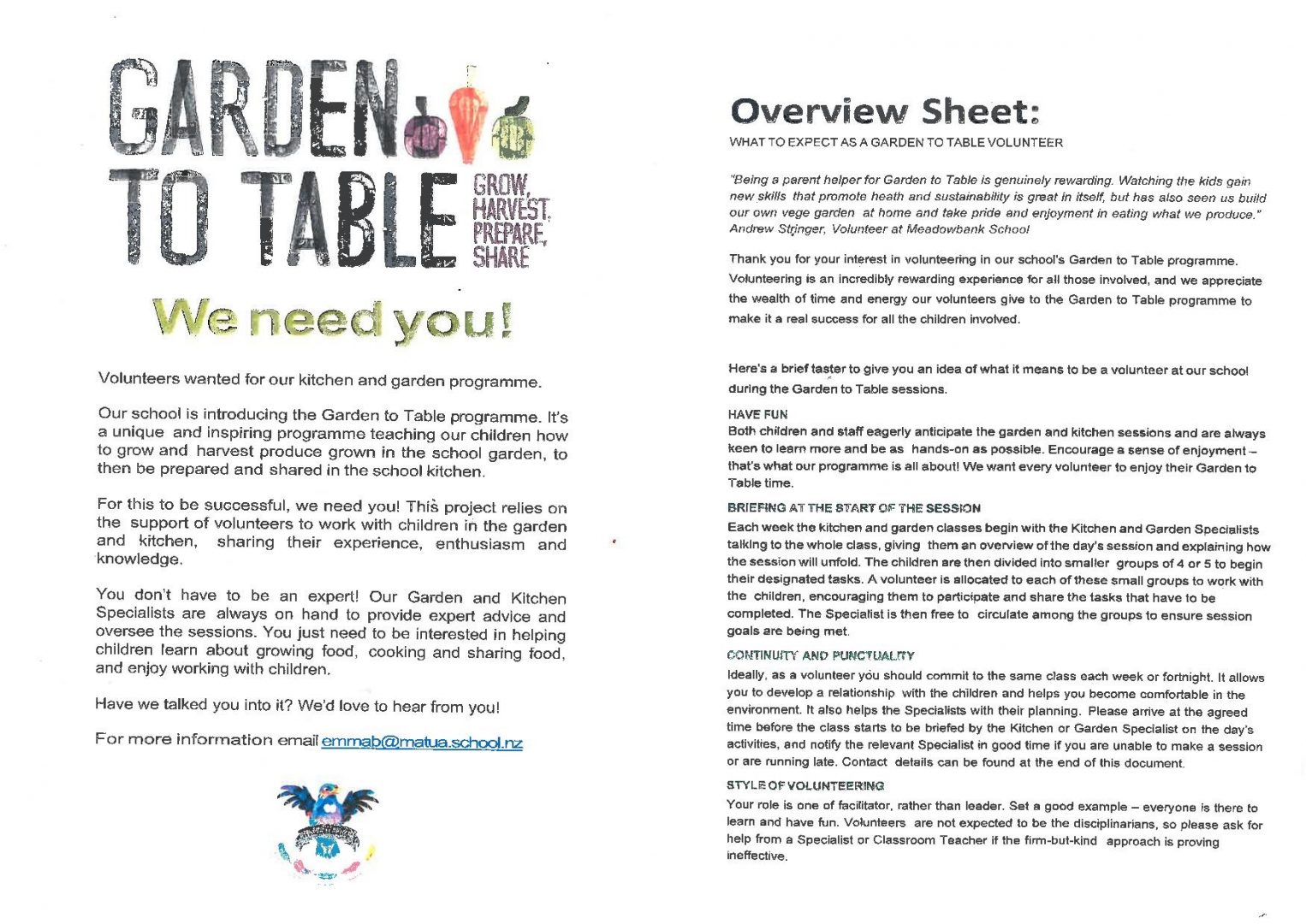 SPORTS NEWS
Half way through a busy term of sport. Here's a little update with what's been going on.
Last week we sent 9 boys off to the Cricket Mini World Cup event held at Blake Park. Our boys had a fabulous day and came away with a sportsmanship award. What a fantastic achievement, we could not be more proud of the way these boys played and represented Matua School on the day – even if they were playing as Australia!
Last week was also our Senior School Athletics Day. Our top finishers have now qualified to represent Matua School at the East Cluster Athletics Champs which take place next Tuesday 19th November at the Tauranga Domain. Participants will be competing against our 5 other cluster schools for a place in the WBOP Athletics Champs which will take place in week 7 on Wednesday 27th November also at the Tauranga Domain. Congratulations to our team of 55 students!
Weet-Bix Kids TRYathlon – this event is happening very soon on Sunday 24th November. Have you registered?
A school group has been set up, so when you register please link your child with Matua School. We are aiming to win the most school entries for the third year in a row. This is a fantastic event and lots of fun for the whole family on the day.
Sports Fees – these are now due to be paid. If you are yet to pay, please do so as soon as possible. I will also be sending out email reminders.
Sports Uniforms – I will be doing things a little differently to collect these in at the end of this year. I will be asking one parent in each team to volunteer to collect all uniforms, take them home to wash and return all at once. Hopefully this will avoid me having to chase children up for days on end and since I am not at school every day this term I am hoping this way will make returning uniforms a lot easier.
Good luck to all our teams for the remainder of the term 4 sporting season. I look forward to seeing our team compete next week at the East Cluster Athletics.
Stacey
Huge congratulations to Milla for winning gold at the National Cheer Competition. Well done Milla.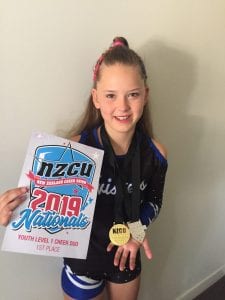 BIKING TO SCHOOL
We are noticing that children are biking to school by themselves at a very young age.
The local police suggest that children are safe and aware enough of what is going on around them, to be able to bike to school by themselves at the age of 10.
By this age their peripheral vision is developed enough for them to be aware of what is going on around them, cars coming out of driveways etc.
Our recommendation at school is that children are able to bike to school by themselves after they have completed our 'Kids Can Ride' program in year 5 and 6.
This program is run by the local council. It teaches our students about road and cycle safety and things to be aware of around them when they are out and about on their bikes.

HEAD

LICE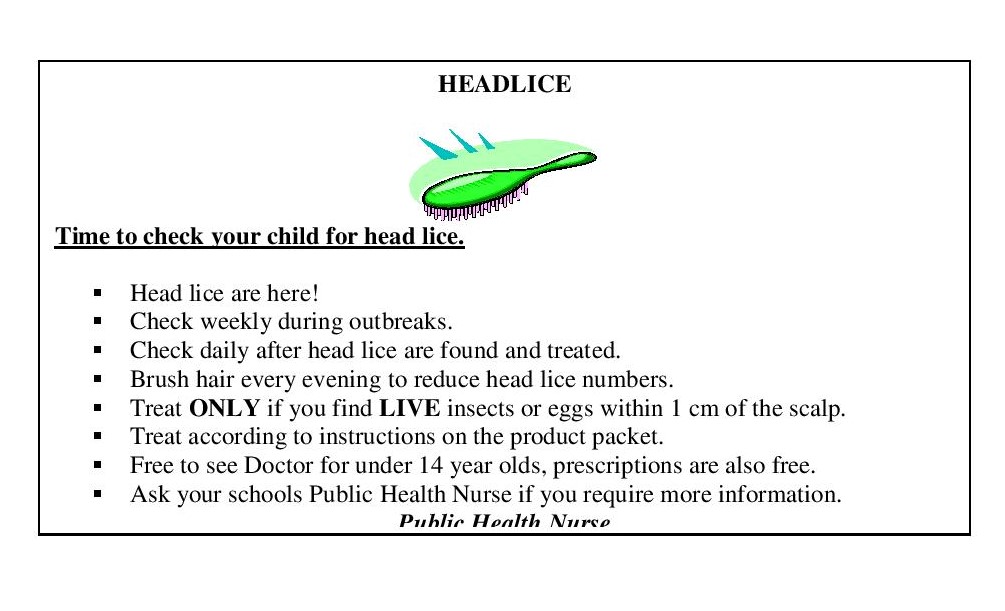 TERM DATES 2019
Term 4 – Mon 14th October – Thurs 19th December.
School finishes at 12.30pm on the 19th December.
Term 1, 2020 – Mon 3rd February – Thursday 9th April 
Thursday 6th February – Waitangi Day. School will be closed.
Term 2 – Tues 28th April – Friday 3rd July
Term 3 – Mon 20th July – Fri 25th September
Term 4 – Mon 12th October – Fri 18th December
ENROLMENT TERM 1 2020
If you have a child due to start with us next year, please pop into the school office and pick up an enrolment pack. We are receiving lots of new entrant enrolments and are starting to put things in place for 2020.
Our School App
We have a new school app to keep you up to date with events and notifications. Click on the button below to check it out.
Setting up with Kindo
Kindo is our new prefered payment and permission system. To help you learn how it works, we've added their new help sheet and video. We hope it helps.
SCHOOL BBQ TRAILER
MATUA SCHOOL
TRAILER BBQ FOR HIRE
Ideal for fund-raising events, catering for large crowds at home or at work.
$100 per week day
$150 for weekend
Includes 1x full gas bottle
Bond is required
For all bookings contact Matua School on 07 576 9027, after hours 021 023 60747.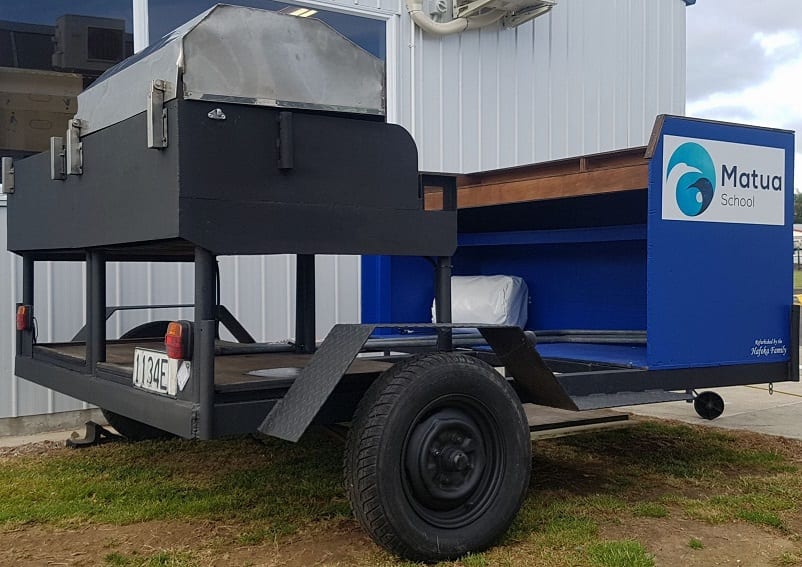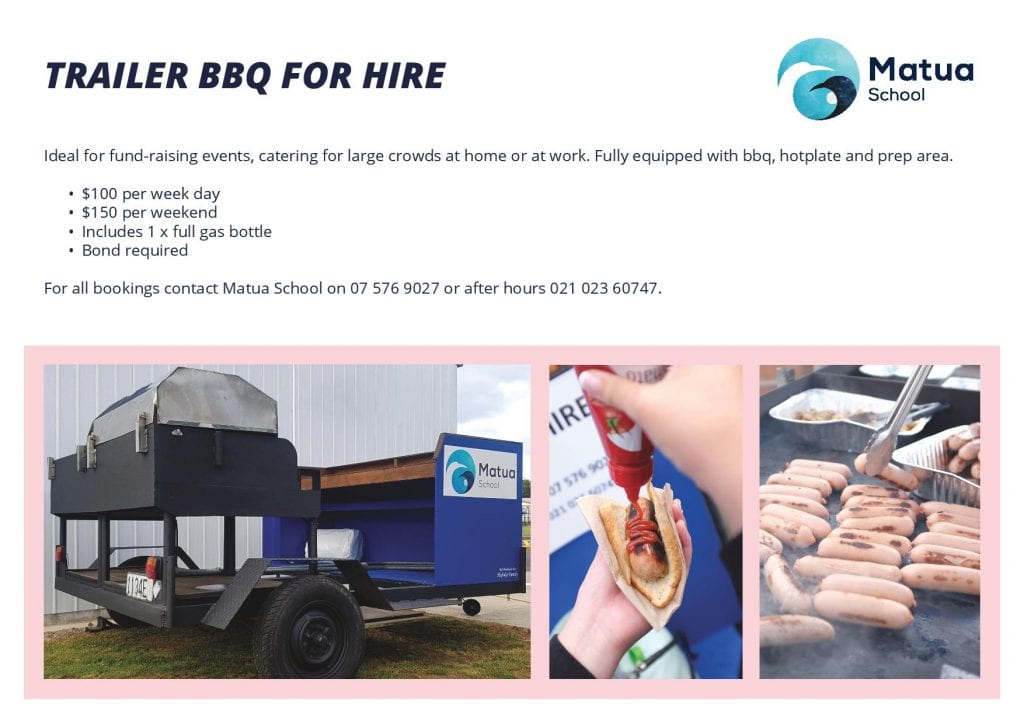 LIBRARY
Summer Reading – win prizes with Tauranga City Libraries.
From 9 Dec-18 January we are running our new and improved Summer Reading programme, where children can earn prizes for chilling out with a book over summer!
Participating is simple: rather than registering, they just need to pick up a free Summer Reading booklet at any of our libraries. The booklets have a combination of at-home and free in-library activities to do. Complete 4, and win!
Further information will soon be on the library website, and in all of our libraries.
Please encourage your students to join in. It's easy, fun, and they can win stuff – just by enjoying books!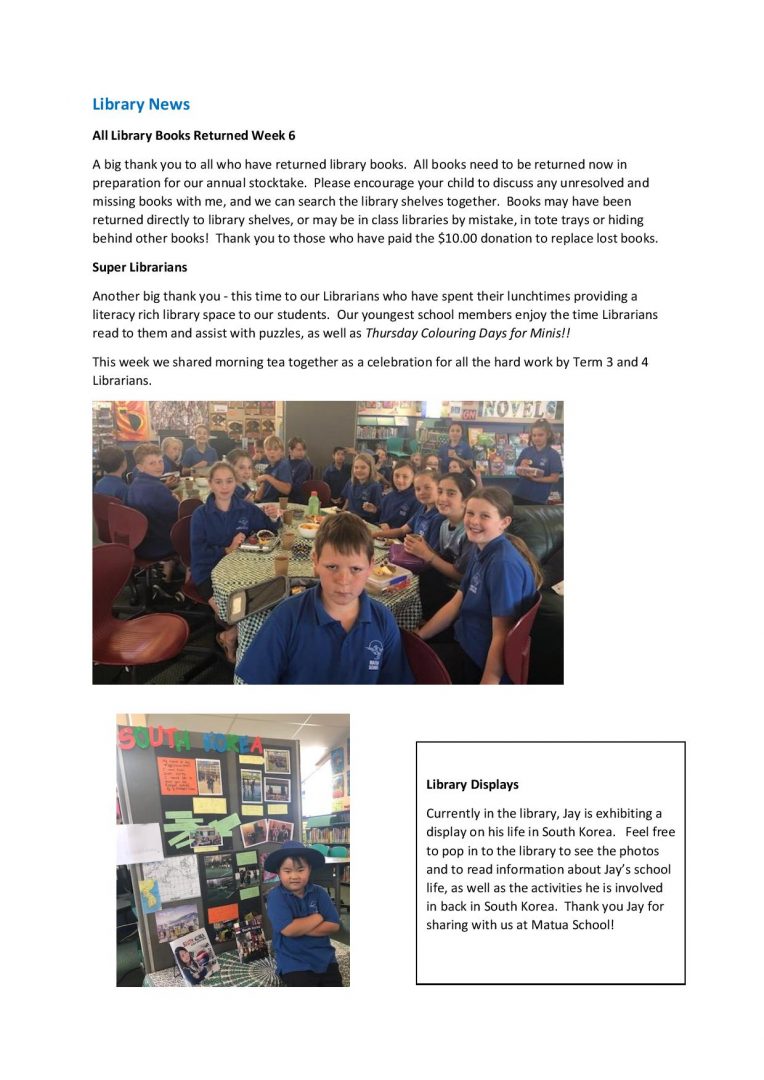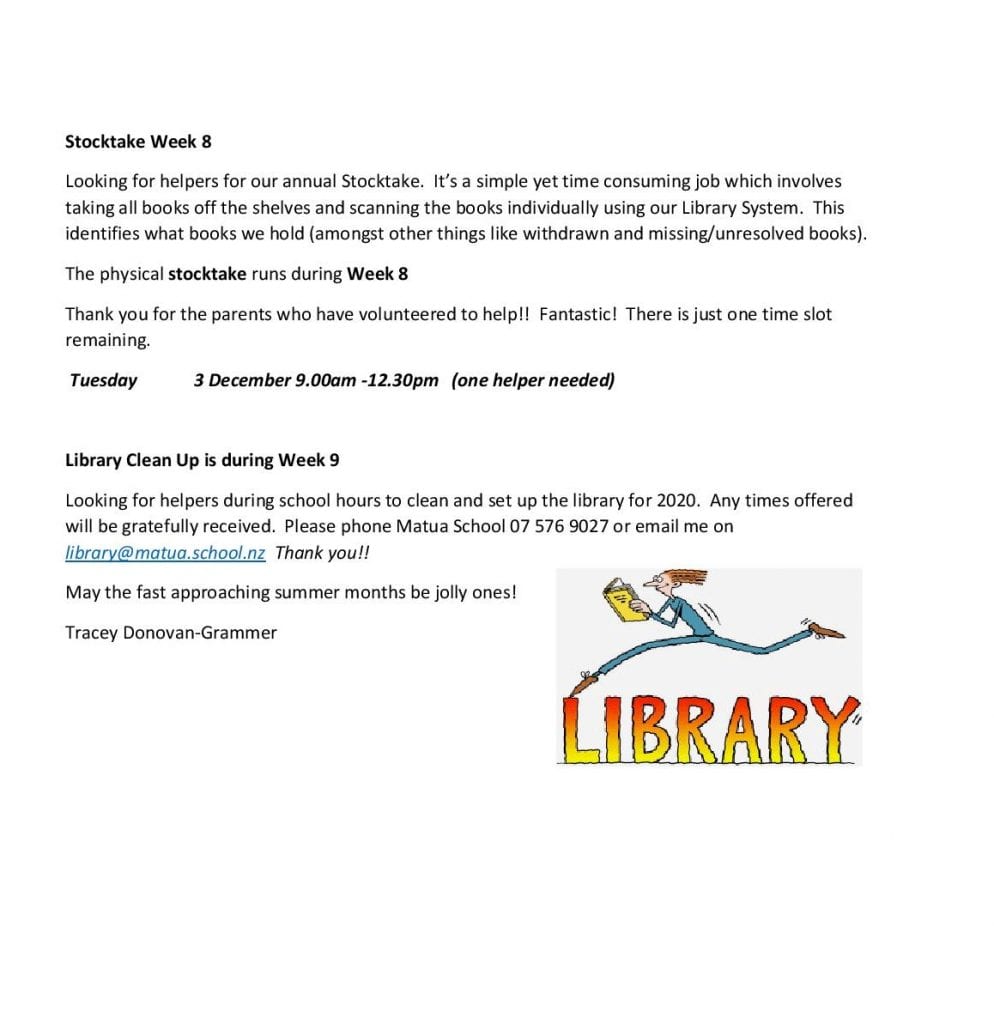 LOST PROPERTY
There are lots of fleeces, lunchboxes/containers, shoes, and socks in the lost property. As most of the items are unnamed, please could parents/caregivers come and search and see if any of it belongs to your student.
 

PITA PIT LUNCH
Every Friday your child is able to order a Pita Pit lunch, which is then delivered to school just in time for lunch. You need to place an order via 'Kindo' , by 9am on Friday morning. Please see the menu below. It does say 'every day' but we do only offer this option on a Friday.
We have been advised by Pita Pit's Head Office that due to the global price increase of pork resulting from the African swine flu, all pulled pork pitas and salads will be marked as being out of stock until further notice.  Apologies for any inconvenience this may cause your students and staff.