Heron Herald Term 4 Week 8
Matua School is proudly supported by…
FROM THE PRINCIPAL'S LAPTOP
Tēnā koutou katoa,
Wow! What an amazing year. It seems to have flown by and I am incredibly proud of what we (a very collective we) have achieved during this year. New school gardens, a new school colour scheme, new signage, new logos and a new Matua Learner just to name a few.
Reports and New Classes 2018
Next Thursday reports will come home and students will visit their new classrooms. For some students, this is an incredibly exciting time, for others, it is a time filled with anxiety. It is important that as the adults and role models in their lives that we lead our tamariki through this time focusing on the positives and offering reassurance that they will be ok. We offer a time with 2018 teachers to help this transition and to begin to build positive relationships for the year ahead.
Property
We now have the new classrooms on site. The fit out will begin and our junior classes will be using two of the classrooms by Term 1 next year.
PTA
I would like to acknowledge the amazing work of our fantastic PTA. Not only have they raised a huge amount of money for our school playgrounds, but the events they have organised throughout the year have gone a long way towards building our sense of community.
Our LABrarians
Please check out this great video showcasing out LABrarians. A special thanks to our wonderful librarian, Kathy, and to the Edgecombe family for the loan of their lovely labs.
http://www.nzherald.co.nz/lifestyle/news/article.cfm?c_id=6&objectid=11954367
Lastly, I would like to say thank you to our wonderful school community. It is amazing to see what a committed team of staff, parents and students can achieve, especially when united by a common goal of giving our tamariki the best possible start. I am excited and enthusiastic about what we will achieve together in the coming year for our children.
Have a safe and relaxing Summer break, I look forward to seeing everyone in the New Year.

BOARD OF TRUSTEES ELECTION RESULTS
Congratulations to Cameron Hays and Sheldon Nesdale who were elected as Trustees in our recent Mid-Term Board of Trustee election. Thank you to Paul, Philip and Fiona for standing as candidates. We appreciate your generosity.
Our School App
We have a new school app to keep you up to date with events and notifications. Click on the button below to check it out.
LIBRARY
Stock-take is underway at present. Some 'overdue' books usually turn up during this time.
If, after Stock-take, there is still a book under your child's name, a letter will be sent home asking for a donation towards the replacement of that book.
It would be appreciated if this could be paid before the end of the year.
BOOK FAIR
Our first ever Scholastic Book Fair was a huge success. We raised over $1700 for our school. It was fantastic being part of the PTA Night Market, as we made a lot of sales from people not necessarily associated with school. I would like to keep this as an annual event, as it is completely different from our "Donate a Book" Fair held earlier in the year. It was a lot of work, and something I couldn't have done without the wonderful help of parents, so thank you so much to those who gave their time.The money raised from this Book Fair will be shared with all syndicates throughout the school to buy fabulous  resources.
I hope everyone gets to read or share books over the Christmas break, and if you read a great book you think would be good to have in our library, please make a note and let me know next year.
A huge thank you to the wonderful Year 5 & 6 librarians I have had this year, and all the best for those of you off to Intermediate next year. Thank you also to parents who have helped throughout the year, especially Sarah, who has come in every week to help. The library would't be what it is without your help.
I hope everyone has a fantastic summer. Safe travels if you are going away and Happy Christmas to all.
Kathy
The New Zealand Herald came into the library last week to run an article about our 'Labrarians'. Click this link to view the article!! http://www.nzherald.co.nz/lifestyle/news/article.cfm?c_id=6&objectid=11954367
2018 School Stationery Packs
We have teamed up with Bay Office Products Depot to provide you and your child with Stationery Packs for 2018.
Just go online to www.theschoolstore.co.nz
Search for our School's Name
Select the classroom/year pack
Your child's pack will be couriered directly to your door
Pack names are:
New Entrant/Year 1
Year 1 & 2
Year 2
Year 3 & 4 (Middle School)
Year 5 & 6 (Senior School)
Packs are also available from their Showroom at
20 Christopher St, Tauranga
(behind McDonalds at 11thAve)
Between  8.30am & 5pm Monday to Friday
Phone 07 928 4455
Email:  Sue.N@bopdepot.co.nz
What a fabulous way to end the sporting year with the Weet-Bix Kiwi Kids TRYathlon. Matua School took away the prize for the biggest school group with 91 participants which was absolutely amazing. Everyone who participated gave it their all and were rewarded at the end for sure. Thanks to all those parents who got involved and helped out on the day. You help was much appreciated. Lets aim to get over 100 participants next year! We also had a couple of spot prize winners. Well done Tom Webster and Kody Irwin on your prizes. Congratulations to our 91 participants. Way to go Matua.
East Cluster Athletics went really well. Matua was represented by a team of 50 students. Everyone competed to the best of their abilities and from our team of 50 we had 10 represent us at the WBOP Athletics Champs. Congratulations to everyone who participated at both events. Special congratulations to Rebecca Parkes who placed 2nd in the year 6 girls high jump at the WBOP event.
We had a lovely group of girls take part in the Go Girls Super 6's Cricket tournament at Bay Oval. The girls dressed up in some crazy outfits in pink and purple and named themselves the 'Pink and Purple Fluffy Unicorns'. The team had been working towards this event all term with weekly practices with Rebecca from BOP Cricket. Another stunning day saw the girls have a great time and even take away a few wins. Well done girls!
This week and next see our term 4 sports season come to an end. A reminder to everyone that uniforms need to returned as soon as possible after finishing. Please ensure you return these uniforms clean and in a named plastic bag. There is a box outside my office where these can be put. I hope everyone enjoyed their season for term 4. Albeit a short one. I look forward to seeing more and more names registering for the wide range of sports on offer.
A great big THANK YOU to everyone who has helped in one way or another this year with our sports teams. Coaches, managers, scorers, umpires – without you all these teams do not get the chance to have a go and potentially find their sport! I really appreciate all the hard work some of you put in. A reminder for next year that most of the time coaching only involves support and direction. It doesn't matter if you are unsure of rules or even how to play yourselves but being there for our kids and helping them to develop and understand is enough for them to enjoy themselves. Please put yourselves out there. Get out of your comfort zone and help out. It doesn't take much but your presence is more help than you know.
Have a safe and merry Christmas. I look forward to seeing all those bright and happy faces again next year.
Stacey
Setting up with Kindo
Kindo is our new prefered payment and permission system. To help you learn how it works, we've added their new help sheet and video. We hope it helps.
Gardens in the pool area!
Is anyone available to weed and water the vegetable gardens over the summer holidays? It is in the area by the swimming pool
If you have some time to spare and wouldn't mind looking after the veggie beds, you could take payment in helping yourself to the veggies!! Let the ladies in the office know if you would be happy to help with this.
Otumoetai Intermediate
 If you have a year 6 student starting at Otumoetai Intermediate next year and  would like to pre-order 2018 Stationery,  this needs to be done by 8th December 2017. The cost is $43.50 and their bank account number is   12 3407 0029060 00. Stationery can be collected from the intermediate school office from Tuesday 30th January for those that wish to, or it can just be left at the school and will be in your child's class for the first day of school.
SKID

S
SKids Matua – Before and After School, Holiday programmes, Specialty programmes.
SKids has settled well into Matua School this term and our wonderful staff are doing a great job of caring for your children and offering a range of fun activities. Over summer we will run Holiday programmes in the week before Christmas and then from 15th January until school starts again early February. Flyers for the Holiday programme will be available shortly.
In Term 1 we will be introducing 2 of our 'specialty' programmes, Foodstorm – children's cooking programme and sKids Active, our sports programme.
Through Foodstorm the children learn to make some basic meals that are healthy and easy to prepare at home. There is also the option for the more creative young cooks to audition for 'NZ Junior Chef of the year' – this year a sKids kid came second in the national competition.
sKids Active is designed to keep the children fit and active but also to introduce them to some of the non-core sports, eg volleyball, frisbee, orienteering.
To find out more about our programmes go to www.skids.co.nz or speak to Stephanie, our onsite Manager at Matua School.
027 5860408, matua@skids.co.nz
PTA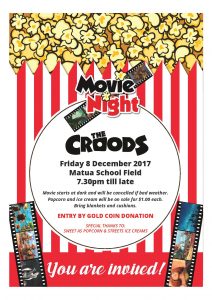 TERM DATES 2018
Term 1 2018 – Thursday 1st Feb – Friday 13th April 2018
Waitangi Day – 6th Feb – School Closed
Good Friday – 30th March – School Closed
Easter Monday – 2nd April – School Closed
Term 2 – Monday 30th April – Friday 6th July
Queen's Birthday – 4th June – School Closed
Term 3 – Monday 23rd July – Friday 28th September
Term 4 – Monday 15th October – Tuesday 18th December
ICAS DATES FOR 2018
Parents of children in Year 3, 4, 5 or 6 (2018) please mark in your diary the following dates for the ICAS competitions:
Digital Technologies Tuesday 8 May 2018
Science Tuesday 29 May 2018
Spelling Wednesday 13 June 2018
English Tuesday 31 July 2018
Mathematics Tuesday 14 August 2018
We will provide an information pack next year, and opportunities to ask questions. Enrolment for these competitions will take place in February.
Congratulations to all the children who participated in the competitions this year.
Bruce Reid
Matua School ICAS co-ordinator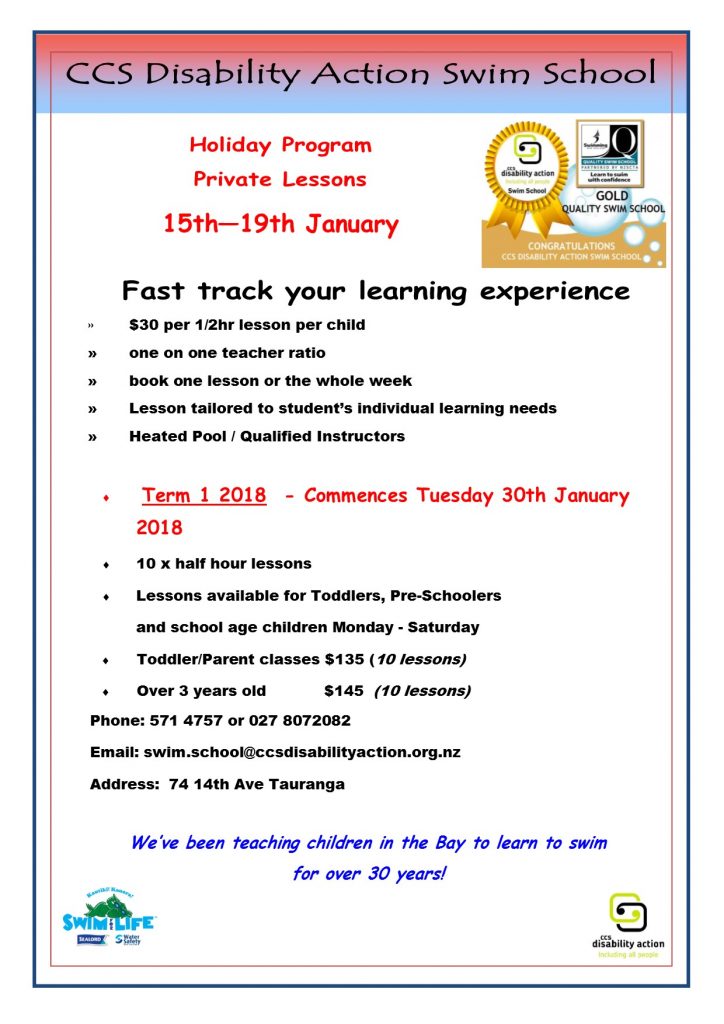 SPEECH & DRAMA LESSONS 2018
Being able to express yourself and your ideas clearly and confidently and listen and assess the ideas of others is a valuable skill.  Attending Speech and Drama lessons in a supportive and fun environment gives students the opportunity to extend their language and communication skills, while developing confidence in themselves.
In addition to developing these skills, students will be able to sit Speech NZ exams. These exams are structured to give candidates a clear sense of progress and achievement.
I am a local teacher with many years of experience in teaching 'Speech and Drama' and 'Public Speaking and Communication Skills'. I have also been involved in judging Speech competitions at the local schools. My past students are finding that the skills they learnt at Speech lessons are invaluable both at University and in the careers they are following.  
For further information please ring or email
Lee Watkins LSB BEd (Primary).
578-7171 or (021) 565-836 or Lee.nev.watkins@gmail.com
BE SAFE THIS SUMMER!
Tauranga Swim School is offering our Intensive Holiday Program for all ages and abilities including adults and disabilities. Starting at only $75.00 per week you don't want to miss out!
Dates:
Wk 1 Mon 08th Jan – Fri 12th Jan
Wk 2 Mon 15th Jan – Fri 19th Jan
Wk 3 Mon 22nd Jan – Fri 26th Jan
For more info please contact Andrea 027 286 8506 or Email
andrea@taurangaswimschool.co.nz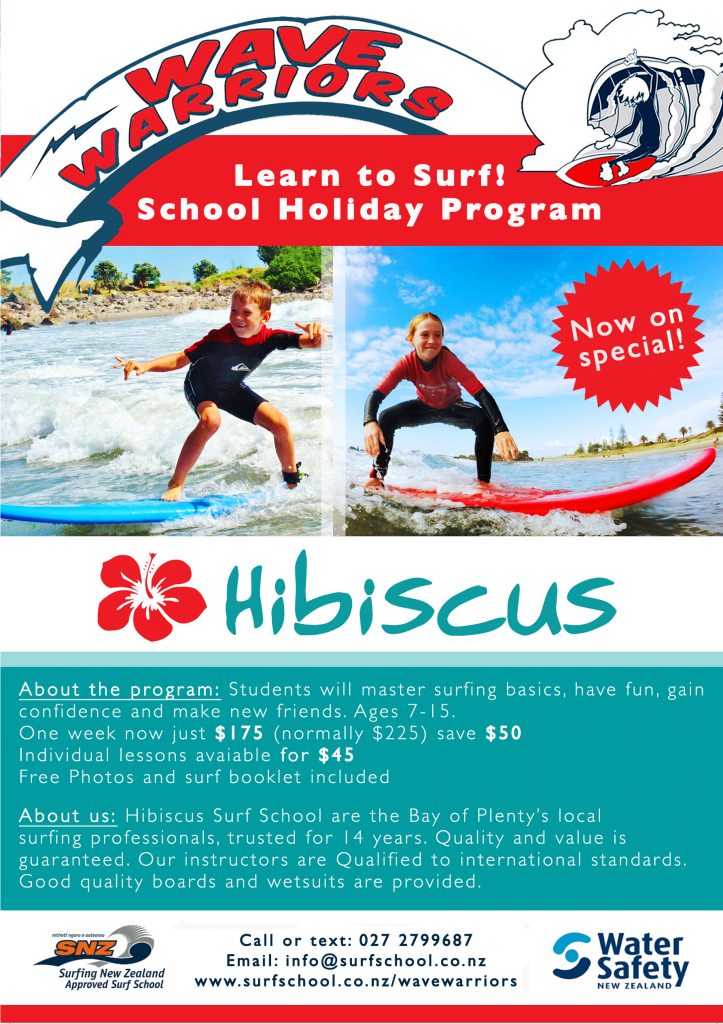 Amber Learning Centre
At Amber learning Centre we offer great teacher/child ratios which promote quality small group learning interactions enhancing and celebrating in children's individual strengths and competencies with a high level of care. Our homely and respectful environment offers very warm inclusive relationships with a strong sense of belonging and wellbeing for our families. Our high quality resourced centre promotes learning and development rich in literacies, cultures, creativity, wonder and interest based for each unique individual. We offer a morning or afternoon session, a short 6 hr session or a full day and up to 30 free hours depending on your sessions and discounts for siblings (3months-6yrs old).
Ph: 07 5713398  Email: tauranga@amberlearningcentre.co.nz