Heron Herald Term 4, Week 9, 2022
Matua School is proudly supported by…
Kia ora koutou,
What a fantastic year we have had at Matua School. It is great to be part of a community that enjoys learning together! The last couple of weeks have been filled with celebrations, creative activities and lots of class trips. We trust that your child has finished the year feeling positive about their year at school and optimistic about another exciting year ahead.
Last week we farewelled our Year 6 students, who all head off to Intermediate next year. It is always sad to say goodbye, but we know you all have many adventures ahead. We trust that your time at Matua School has prepared you to confidently run towards the exciting opportunities ahead. Many Year 6 families are seeing their final child leave Matua this year. We wish you all well and thank you for the investment that you have made in this Kura over many years. It takes a whole community for a school to flourish, and your involvement is part of what makes Matua great.
This week we also farewell a few of the Matua Staff team.
Suzanne Tawharu is moving south after seven years at Matua School, while Whitney Coers is heading overseas on a new adventure. Suzanne and Whitney have been wonderful team members and will be missed by staff and students. A special mention to Abha Tandon and Ann Marie Needham who have led our roll growth classes this year.
Julia Collins has been a key team member in the school office for nearly 20 years. This week we say goodbye to Julia as she moves into a new season. Julia is a kind, thoughtful and caring member of our team that carries out so many roles around the school. Many are seen, but also unseen…and we know that 2023 won't be the same without her. All the best Julia and thanks for everything you've done for this school community.
Hannah Newton will also be away next year as she takes refreshment leave. We wish Hannah all the best and look forward to seeing her back in 2024.
Looking Ahead to 2023
With the reforming of some classes, we are launching new names for our Teams. Based on the concept of growth, the names tell the story of a seed developing into a tree. When you see our information regarding next year, you will see these names begin to appear.
2023 School Dates
For those super organised people out there, make sure you mark calendars with a couple of key dates for the start of next year. Once the school year kicks off, it all happens pretty fast, so being planned really will help:
School Office reopens                   Monday 23rd January
Open Morning                                 Friday 27th January, 10:30am – 12:00pm
FIRST DAY OF SCHOOL 2023      Tuesday 31st January
Community Picnic.                         Tuesday 7th February, 5:00pm
A full set of term dates for 2023 can be found below. Don't forget to stay up-to-date using the school calendar.
Stationery and School Donations
Information for stationery and school donations will be sent to you via the @School App on Monday, 19th December.  Please make sure you are connected to the @School App and have notifications turned on to ensure you receive all information.
Thanks again for another wonderful year at Matua School. We trust that your Christmas celebrations and summer break will be filled with fun, blessing and whānau. We look forward to seeing you again in 2023.
MINIS ATHLETICS DAY
The Minis had an awesome Athletics Day this week. What an incredible parent turn out to support our little athletes. We had lots of fun in the sun!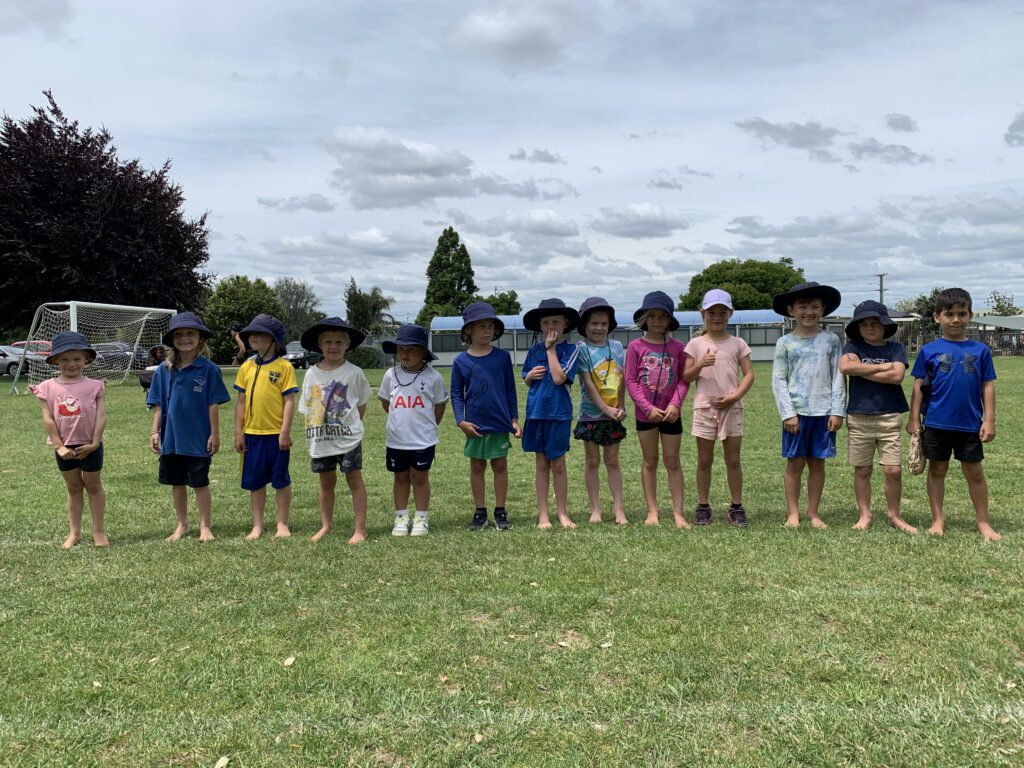 MIDDLE TEAM CELEBRATION DAY
Middle Team students had a brilliant day at Memorial Pools this week, celebrating the end of a very successful year.  Children hardly knew what to do first, from the bouncy obstacle course to the playground, and were kept busy and happy the entire time. A pizza for lunch was the icing on the cake! Sincere thanks to all of the fabulous parents who came along to help provide supervision on the day – we simply can't host these days without you!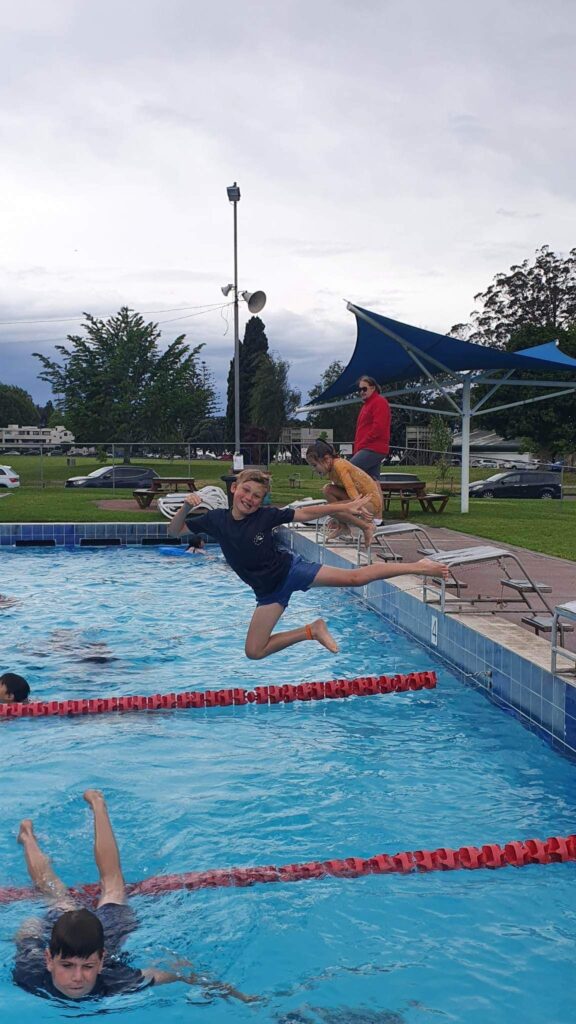 JUNIORS FAMILY HISTORY DAY
"On Tuesday, the Juniors celebrated 'Family History Day.' During terms 3/4, they have been learning that 'Stories teach us about the past' and 'Our families come from all over the world'. Family history day was a wonderful opportunity for the children to dress up in traditional clothing and/or bring an artefact from home that related to their family history. It was interesting to hear so many amazing stories about the learners whanau."
SPORT
It's been a very busy Term 4 with a lot of events squeezed into a very short term! Nevertheless, we have had a fun time amongst all the rain.
In between senior camps we had several students chosen to complete the WBEET Aspiring Future Athletes programme which is so incredible.
From our senior school athletics day we had over 50 students qualify for the East Cluster Athletic Champs which had a very rainy start but proved to be a glorious day. Matua School had 9 students qualify for the WBOP Athletic Champs and I am proud to say we have some VERY fast students! Congratulations to Seb, Vienna, Mackenzie, Georgia, Timmy, Jacob, Corban, Nathan and Kieran.
This year we had a new event added to the calendar which was very exciting. We sent 7 boys to compete in the WBOP Mountain Biking Event. Our boys raced so well and Roman came away with a podium finish – 2nd place! Well done boys. Bring on next year's event!
Another event our boys are always excited for is the annual WBOP Cricket Mini World Cup. Our team represented Sri Lanka and had the best day – again in amongst the rain. They won all their games and had the best day doing what they love and so did their coach!
The very last event for the 2022 calendar was the Go Girl Super 6's cricket tournament. Our girls are super experienced when it comes to this tournament and played so well winning 3 out of 4 games. They were also lucky enough to come away with a spot prize on the day. Way to go girls!
Weetbix Kiwi Kids TRYathlon – seriously, how cool is this event! Thank you to everyone who entered, as that helped us win the largest school group yet again! We were lucky enough to come away with a cool prize – a studio tour of The Hits radio station at NZME for 25 students and 5 adults. We will hold a draw in the new year for all kids who took part in the TRYathlon to see who our lucky attendees will be.
Sports uniforms and sports fees. One final push for everyone to please pay their sports fees for the term. If your child played, then you must pay. Failure to do so will mean your child not being put in the team until these are paid. Please return all sports uniforms washed and preferably in a named bag. I need all uniforms back before the summer holidays.
THANK YOU –  saying thank you doesn't seem like enough but thanks so much to all our parents, caregivers or whoever who has volunteered their time to help transport, coach and manage all our teams this year. Without you these teams wouldn't thrive and do so well. I really appreciate you all and the time you give to help.
2022 has been a big year for most and me included. I'm looking forward to signing off, switching off and enjoying some well deserved family time over the summer break.
Nga mihi nui,
Stacey Sutherland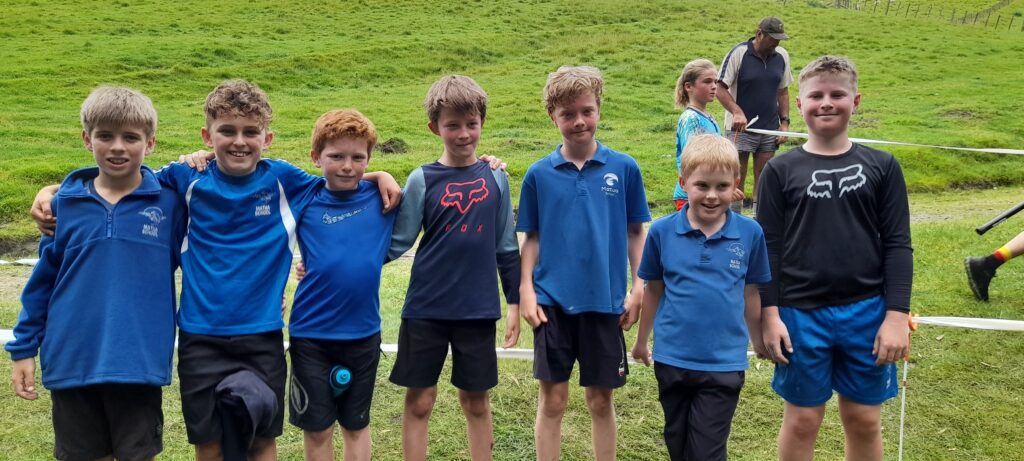 SENIOR EOTC DAY OUT
Our smaller EOTC programme featured Waimarino for our senior students and Dive HQ experiences for the Year 5's.  The Year 6 students really challenged themselves on the activities and made the most of their time there. Kayaking was a favourite activity for many and the games out on the river were lots of fun. The day finished with a manu competition off the diving boards – congrats to all the manu champs who showed us their moves!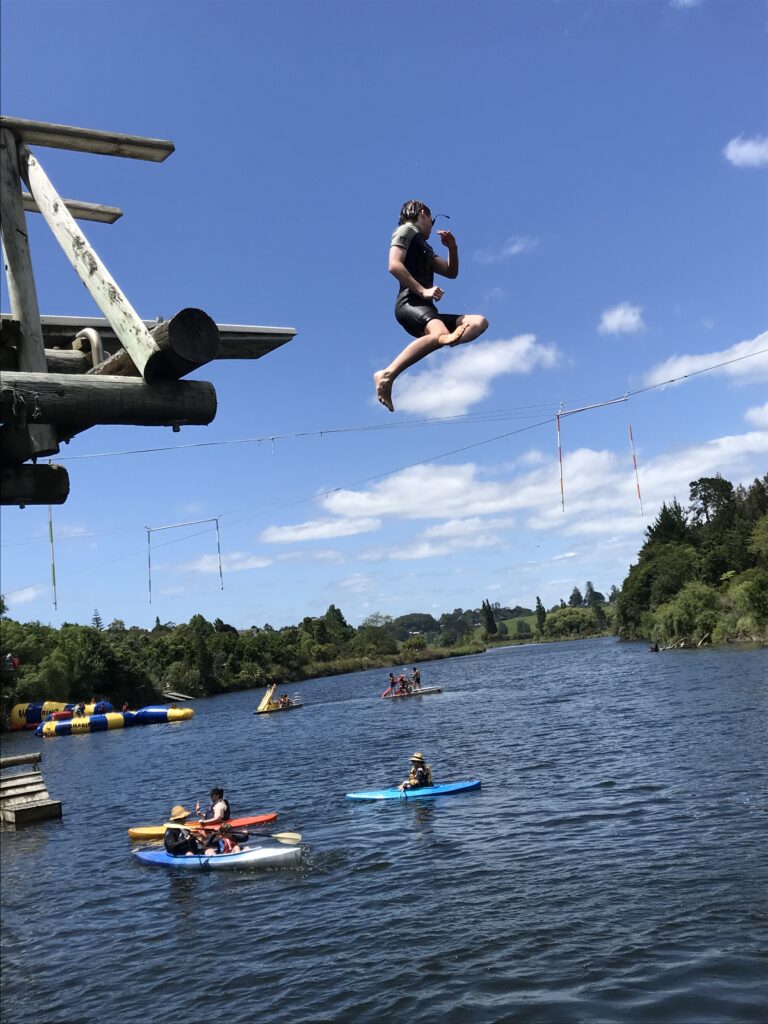 SENIOR ENTERPRISE DAY
Massive thank you to everyone for supporting Senior Enterprise day!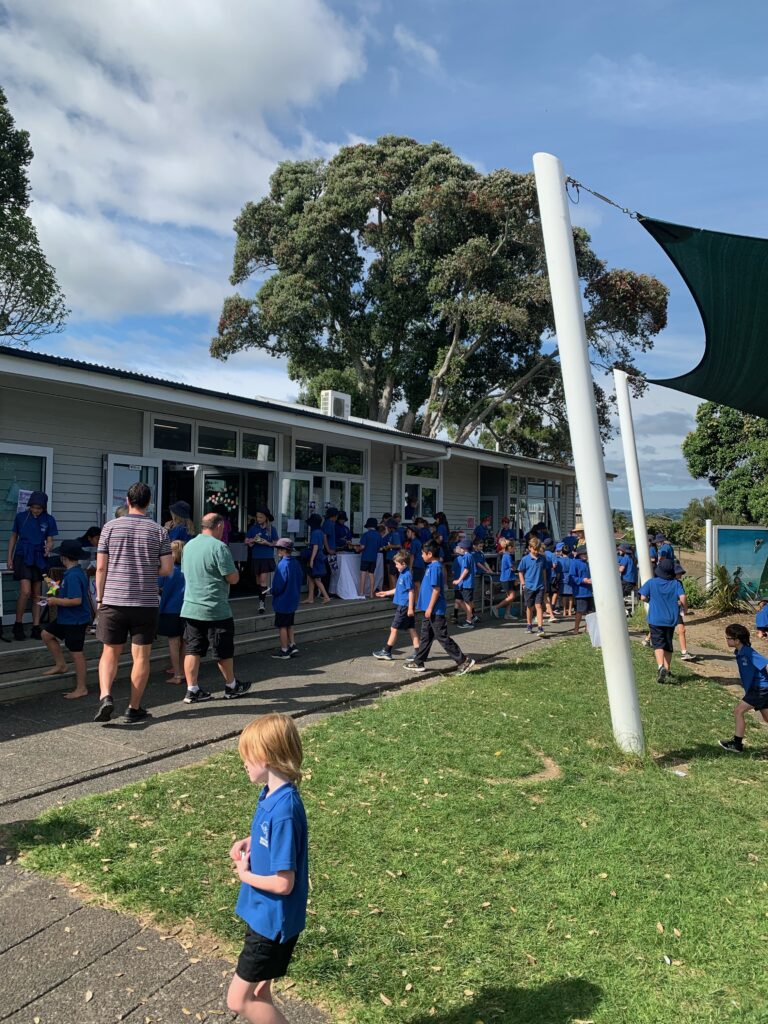 ROCKALELES
Matua Rockaleles walked down to Radius Lifecare last week, to entertain the residents. It was a huge success.
SCHOOL POOL OPENING AGAIN
Looking forward to using the school pool over summer? Yay!
For your key, there are 3 steps to follow:
1. Go ahead and register on the pool webpage first: https://www.matua.school.nz/pool/
2. Then return to Kindo to make your payment for $100 ($75 for the season + $25 refundable key deposit): https://shop.tgcl.co.nz/shop/index.html
3. Then come in to the school office and pick up your key any time during school hours, from Thursday the 3rd November onwards.
PREDATOR FREE BAY OF PLENTY
Rats in your rubbish? Camping in your compost? Eating your eggplants?
Good news, you can get rid of them. Better news, you can do it for free!
Rats aren't just a nuisance around the home, they are detrimental to our native birdlife. One rat can eat up to 50 native birds in its lifetime. Also, rat populations can swell from two rats to around 1,250 in one year. So every capture counts! And where better to start trapping than in your own backyard.
You can grab a free rat trap & wooden housing from Predator Free BOP! Just contact a community leader near you and arrange a time to pick one up. Their contact details are found on our website – 
www.predatorfreebop.nz
. We also offer trapping tips and tricks, so trappers of all abilities can be successful.
Predator Free BOP is a not-for-profit project whose vision is to bring birdsong back to our backyards. Contact us today to join the Predator Free journey!
*There is a limit of one trap per property, and only for properties within Bay of Plenty.
GIFT YOUR KIDS INTERNET SAFETY THIS CHRISTMAS
Many Kiwi children will be unwrapping new devices on Christmas Day. We want to ensure our
tamariki are safe from harmful online content – but that you as parents are also supported to
have those challenging conversations about social media use and online bullying.
The summer holidays are an ideal time to think about what internet boundaries you want to
put in place for your kids. Safe Surfer is a Tauranga-based social enterprise devoted to internet
safety, advocacy and education.
Safe Surfer has technology that creates a safe wi-fi network within your home that you can customise to block specific websites such as social media platforms or dating apps, and filter out broader content categories like pornography, gambling and violence.
Safe Surfer also has an app that's available to download on any Apple or Android device and dashboard to see all internet activity inside and outside your home (called Pro Surfer).
A picture book called 'Keeping Safe on the Web with Kyle the Kingfish' is also available to encourage good conduct online and teach children about the dangers of too much screen time, online bullying and pornography. It's designed for children aged 6+ and is a great way to have child-friendly conversations about these online topics.
Keeping Safe on the Web with Kyle the Kingfish
To learn more about how Safe Surfer can help your family, visit https://safesurfer.io.
SCHOOL HOURS
A friendly reminder that school is not open until 8.30am. If you require childcare before these hours, please contact SKIDS either by email – matua@skids.co.nz, phone – 027 586 0408, or book online – www.skids.co.nz/Matua.
SKIDS HOLIDAY PROGRAMME
"It's time to book your Summer School Holidays with SKids, and join us for some fun in the sun at www.sKids.co.nz/Matua"
LUNCH ORDERS – EVERY FRIDAY
Lunch orders are available for delivery to Matua School each Friday.
SUBWAY
Simply order your SUBWAY lunch online through you myKindo account by CLICKING HERE
Order (or cancel) any time before 9:00am on the day or schedule in advance.
Help? Visit support.mykindo.co.nz or call 09-869 5200 Mon-Fri, 8:00am to 4:00pm.
TERM DATES 2023
Open Morning – Friday 27th January, 10:30am – 12:00pm
FIRST DAY OF SCHOOL 2023 – Tuesday 31st January
TERM 1 – Tuesday 31st January – Thursday 6th April.
Waitangi Day – Monday 6th February (school closed)
Parent/Child/Teacher Conferences – Friday 24th February (school closed)
Teacher Only Day – Friday 17th March (school closed)
TERM 2 – Wednesday 26th April – Friday 30th June.
Anzac Day – Tuesday 25th April
King's Birthday – Monday 5th June
TERM 3 – Monday 17th July – Friday 22nd September.
Term 4 – Monday 9th October –
Labour Day – Monday 23rd October
Last Day of School – TBC
Our School App
We have a school app to keep you up to date with events and notifications. Click on the button below to check it out.
Setting up with Kindo
Kindo is our prefered payments system. To help you learn how it works, we've added their new help sheet and video. We hope it helps.